Ritabhari Chakraborty shot a Puja lookbook at an under-construction pandal
The actress, writer and producer ideated this shoot for The Telegrapgh and on the sidelines chatted about her Puja plans and her road to wellness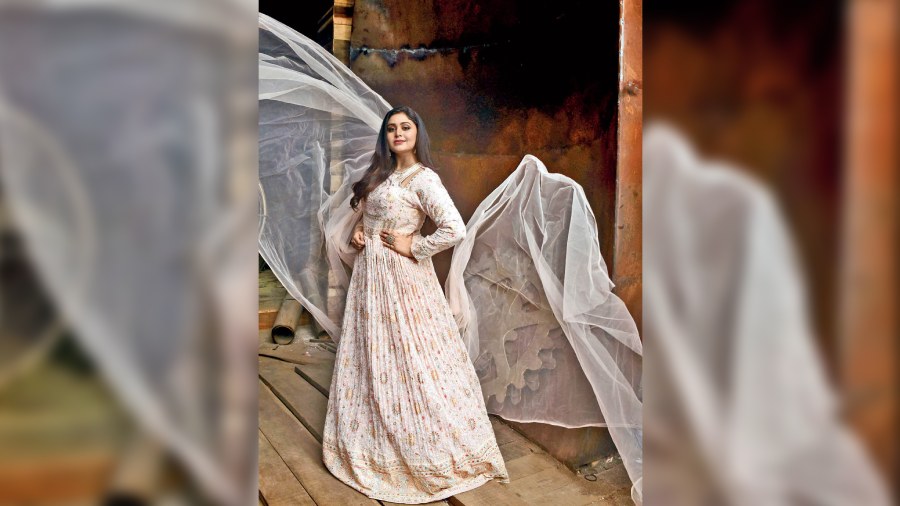 Ritabhari sported fresh florals for a daytime festive look in a pink anarkali by Nav Durga
---
Published 23.09.22, 02:56 AM
|
---
The location of this shoot was a first one for Team TT. An under-construction Durga Puja pandal tucked away in the lanes of Dum Dum. The sound of the drilling machine, nails and tarpaulin sheets strewn around, massive installations waiting to be mounted, the nervous energy among the Puja organisers... quite the happy chaos we had expected. Though spells of showers added to the start-stop madness, full-throated laughter by the multifaceted Ritabhari Chakraborty dispelled the doom the moment she arrived on the 'set'. Signature Ritabhari who has a spirit so infectious. The actress, writer and producer ideated this shoot for The Telegrapgh and on the sidelines of it, chatted with us on her Puja plans and her road to wellness.
This is a very different kind of shoot. We think this is also a first for you...
The idea was to capture the making of the Pujo, which we all tend to overlook, but can't. Every year when the pandal construction starts, people get involved and the prep involves so many labourers. So, you just cannot overlook that. What we, however, end up showcasing is the final look. I wanted to do a shoot to highlight that prepping is as much a part of the festivities as the celebrations are. I think if you are not a Bengali or a Calcuttan, you'll never understand the emotion. The traffic gets insane, but you accept it because it is Pujo. There is a certain excitement to the Puja countdown, which is incomparable.
You are also deeply involved in the Dakshinpara (Dum Dum) puja....
Earlier, I have been the face of other pujas too, but this time I am fully involved, right from the planning and prepping. So, it has become my puja. Oh my god, it's so much work, I had no idea, but I am enjoying it. Their theme is the fight against smoking and stepping into light. Covid has shown how much our lungs mean to us and our overall health. The idol is slightly different and they have been sweet enough to keep me in the loop. I will watch Sandhi puja here and offer anjali too. We are still planning. Were you an active participant in your para puja as a kid?
When I was a kid and used to stay with my mum (film-maker Satarupa Sanyal) in BC Block, I would take part in cultural activities. That was the only time I was this involved and even in my younger years. We would do puja parikrama, dancing to the beats of Amra bedhechhi kasher guccho. Over the years, the more I have moved into Salt Lake, I have lost the touch of north Calcutta. Last year I was unwell and the year before the pandemic had just dawned on us. So, I have really missed this.
What else is on your Puja calendar this year?
I am crazy busy this Puja! (Laughs) I am free on Saptami as of now. Saptami night is usually family dinner night. On Navami, I am going to the Kalyan (Jewellers) puja happening in Thrissur. I don't sleep during Puja! (Laughs) Just like the pandal we are shooting today in, what else is under construction in your life?
(Laughs) The whole of next year is under construction, workwise. Fatafati is in post-production and will release on Women's Day (March 8). I gained 25kg for that film. Again, I am myself under construction also. I have started with my fitness programme and I am doing it with Luke Coutinho (wellness coach) and he has been wonderful. I don't want to do anything which will take away my health. He has already helped me go down 13kg. I started from June 14. I would be happy to lose 10 more, but he will be happy with me losing just five more. I work out at home. The energy I have now, I didn't have last year. The work scene is building up and I have the confidence that I can attend to them. The best part of having a regimen during the weight-loss process is I am not losing my glow! (Laughs) Whenever I have lost a lot of weight, it has shown on my face first and in a bad way. There is no rush. My timeline is still December as part of the plan and I am not going to rush. I will maintain this and this will be my life. Luke hasn't cut out anything, but there is portion control. I was having a lot of sweets because I had to gain a lot of weight in a short span of time for Fatafati, but I don't have a sweet tooth.
I am in general an active person and my surgery made me gain a few kilos. For the film, I gained an extra 20. I had the chance of dropping those extra kilos, but what happened (the criticism that came her way), is not okay and there are women who live this life. Are you not going to allow them a happy life? That's unfair. Fatafati has been an emotional journey but as an actor, a brave journey and when I saw the cut during dubbing, I had tears in my eyes. I am so glad I did the film.
Pictures: Pabitra Das
Styling: Kiara Sen and Yashi
Make-up: Babusona Saha
Hair: Gini Halder