Five festive sari looks ahead of Diwali
Birthday girl Parno Mittra on her weakness for saris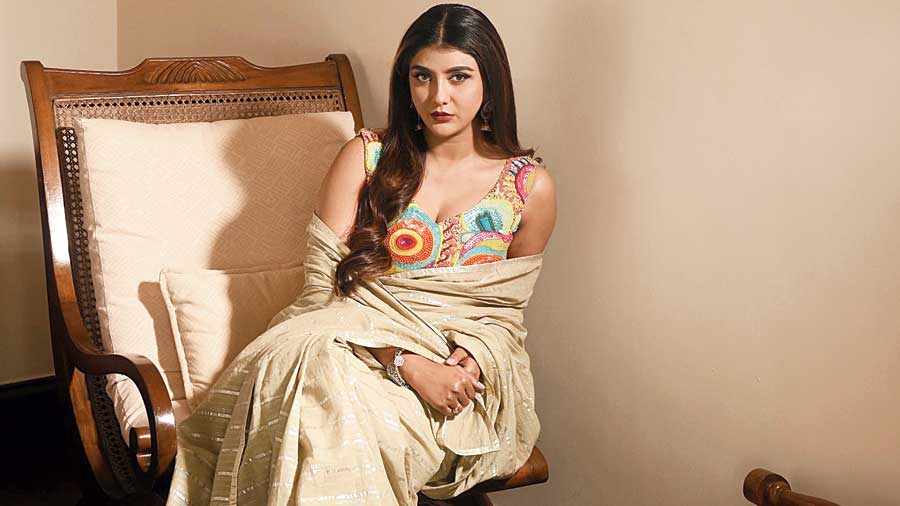 We loved the sophisticated hotness of this look. A Bobo Calcutta sari and blouse were paired with jewellery from Amrapali Jaipur. "The highlight was the blouse. A statement blouse uplifts the sari. Pair your plain chiffon with one and nice earrings and you are good to go," said Parno. Ankita Banerjee, stylist, loved the combination of the embroidery work on the blouse complemented by the dull silver panelling on the sari and versatile jewellery. Make-up pro Mainak Das kept it simple with a liner on the eyes, prominent eyebrows and textured hair.
Pabitra Das
---
Published 31.10.20, 03:49 AM
|
---
She thinks she is the "Blair Waldorf of Calcutta without the brands". The effervescent Parno Mittra. The lovely Oberoi Grand Luxury Suite filled up with her full-throated laughter more than once during this post-shoot chat.
You are very particular about what you wear…
Yes! I was screaming at her (Ankita; stylist)... (laughs), but I don't think I can work with anyone else. I don't share that comfort level and I can control her! (Ankita: She is like my mother literally. Ghyan ghyan to the power of infinity! The best part is that the most unplanned looks turn out to be the best for us.) I have been working with Mainak (Das; make-up pro) for seven years. He knows my flaws and how to define my features.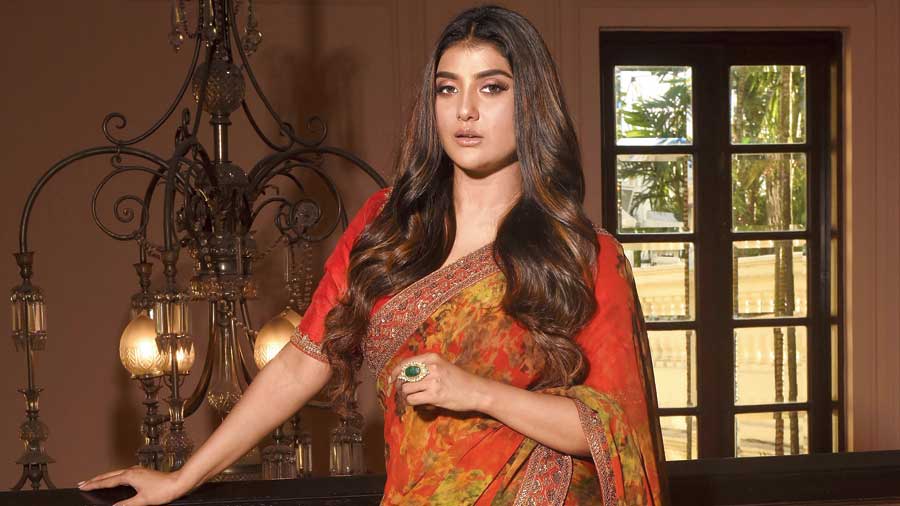 But, you like to be in control, right?
Oh my God! Did you just call me a control freak?! (Laughs) I have been going to my therapist. (Ankita: A big yes!) No! With 12 years of experience I know what might look good on me. If there is an event, I plan. Ever since I was a child (I have had a say). I was in Class VIII when my father got me my first Ritu Kumar outfit, a smart black suit. That was a big deal for me. I didn't own a suit set before that as my mother would never allow me to wear a salwar kameez.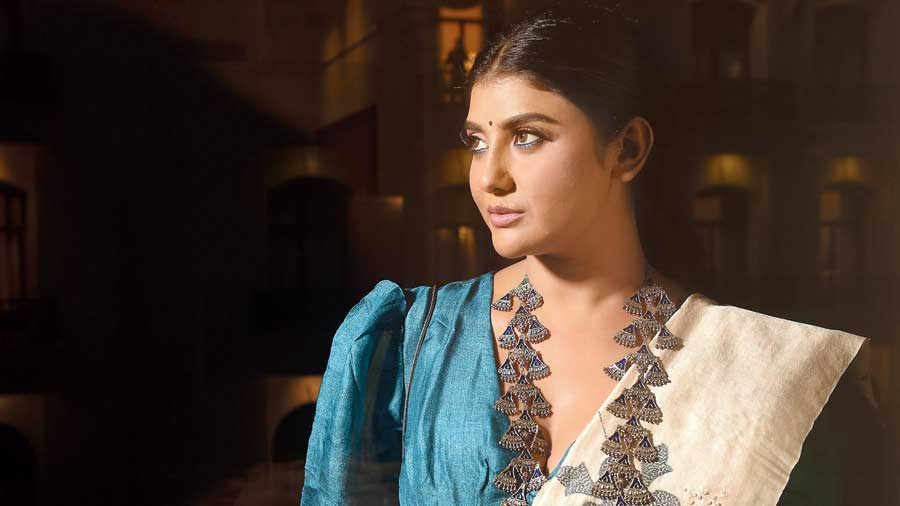 Has this mindset been an advantage or disadvantage?
Of course advantage. I look the best! (Laughs out loud)
Do you have anyone in mind who has a similar approach?
Bombay is very professional. In Hollywood, there are wardrobe managers. I can't even compare myself to them. Deepika (Padukone) wears good clothes. I like her style... simple. I mostly love what Priyanka Chopra wears. Rukmini (Maitra) dresses well.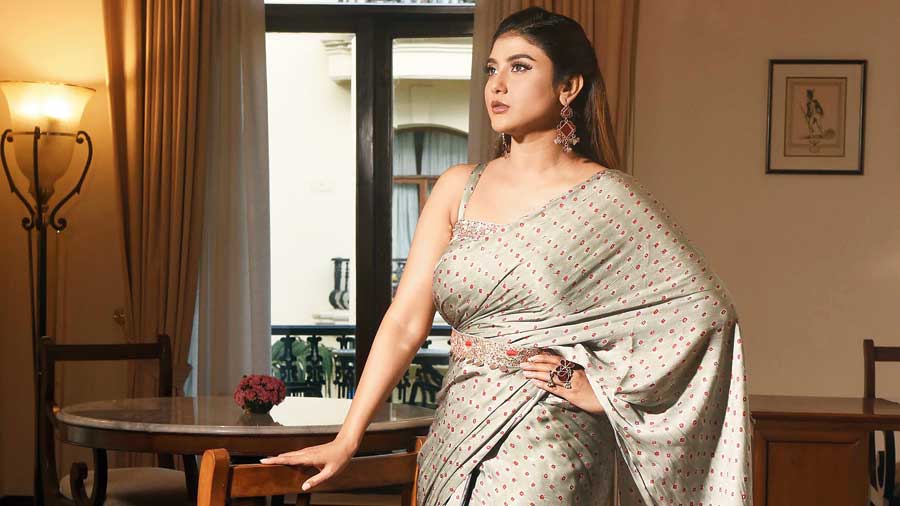 You have a weakness for saris...
I love saris. Who doesn't love saris? I bought a Kanjeevaram recently. I love collecting saris. I have preserved one of my mom's 25-30-year-old tangails. I know I won't find the same if it gets spoilt.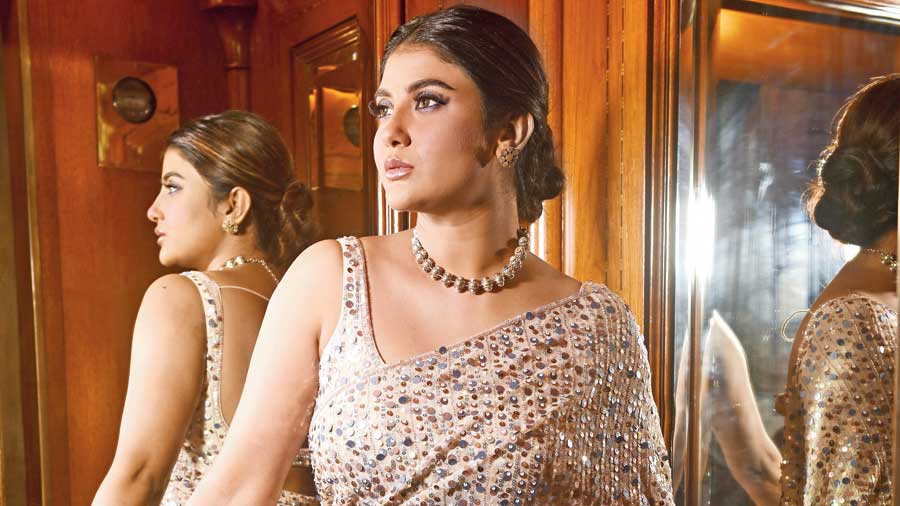 Styling: Ankita Banerjee; Hair and make-up: Mainak Das; Jewellery: Amrapali Jaipur (1st Floor, Forum Courtyard Mall; 03340235011; @amrapalijewels @forumcourtyard); Location courtesy: The Oberoi Grand, Kolkata