Bibhu Mohapatra launches his exclusive Forevermark Artemis Collection
I hold on to my mistakes closer than to my successes because it is important for me that I never make that mistake again, says the fashion designer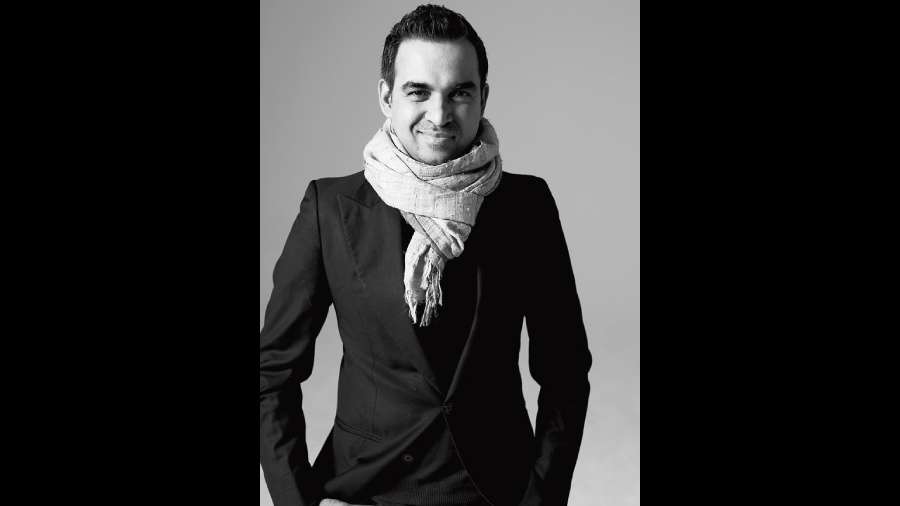 We've all had time to think and time is something that is scarce for us. The time we have with each other is scarce. That always plays on my mind. I have grown a little bit more impatient. What I mean by that is... I have got a team together and I am grateful for that... and collectively, we have 'X' amount of time to create something. I am not talking about one collection, but what's our five-year plan? Where do we want to take this collection and how do we go there? We decided that we have to be ready to change and question the moments, the way we operated before. We have to produce and source more responsibly — Bibhu Mohapatra
---
Published 11.05.22, 12:44 AM
|
---
Every time you chat with Bibhu Mohapatra, you learn a lesson in humility. Rourkela-born and New York-based fashion designer Bibhu has dressed the likes of Michelle Obama, Cate Blanchett and Jennifer Lopez and yet has his feet firmly planted in the ground. He is gentle and warm with a kind smile. And, when he talks, you get a glimpse of his kind soul. The star designer was in Mumbai to launch his exclusive Forevermark Artemis Collection on De Beers Forevermark's e-commerce website, www.forevermark.com. We Zoom-called him on April 29 about what the launch means and what defines timelessness for him.
This is a special trip, in so many ways...
Yes, in so many ways. There is a lot of loss we have collectively endured. We were in a very dark phase collectively. We did our own thing for a year and a half... in a way it sort of restored faith in the way we all sort of came together and showed that solidarity against this pandemic. We are still fighting it, but we all held on to that hope.
I lost my brother unfortunately at a young age. That's the reason I am here, for his barsi. A part of living life is coming to terms with (it)... and move on while preserving the memories of the departed. It's hard to practice even though it is easy to say, but that's the reality. My brother was here when we launched Artemis and it is special to come back to Mumbai for that reason. It's very exciting that we are launching our Artemis collection on www.forevermark.com, with 18 styles. Prices start at Rs 1lakh onwards. We are excited that we are opening to a big audience.
This is Artemis Evolution Collection Two, which we launched in 2019. There was a two-year gap. This became nature and women-centric, much more of a feminine collection, but at the same time it's very practical, versatile and it has got a good response. And, that is why we are launching it on www.forevermark.com. It is beautiful.
You are giving your fave Calcutta a miss!
(Laughs) My best friend lives there. I promised him that when I come in July and November, I will spend a few days in Calcutta and eat some maachher jhol. Always special. And, the famous biryani! To me, Calcutta is like Venice or Paris. It will always retain its magic and charm. Cities change but Calcutta remains what it is.
What is it that you love about diamonds in particular?
Diamonds have that value, not just the surface value but they have an emotional value. It ties your memories together and it also retains its commercial value. If you invest in a piece of diamond, you can be rest assured that it'll be with you. Forevermark diamonds makes sure that they are the most beautiful diamonds, responsibly sourced and they are sustainable. They go through a rigorous process of being called De Beers Forevermark diamonds. It has this unique inscription which ensures all these things, but most importantly, it has that longevity, commitment, that foreverness that it is going to be with you. Post-pandemic, if we are going to invest in a piece of clothing or fine jewellery or diamonds... if I am going to buy something, I will make sure that it has that assurance or support of an institution like De Beers. By placing it on www.forevermark.com, we are broadening our audience and giving them something that we were not able to do before. They are sharply priced and they will take you from day to evening. You can layer them, they are not super sweet, but feminine and they work with both modern and traditional clothing. They have the power of becoming heirloom jewellery some day. Which pieces have a bit of your soul in them?
I would think the very main motifs of the Evolution Collection... the pear-shaped diamond in the centre and then it is sort of lined with diamonds... to me that signifies power. That is where women and nature come together and it signifies a power that is greater than all of us put together. That's where we come from. We come from women and nature. That specific thing became the emblem.
Our lives have changed so much. What is eternal and timeless for you, now?
It really is the memories. When I came to Bombay on the 25th (April 25), I stayed at the Taj, Colaba. A picture popped up on my phone. In 2016, when we launched Artemis, my brother and sister-in-law had come to Bombay and we had a meal at the Taj and he was standing on the stairway, looking up. That memory is always going to be with me. For me, diamonds have that power. If a father gives something to the daughter or a husband to his wife, it has the power of being timeless and gets intimately tied to memories. That piece of jewellery will always symbolise that moment for us. Memories are the most precious thing to me. I always knew it but it got solidified after the pandemic.
So much has changed since the last time we met you (2017). What is life like, now?
We've all had time to think and time is something that is scarce for us. The time we have with each other is scarce. That always plays on my mind. I have grown a little bit more impatient. What I mean by that is... I have got a team together and I am grateful for that... and collectively, we have 'X' amount of time to create something. I am not talking about one collection, but, what's our five-year plan? Where do we want to take this collection and how do we go there?
We decided that we have to be ready to change and question the moments, the way we operated before. We have to produce and source more responsibly. We have to preserve the craft people who support us in creating this and overall, we have to tell an authentic story by bringing the community together. We cannot design or exist in a vacuum. I have always mentored younger designers and now I am doing all I can to support them.
I hold on to my mistakes closer than to my successes because it is important for me that I never make that mistake again. I have zero ego. If I make a mistake and own up, I make it an example and show it to the younger people who are going to be the future of the design community. I am also requesting my team to think like that.
Let's not overproduce. Why do we need to produce so much? And let's purchase good-quality products which have longevity. Fast fashion is not for me. If I invest in clothing, it needs to have a purpose in my life for the longest time. Diamonds go through tremendous pressure for millions of years and they are not going anywhere.