A special jungle-inspired designer clothing collection
The Telegraph creates an exclusive lookbook from Sayanti Ghosh designer studio, shot in the scenic hills of sikkim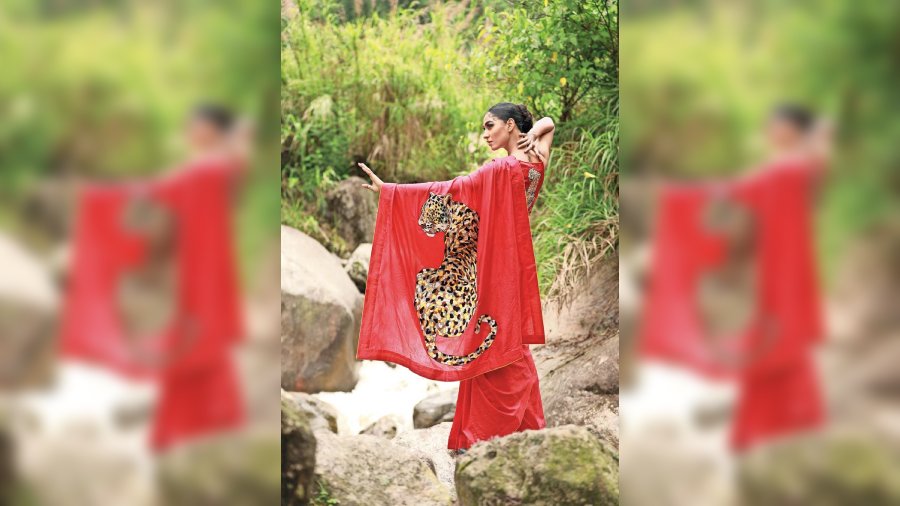 The red Bangalore silk sari is adorned with embroidery of a cheetah in its sitting posture, paired with a matching blouse. Perfect as a quirky pick for the festive day.
---
Published 25.07.22, 02:44 AM
|
---
Starting out with designing blouses and then moving on to saris and now jackets, Calcutta-based fashion brand Sayanti Ghosh Designer Studio is all about creating handcrafted heirloom pieces featuring intricate threadwork. A fashion den for traditional heritage handloom pieces, Indian textile and art forms, the brand's forte lies in telling stories through its designs. "In 2015, I started with two karigars and the home garage space, and today I am running separate units for each art form across India. We work with 12 techniques including machine embroidery, hand embroidery, jamdani, kalamkari, eco-printing, madhubani, hand-painting, batik, kantha and pichwai. I find my inspiration from everyday life, nature and architecture," says Sayanti.
Their recent collection narrates the story of life in the jungles. The Telegraph features a few looks from their jungle collection lookbook shot in the scenic Rolep village in Sikkim: The 'Jungle' Collection — Into the Wild is a set of 24 pieces portraying and celebrating life in the jungle and natural scenery. We have mostly used fabrics like raw silk, muslin, organza, tussore, muga silk, Bangalore silk. Jungles are rightly called the lungs of the earth. As a kid, I remember being an avid follower of the life and journey of Mowgli (from The Jungle Book). It was the first window that opened in front of me the beautiful and creative world of animation. Jungle Book felt so close to home!  Over the years, I developed my fondness for the characters which were different animals from the jungle and even grew compassionate towards them. Keeping this essence intact, the new collection is here to resonate with the childhood memories and the love for nature.
Our Jungle collection is an ode to all the love and warmth that we have nested in our hearts for the jungle and the dwellers of it, over the years. In the rising climate change situation, it is important to still love our friends from the jungles as much as we did as kids. We need to do the needful to prevent certain members of the jungle family from getting extinct. We need to save the green homes which are so essential for the healthy thriving of our blue planet — Sayanti Ghosh, designer Pictures courtesy: Sayanti Ghosh Designer Studio
Models: Priti Jana and Vani Verma
Make-up: Abhijit Paul
Hair: Ginni
Stylist: Sandip Jaiswal