A look a Qbik's colourful Satrangi that is Rajasthan inspired to the core
A summer festive line should always be fun and playful. And why not, we have just come out of multiple lockdowns! Colours are a mood-changer: Vrinda Sachdev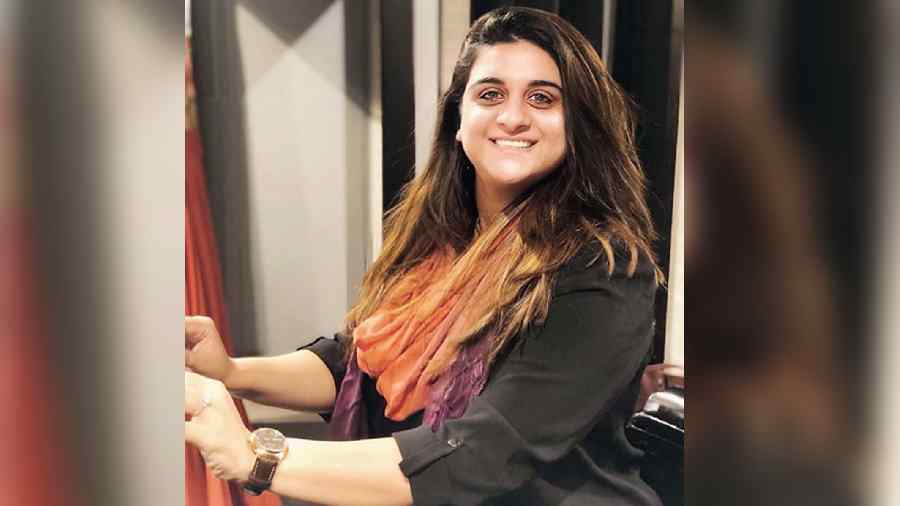 Vrinda Sachdev
Sourced by The Telegraph
---
Published 19.07.22, 01:56 AM
|
---
Qbik's new collection Satrangi is an ode to the charming Rajasthan and packs in colours and heritage. Contemporary yet borrowing from tradition, Satrangi is a vibrant melange. We chatted with Vrinda Sachdev, creative director, Qbik, to know more.
Rajasthan is always so inspiring, right?
Absolutely! Apart from being a historically and culturally rich state with impeccable hospitality, Rajasthan has so much to offer in terms of crafts and art. A lifetime is not enough to be constantly inspired by the graceful women, the strong Rajputs, the royalty, architecture, colours and their celebrations. This season our collection brings the beauty of the multicoloured hues of Rajasthan to your celebrations through colourful ensembles.
What comes to mind when we say 'Rajasthan'?
The brave use of colours in their palaces, clothing and interiors.
As creative souls, what did you do to ensure that you capture a lesser-known Rajasthan?
Rajasthan is not lesser known in any way. It's always been intriguing for a tourist, an artist, a traveller, an explorer, a designer, a seeker. Everyone's vision and inspiration is different, which is so interesting to see and experience. We used the boldness of colours and the dye techniques. From the sand dunes in Jaisalmer to the blue city of Jodhpur to Holi in Bikaner to experiencing restoration of Amer to the forests of Ranthambore to the charismatic city of Udaipur and also to the Aravallis in Alwar, we have experienced Rajasthan is all its glory. And we are happy to be going back to these memories to get inspired in our own way. The range looks festive-bridal. Who is your muse?
Anyone who likes to have fun with his or her Indian outfits and confidently carries colourful ensembles. Fashion need not be taken seriously, it's meant to be experimented with. And over the years, our clients and the niche that we have created are open to having fun with their Indianwear.
The styling is also interesting....
Without making it obviously Rajasthan, we have added a Qbik twist to the shoot, the set and the styling. Inspired by the exterior of houses in Jodhpur and that special blue, the set was conceptualised by Gopalika Virmani and me. The styling in terms of accessories is not over the top, we really wanted the colour and the fabric to stand out. Modernity and youth always have to come through with every collection.
These pieces are quite the classic too...
We always try to make versatile pieces that can be styled with other separates too. We use the best of fabrics that would last long if taken care of. Bandhani and tie-dye techniques never go out of style. A burst of colours for Indian events and festivities is always appreciated. Your men are in a lot of colours…
A summer festive line should always be fun and playful. And why not, we have just come out of multiple lockdowns! Colours are a mood-changer. We have tried to keep the silhouettes simple and classic. So as to play with minimal embroidery on a bright colour palette.
How has the journey been in the last decade?
It feels like we have seen all the seasons in the true sense of the word. From starting in recession to experiencing and working through a pandemic, it has been a ride and we are grateful for every experience, every mistake, every achievement, every applause and every criticism and especially for the teams who make us stronger.
Who are your favourites when it comes to dressing stars?
We feel Shilpa Shetty really carries our saris and styles super well. Also, we loved how Vicky Kaushal wore our white-black striped kurta with jeans and the orders never stopped coming. The graceful Madhuri Dixit in one of our most unique pieces from the collection Rang, looked so gorgeous that we changed the name of the outfit to 'Madhuri'.
Who is the one person you definitely want to dress?
Zendaya in one of our drapes. Gal Gadot, Mahira Khan, Tan France, Deepika Padukone and Ranveer Singh for sure.