What is fine dining?
Great food doesn't have to be fine dining but fine dining does have to be memorable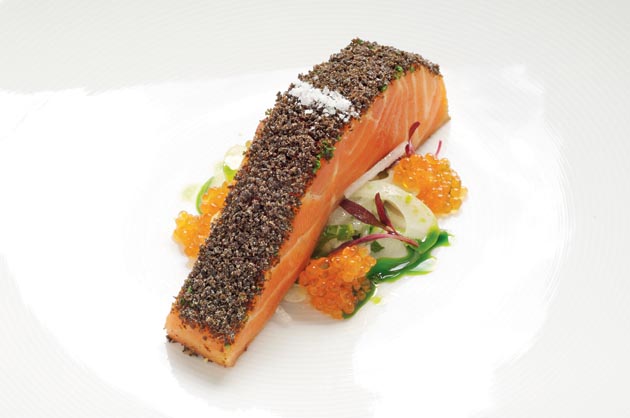 ---
---
In these days of social distancing and lockdowns, it may seem not only strange but also inappropriate to talk about fine food. Or maybe not! I find in times like these when you are confined to spending long hours at home, food becomes very important — both reading about it and cooking. I have never been asked so much about recipes than in the last couple of months. So maybe this article on fine dining will transport you temporarily to another time and space and make us appreciate what we have even more.
When I asked several people who eat out frequently, travel internationally and who have a genuine interest in food, what they understood by the term 'fine dining', I received very different replies. "Expensive" and "table laden with cutlery and glasses" were common responses; "fussy presentation" and "five-star hotels" were others. What about the food itself? That evoked mixed responses too. In the "olden days", you knew it was fine dining when French words were used to describe dishes and there was caviar, lobster or truffle on the menu. Today Japanese has probably replaced French with words like umami and sea urchin, nori and nigiri used as ingredients and yes, some international Japanese chefs, like Nobu and Tetsuya, happily marry soy with truffle, and caviar with konbu. Whatever the cuisine, fine dining still means a high level of culinary skill and ingredients which are sought after.
Has fine dining become a fad?
Today, expensive or upmarket restaurants are distinguishable more by the menu itself and the complex descriptions. Meats and vegetables are not just "roasted", they are "oven or pan roasted". Posh chickens are "corn fed"? What do ordinary chickens eat, I wonder? And do we really need to know the fat marbling index of the beef to enjoy it? My conclusion? Has fine dining become a fad? Is it all about spectacle and performance and less about gastronomy?
When I lived in France, life was much simpler. The French have very clear classifications: a bistro is a family-run little place usually serving a limited menu and whatever is fresh that day or whatever has a short shelf life, or more realistically, whatever the cook wants to get rid of really quickly! Then you have the brasserie, an overgrown cafe where proper food is served. Dishes are standard, service brisk and prices, what the French call, "correct". Then at the top of the pyramid is the "restaurant" and even higher, the much coveted, much hyped, Michelin-star restaurant, which is definitely "fine dining" by any standard, old or new. And you don't wear white sneakers and torn-at-the-knee jeans for a fine-dining experience.
In the '70s, Europe witnessed a trend known as 'nouvelle cuisine', a reaction to the classical, stuffy, orthodox style of traditional cooking. It was both elegant and light with an emphasis on presentation. There were many jokes about nouvelle cuisine for at least a decade after that: people complained about the small portions. (The famous joke doing the circuit at the time: "Waiter, waiter, I've ordered steak and I can't find it on my plate." Waiter: "Move the peas over and you'll find it underneath.")
Food started becoming theatre. Molecular gastronomy was the '90s version of nouvelle cuisine. The king of this style of cooking has to be Ferran Adria, whose restaurant El Bulli in the obscure village of Roses near Barcelona made waves in the international culinary arena for the last 10 years, winning major international awards year after year. It must be said that he took the world by storm with his 'compressions', 'foams', 'froths', 'vapours', 'spherification' and 'deconstruction'. But then molecular gastronomy is very clearly a scientific discipline.
Classical dishes are deconstructed (product, garnish, sauce) and reconstructed with a more intense and defined flavour, which takes the diner completely by surprise. In India we have our own "star" of progressive cuisine, Abhijit Saha, whose uber trendy Caperberry restaurant and tapas lounge in the heart of Bangalore has successfully integrated some classical examples of molecular gastronomy with traditional Spanish dishes.
Is regional Indian food the new vernacular?
Traditional Indian food was never on the international culinary radar. Michelin doesn't even consider India when it comes to stars and mentions. However, in the last 10 years, our taste buds and intellect have suddenly been aroused by all sorts of food experimentation, whether it is contemporary Indian, Burmese on the beach or farm to table. We are embracing the best of all worlds and specialised ingredients and in the cities at least, are willing to pay a hefty bill for the experience. Is this the new fine dining? Is the price tag now defining the term? In last year's Conde Nast Top Restaurant awards, only two restaurants (Indian Accent and Dum Pukht) could be considered "fine dining" in the traditional sense of the term — top-of-the-line crockery cutlery, glassware and service... and, of course, food!
Indian Accent doesn't show off with fancy ingredients. In fact, they take pride in elevating Indian ingredients to a level of sophistication you never thought possible. However, you have to admit there is something very, very special about Manish Mehrotra's baby truffle naans and his teeny-weeny cucumbers with their flowers. Dum Pukht with its Awadhi ancestry needs no introduction, neither do the velvety-smooth salaans and melt-in-the-mouth kababs.
Is regional Indian food the new vernacular? Will it be fashionable one day to serve on a banana leaf instead of a plate? I experienced the food of Ziya at The Oberoi in Mumbai where Michelin-star chef Vineet Bhatia, hot off his international runaway successes, sets the town on fire with his Broccoli Khichdi, Makhni Ice Cream and Chocolate Samosa. It is extraordinary food that demands understanding and appreciation. The decor is elegant, the service thoroughly professional and informed and to call the menu a "modern interpretation of Indian cuisine" would be a gross understatement. This is sophistication of the highest level.
To conclude, it's the experiences I feel which define if the dining is fine or not. This takes me back to my favourite fancy food experiences. I am not sure what you call this brand of cuisine — it has elements of molecular, borrowings from nouvelle with its heart firmly in the countryside of Valence in France. It is a Michelin-star experience and is food for thought. Anne Sophie Pic's food is honest, takes a huge amount of skill and patience to prepare and is meticulously sourced. It's the kind of food that you could never do at home but look forward to eating in a great restaurant. I can still taste her Foie Gras Creme Brulee with green apple whipped cream.
Sydney has Tetsuya and his Confit of Ocean Trout is consistently amazing. More recently, Martin Berasategui's dessert of lemony white chocolate with basil sauce in San Sebastian… these are dishes I will never forget. And dining at Attica in Melbourne, it's an experience I almost ditched because I had to eat alone… threw me into a tizz when Ben Shewry came to the table with his dish of crab with silk-like macadamia mayonnaise.
So great food doesn't have to be fine dining but fine dining does have to be memorable.
Karen Anand is a culinary consultant, food writer and entrepreneur. In recent times her name has been synonymous with farmers' markets. Follow her on www.facebook.com/karenanand or @karen_anand on Instagram