Perfect Mediterranean 'pot' boilers
These quick Mediterranean dishes are easy to make and wholesome and hearty too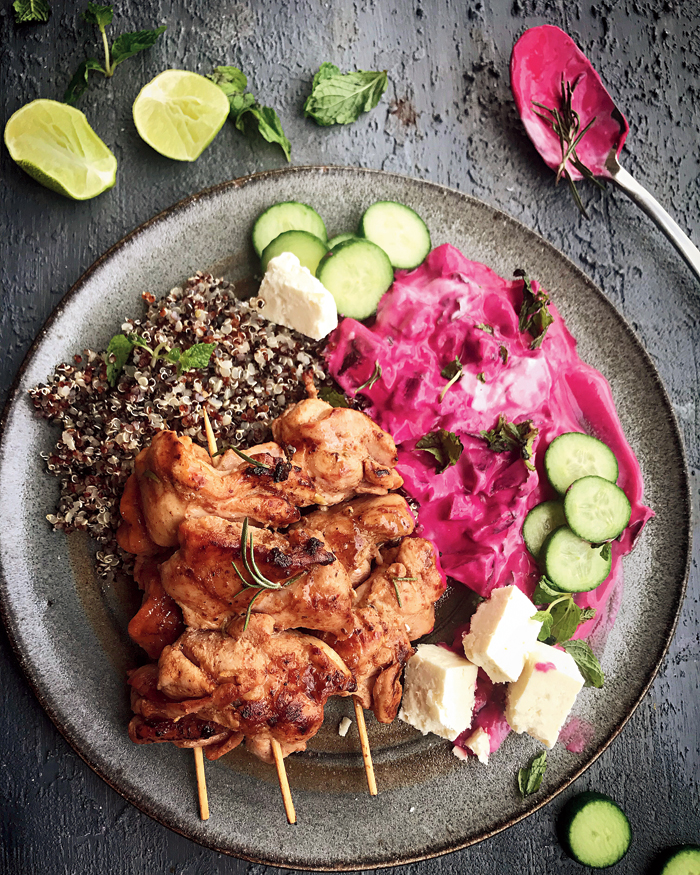 Greek Chicken Souvlaki
Pictures by the author
---
Published 21.09.19, 02:24 PM
|
---
Hectic work schedules, kids' homework and activities, social gatherings, city traffic and so many other things to do in the course of the day. This hardly leaves me time to cook a wholesome hearty meal for the family that appeals to both the husband and the kids. Hence, the need for some tasteful and interesting one-pot dishes that are fulfilling by themselves and don't need much paraphanelia.
Being inspired by Mediterranean flavours after my recent trip to Sicily, you can guess what has been cooking in my kitchen. Here are some of my favourite weeknight dinners for the family — quick, easy and delicious!
Greek Chicken Souvlaki
Chicken Souvlaki is a popular street food all around Greece. Loaded with fresh flavours of lemon, garlic and rosemary, it is super easy to make and very versatile — enjoy it as it is with a tsatziki sauce or wrap it up in pita or any flatbread or use it for chicken sandwiches. Replace the chicken with lamb if you like.
Ingredients
500g chicken thigh meat/or mixed
1tsp minced garlic
1 sprig fresh rosemary
Plenty of salt and pepper
1tsp paprika powder
Juice of 1 lemon
Zest of 1 lemon
2tbsp extra virgin olive oil
Pinch of oregano
1 small onion, finely chopped
Method
Combine the ingredients for the marinade and the chicken. Marinate for two to three hours till overnight. Skewer the chicken cubes.
Heat a hot griddle pan or grill and cook the chicken on both sides till charred.You can cook it halfway before and grill further when it's time to serve.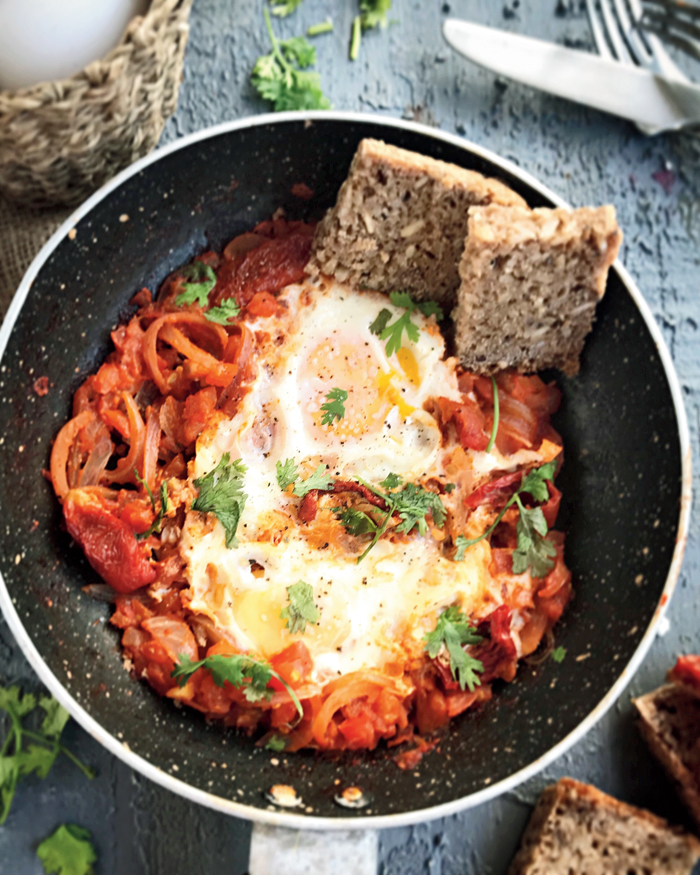 Shakshuka
This is a classic Israeli dish made with eggs and very basic ingredients. A great recipe which works well for brunch or dinner. You can enjoy this with some crusty bread, pita or just by itself.
Ingredients
2tbsp olive oil
1 onion, thinly sliced
2 tomatoes, finely chopped
2 tbsp tomato puree
1 red pepper, thinly sliced (optional)
5-6 sun-dried tomatoes (optional)
2 garlic cloves, minced
¼tsp cumin powder
Sprinkle of feta (optional)
Handful of fresh coriander and parsley
2 eggs
Method
Heat the olive oil in a small frying pan, if you are making a larger quantity, use a larger frying pan.
Add the onions and peppers, salt and pepper. Cook till just softened.
Add the garlic, cook for a further two minutes. Sprinkle the cumin powder, tomato puree and cook for a couple of minutes.
Add the fresh tomatoes with the splash of water and simmer uncovered until reduced and thick.
Taste and adjust the salt. Add a splash of water if the mix gets too dry.
Add in the fresh coriander and parsley.
Make two wells in the thick sauce and break an egg into each. Cover and cook on low heat until the whites are just set.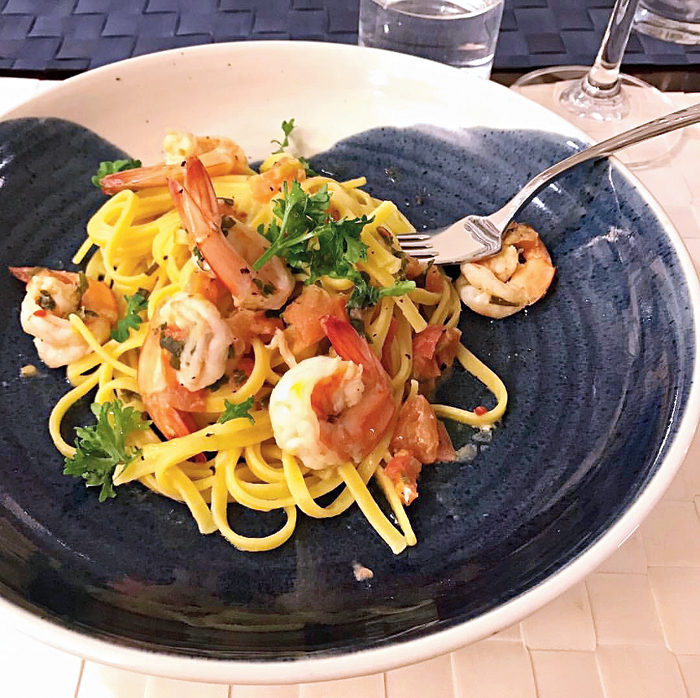 Seafood & White Wine Spaghetti
Seafood and white wine are a match made in heaven. Add in some lemon, chilli and al dente spaghetti, and you will be transported to the southern coast of Italy. Feel free to add in squid rings and boneless fish chunks as well.
Ingredients
500g shelled prawns
1 cup white wine
4 cloves garlic, finely chopped
2 tomatoes, finely chopped
½ cup cherry tomatoes, cut in halves
1 cup fresh parsley, finely chopped
Few whole sprigs of parsley to garnish
300g spaghetti or any other pasta you like
Sea salt and freshly ground pepper
Chilli flakes
Method
Heat some extra virgin olive oil in a pan. Add the garlic and allow the flavours to infuse into the oil, being careful not to burn them. Add some chilli flakes.
Add the chopped tomatoes, lower flame and toss around briefly.
Add half of the white wine, sea salt and freshly ground pepper and half of the parsley leaves.
Cover and simmer for a while, tossing every now and then.
Add the prawns, the remaining wine and some seasoning. If you are using squid, add that as well now. Cook on medium heat till the prawns are pink on both sides. Add a splash of water to loosen the sauce.
Squeeze some fresh lemon. Taste for seasoning. Cover to keep warm.
While the sauce is cooking, boil some water in a large saucepan. Add sea salt when the water comes to a boil. Add the spaghetti and cook till al dente.
Drain and add the hot pasta to the seafood and white wine sauce.
Toss together, add the remaining parsley, a drizzle of extra virgin olive oil, some crushed pepper on top, chilli flakes and serve. Spaghetti al pomodoro
A basic tomato sauce for pasta, pizza and other Italian dishes, get this recipe right and you will be making jars of this goodness and freezing it.
Ingredients
500g tomatoes
4 garlic cloves
1 onion, finely chopped
1 rosemary sprig
2tbsp olive oil
300-400g spaghetti
Crushed black pepper
Parmesan cheese, grated
Chilli flakes
Handful of fresh basil
Salt
Method
In a pot, cook tomatoes with 1tsp of salt, cover and cook on low heat for 20 minutes or so.
The tomatoes will cook in their own water.
Heat a pan and add a drizzle of olive oil. Add the onion and garlic and cook on medium heat for a minute or so. Be careful not to burn the garlic.
Add chilli flakes, cooked tomatoes, a sprig of rosemary and season lightly with salt and pepper. Cook for 20-25 minutes on low heat, stirring occasionally, until the sauce has thickened.
Cool completely and blend lightly.
Cook the pasta in a large pot of boiling salted water, until al dente. Drain, reserving 1 cup of pasta water.
In the same pan in which you cooked the tomatoes, transfer the blended sauce and heat lightly. Add some pasta water to adjust consistency. Toss in the pasta.
Remove the pan from the heat, add grated parmesan, shredded basil leaves and crushed black pepper.
Toss once again.
Calcutta girl Natasha Celmi is a culinary specialist and food stylist based in Bangalore. Reach her on Instagram at cucinamiabynatasha or www.cucinamiabynatasha.com. YouTube channel: Cucina Mia by Natasha.