PAT-A-PIZZA: knowhow on making the perfect Neapolitan pizza
During her visits to Naples, visiting the old pizzerias in the centre of the city is always on her list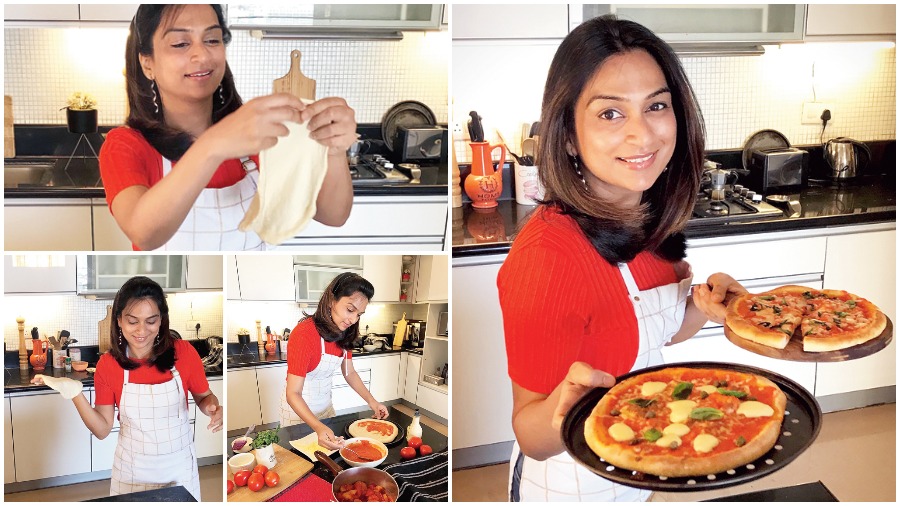 Sourced by the correspondent
---
Published 27.02.21, 11:16 PM
|
---
The pizza that we know today originated in southern Italy in the city of Naples. The modern pizza is an evolution of flatbread with various toppings brought to the region by those who occupied it. This part of Italy was part of the Greek empire, where pita bread with toppings of tomato and cheese was simple daily food for hard-working labourers.
Being a port city, Naples attracted many immigrants from north Africa and Arab countries around the Mediterranean. Simple flatbread with dates and cheese was their staple food that was basic and cheap.
I have learnt from my husband's Neapolitan family that pizza was always a simple dish for poor workers, sold in the streets and not considered fit to be made in the kitchens of the elite. During my visits to Naples, visiting the old pizzerias in the centre of the city is always on my list. There is still a debate among them as to who created the first pizza. Do not expect anything fancy here — basic rustic settings with not the most comfortable wooden tables and chairs, a bunch of big-built men, working hard near a big oven while churning out pizzas in large volumes and people on the go downing their pizza with a pint of beer. Think of it as the Italian version of our dhaba!
So how did this humble pizza become an international rage?
From the late 1870s and for the following 100 years, millions of Italians left Italy to settle across the seas in other countries. The majority of them were from southern Italy, which was enveloped in poverty at that time. In search of a better life, labourers, skilled craftsmen and artisans immigrated to the US and brought with them their love for food, family, wine and culture. In fact, part of my husband's family was part of this large Italian migration that went with nothing and started making and selling pizzas around New York. This is how over time the popularity of the humble pizza grew and it became an American icon. If you have seen the movie The Godfather, there is a beautiful illustration of this phenomenon in Italian-American history.
In Italy and around the world, a pizza chef, or pizzaiolo, is typically a man as the job involves a lot of muscular labour and sweating it out while handling a very hot oven — not the most 'lady like' job one might say! However, in Italian homes, it is the women who usually make the pizza in a more domestic environment. Having learnt to make the real pizza in the heart of its home in Naples, which is nothing close to the commercial 'Americanised' stuff we know of, I decided to share my recipe using local Indian ingredients.
No thick bready crusts and gloopy cheese and dried sauces and toppings please — we are looking for a crusty, airy and light base, a thick and juicy tomato sauce which you can slurp, and cheese which is just about melted and moist and not dry and burnt!
While most Italian chefs will claim that you cannot make good pizza with local Indian flour and a good pomodoro sauce with local tomatoes, and while fancy restaurants are spending large amounts on importing all this, I beg to differ. I have been churning out authentic Italian pizzas with simple Indian maida and desi tamatar and have won the approval of many Italians. Get the technique right, feel the dough and add some labour of love and involve the whole family and you can have your own little pizzeria a casa. Buonappetito!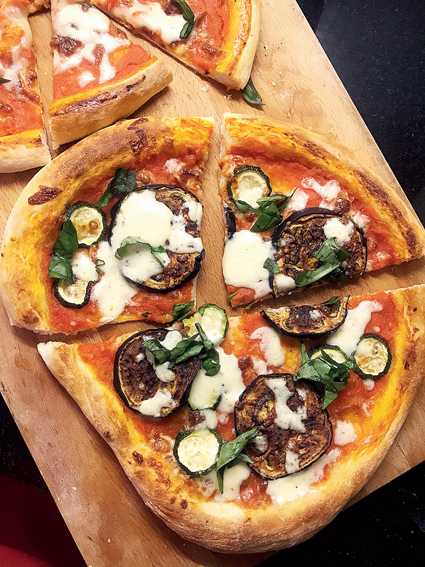 Homemade pizza dough
Ingredients (for 4 x 8-inch pizzas)
• All-purpose flour (maida): 500g
• Salt: 1 tbsp
• Extra virgin olive oil: 3tbsp
• Dry instant yeast: 2tsp
• Tepid water: 1.5 cups
• Sugar: 1tsp
Method
• In a small bowl, combine the water, yeast and sugar. Stir and keep aside for 10 minutes till the yeast is dissolved and you see light bubbles.
• In a large bowl, combine the flour and salt and drizzle olive oil. You can also do half whole wheat and half maida. Make a well in the centre of the flour and add the yeast water bit by bit, while combining the flour gradually with a wooden spoon till you have a ball of rough dough. Use your hands to gently bind it together and transfer to a floured surface.
• Knead the dough for about 10 minutes, adding more water if needed till you have a soft springy dough ball. What you are looking for is a moist pliable dough and not a hard one.
• Brush the inside of a clean bowl with some olive oil, place the dough ball and brush the surface with some oil to avoid a dry crust. Cover with cling wrap and then a tea towel and keep in a warm dark place in the kitchen for 45 minutes to an hour, till it doubles in size.
• Once doubled, punch the dough down, cut into four portions. Gently knead each portion and shape into a neat ball. Place the balls on a tray brushed with olive oil, cover with a tea towel for 10 minutes. Then cling wrap and refrigerate for 12 to 24 hours. This is my secret to light and airy dough.
• Take the dough balls out of the fridge half an hour before you want to make the pizza. Add some dry flour to shape the dough balls into pizza crusts with your fingers, pushing the dough outwards till you have a thin centre and a thick edge all around. Have fun tossing it around and involve the whole family!
• Brush a pizza pan or the oven tray with olive oil, place the flattened crust on it and bake in a preheated oven at 240°C-250°C (the maximum temperature on your oven). A really hot oven is the secret to a well-browned crust.
• Bake for about 7-8 minutes till the dough is lightly coloured and raised with air pockets around it. Remove from the oven, brush some olive oil on the edges and spread over the fresh tomato sauce, your choice of toppings, a drizzle of extra virgin olive oil and grated mozzarella. Place the pizza back in the oven and bake for another 5-7 minutes till the cheese is melted.
• Finish with fresh basil leaves and dig in while the pizza is hot!
Italian Tomato Sauce
Made with local whole tomatoes, this sauce is a classic recipe from Southern Italian homes. Save yourself the hassle of peeling and deseeding, reduce wastage and retain all the fibre for a luscious thick sauce.
Ingredients
• Over-ripe tomatoes: 1kg, quartered
• Onion: one small, finely chopped
• Garlic: 4 cloves, finely chopped
• Rosemary (optional): 2 sprigs
• Salt: 2tsp
• Freshly crushed black pepper
• Chilli flakes (optional)
Method
• In a large saucepan, cook the tomatoes with 2tsp salt, rosemary sprigs and chilli flakes (if using). Cover and cook on medium heat for 20 minutes or till the tomatoes are soft. Stir every now and then. The tomatoes will cook in their own water. This can also be done in a pressure cooker. Allow to cool.
• Heat a small pan and add the olive oil. Add the onions and cook till translucent. Add the garlic and cook on medium heat for another 30 seconds, stirring often. Add this mix into the cooked tomatoes. Discard the rosemary stems and blend to a fine thick puree.
• Taste and adjust seasoning. Add some fresh chopped basil if you like. Store this sauce in the fridge for up to three days and use it on pizza, pasta, chicken and other Italian dishes.