Manjri Agarwal explores India's varied regional cuisines and writes about four of her favourites
Food that is healthy, wholesome, low in calories and at the same time a delight to the taste buds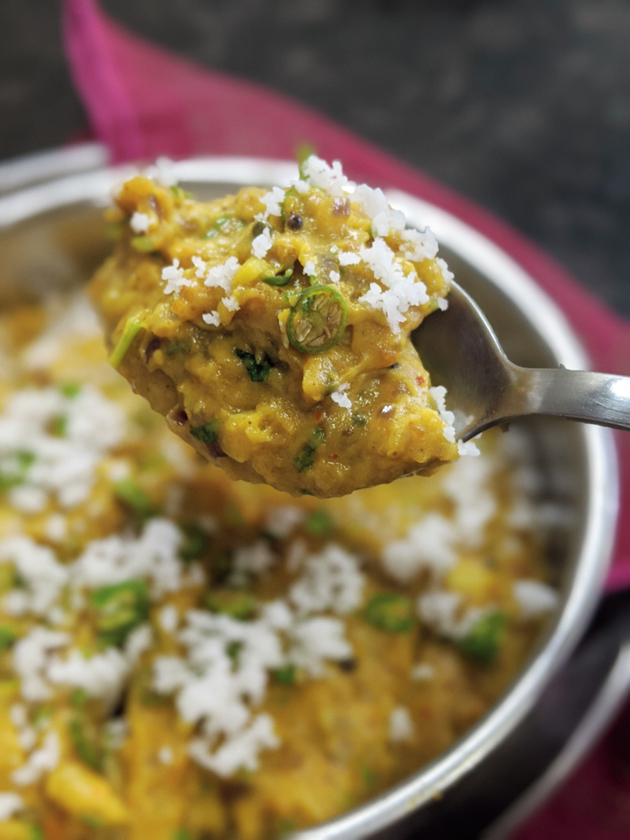 Pithla
Sourced by the Telegraph
---
Published 08.06.20, 04:19 PM
|
---
The more I explore the foods of our beautiful country, the more fascinated I get with its wide variety, colours, textures and flavours. I feel blessed to be born in a country that is a magical amalgamation of so many cultures.
In this article I have covered foods of four regions but there is just so much more that it will take me multiple articles to even scratch the surface when it comes to regional cuisines in India. And what's incredible is that even if some states use the same ingredient, the taste of the cuisine has its own character and personality. For example, coconut is used in Bengal, Maharashtra, Goa and the entire Konkan belt but each cuisine has a distinct taste. The spices and mustard oil added in Bengal gives the dishes a pungent flavour while the grated coconut or 'khopra' that's so prevalent in Maharashtrian cuisine just gives so much body to every dish. In Kerala, the same coconut is used to extract the milk from and make soulful stews that pair with appams. Whereas in Tamil Nadu, the ubiquitous coconut chutney that's churned with yoghurt and urad dal, speaks its own language.
The four dishes that I have written about are healthy, wholesome, low in calories and at the same time a delight to the taste buds. Hope you enjoy making these and remember that recipes are only a guideline to reach the destination. The path you choose can bring many surprises at every turn. So do explore and innovate.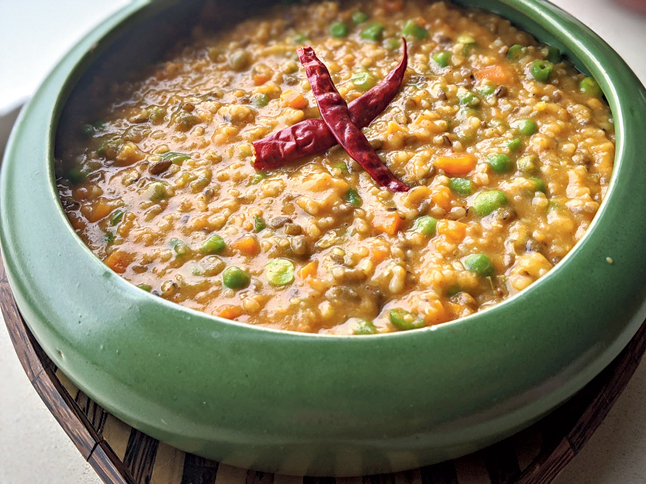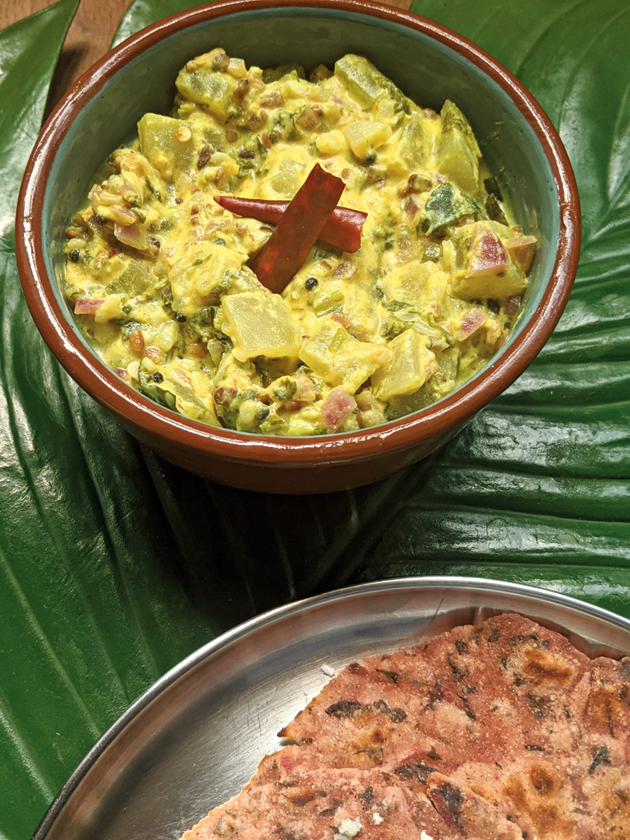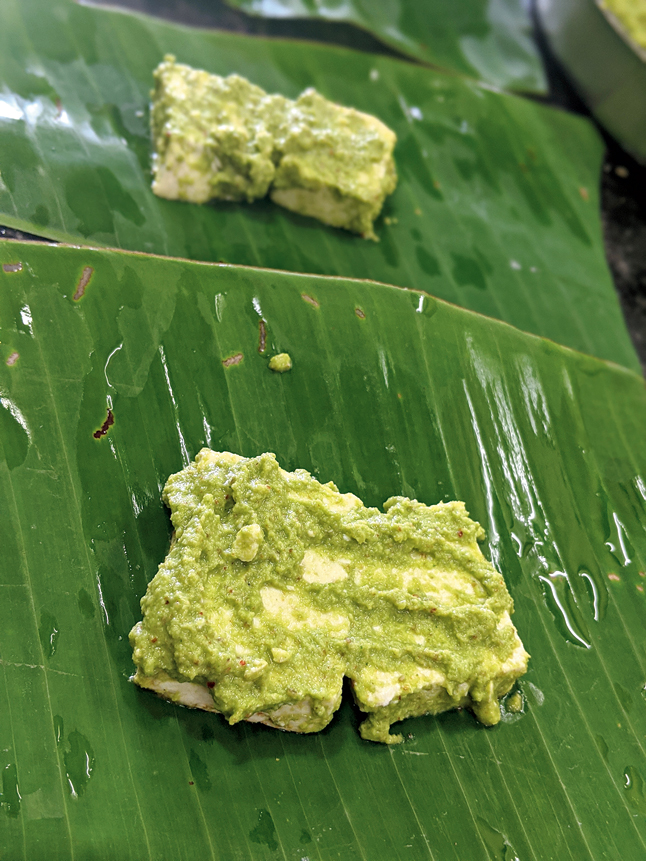 Patra Ni Paneer
According to me, one of the most fascinating cultures is of the Parsis. It's wonderful to see how the community came to India and embraced the culture, language and food and at the same time maintained their own identity. Patra Ni Paneer (veg version of the popular fish item) is a dish that is steamed, wrapped in banana leaves and is completely oil-free.
Ingredients:
Paneer, 500g
Salt, ½tsp
Chilli powder, ½tsp
Apple cider vinegar or lime juice, 1tsp
Banana leaves
String
For the chutney:
(Grind to a paste)
Fresh coconut, grated, ½
Chopped coriander leaves, 1cup
Chopped mint leaves, ½ cup
Green chillies, 2
Cumin seeds, 1tsp
Jaggery, 1cup
Tamarind paste, ½tbsp
Salt to taste
Method:
Slice paneer into rectangular pieces.
Marinate in chilli powder, vinegar and salt. Leave aside for 15 minutes.
Cut large enough portions of banana leaves to wrap each slice of paneer with.
Coat each slice of paneer with the ground chutney and lay it on a piece of banana leaf and roll it up.
Tie with a string.
Do the same to all pieces of paneer before steaming or baking for 20 minutes.
Serve immediately with fresh bread or simply, as a starter.
Manjri Agarwal is a food writer and health coach. Reach her on bigplatesmallplate@gmail.com or @bigplatesmallplate on Instagram
Perugu Pulsu
This recipe is very special to me as it's part of my first cook-book. This dish hails from Andhra Pradesh and is great for the summer months. It has the most unique combination of bottle gourd and yoghurt and is quite a hit with the young ones too.
Ingredients:
Curd, 1cup
Boiled lauki (bottle gourd), peeled and chopped, 1cup
Onion, chopped, ½
Green chillies, slit, 2
Chopped ginger, 1tbsp
Coriander leaves, chopped, 1 bunch
Urad dal, 1tsp
Mustard seeds, 1tsp
Curry leaves, 5 to 6
Turmeric powder, ½tsp
Ghee, 1tsp
Salt to taste
Method:
Boil the bottle gourd for a few minutes only. Make sure the pieces still remain crunchy.
Strain and cool.
In a bowl, mix the curd, chopped boiled lauki, chopped onions, turmeric powder along with chopped coriander leaves and salt.
In a frying pan, heat ghee, add mustard seeds, urad dal, curry leaves and slit green chillies. Temper and add it to the yoghurt mix.
Mix well and serve chilled.
1. Pithla
This Maharashtrian dish holds a lot of nostalgia for me. I grew up in Mumbai and this dish was my go-to comfort food along with thepla or bhakri. There are many versions of the same dish but this is how I like to make mine. It's full of protein and low in calories, which make it wholesome and healthy.
Ingredients:
Vegetable or peanut oil, 4tsp
Roasted peanut, 2tbsp
Mustard seeds, 1tsp
Asafoetida powder, ¼tsp
Turmeric powder, ½tsp
Dried coconut, grated, 2tbsp
Green chillies, chopped, 2
Red chilli powder, ½tsp
Roasted cumin seeds powder, ½tsp
Garlic cloves, chopped, 4-5
Large onion, finely chopped, 1
Gram flour (besan), ½ cups
Water (use more or less to get the desired consistency), 3 cups
Fresh coriander, finely chopped, 4tbsp
Jaggery, 1tsp
Salt to taste
Method:
Pound the coconut, garlic, green chillies and peanuts roughly in a mortar and pestle.
Heat oil in an iron kadai. Add the mustard seeds, asafoetida and turmeric powder, then tip in the chopped onions.
Stir fry for two to three minutes or until the onions are soft and the edges begin to caramelise.
Add the peanut-and-coconut paste, salt, red chilli powder, cumin powder and jaggery. Saute for a few minutes.
In a bowl, dissolve the gram flour and water, making sure there are no lumps.
Add the mixture with one hand into the kadai, constantly whisking with the other hand.
Adjust consistency by adding more water or besan. Allow to simmer for four to five minutes. Stir in the coriander and mix well.
Squeeze some lime juice if you like.
Serve hot with Thalipeet or rice.
Fada Ni Khichdi
One of the most popular Gujarati dishes, and a favourite at popular outlets in Mumbai and Ahmedabad, this dish is made with cracked wheat and lentils. Gujarati food is very popular in Mumbai due to a large presence of the community in the city. Needless to say, it has become an integral part of every Mumbaikar's meal plan.
Ingredients:
Cracked wheat, 1cup
Green split gram, ½ cup
Mixed vegetables, finely chopped, 1cup
Tomatoes, boiled and sieved, ½ cup
Ginger, 1inch
Salt to taste
Cloves, 3-4 pieces
Turmeric powder, ¼tsp
Asafoetida, ¼tsp
Chilli powder, ½ cup
Garam masala, 1tsp
Spice yoghurt to serve
For tempering:
Ghee, 3tbsp
Cinnamon, 1inch
Method:
Wash and soak cracked wheat and split gram separately for half an hour.
Mix it with chopped vegetables, ginger and two cups of hot water. Pressure cook, giving it three whistles. Set aside to cool.
After 20 minutes, open the cooker and churn the mixture evenly with a wooden whisk.
Add a little hot water if the mixture is too dry in order to get a semi-consistency.
Add tomato puree and salt to taste and mix well.
Transfer this to a heavy saucepan and put the gas on low to simmer.
Heat ghee in a small saucepan and add all the tempering ingredients and let them sizzle.
Add this to the wheat mixture and mix well, beating vigorously.
Serve hot with spiced yoghurt.