Japanese chef has Indians eating out of his bowl
Chef Shoji Morita of Kampai at Delhi's Aerocity has both Indian and Japanese patrons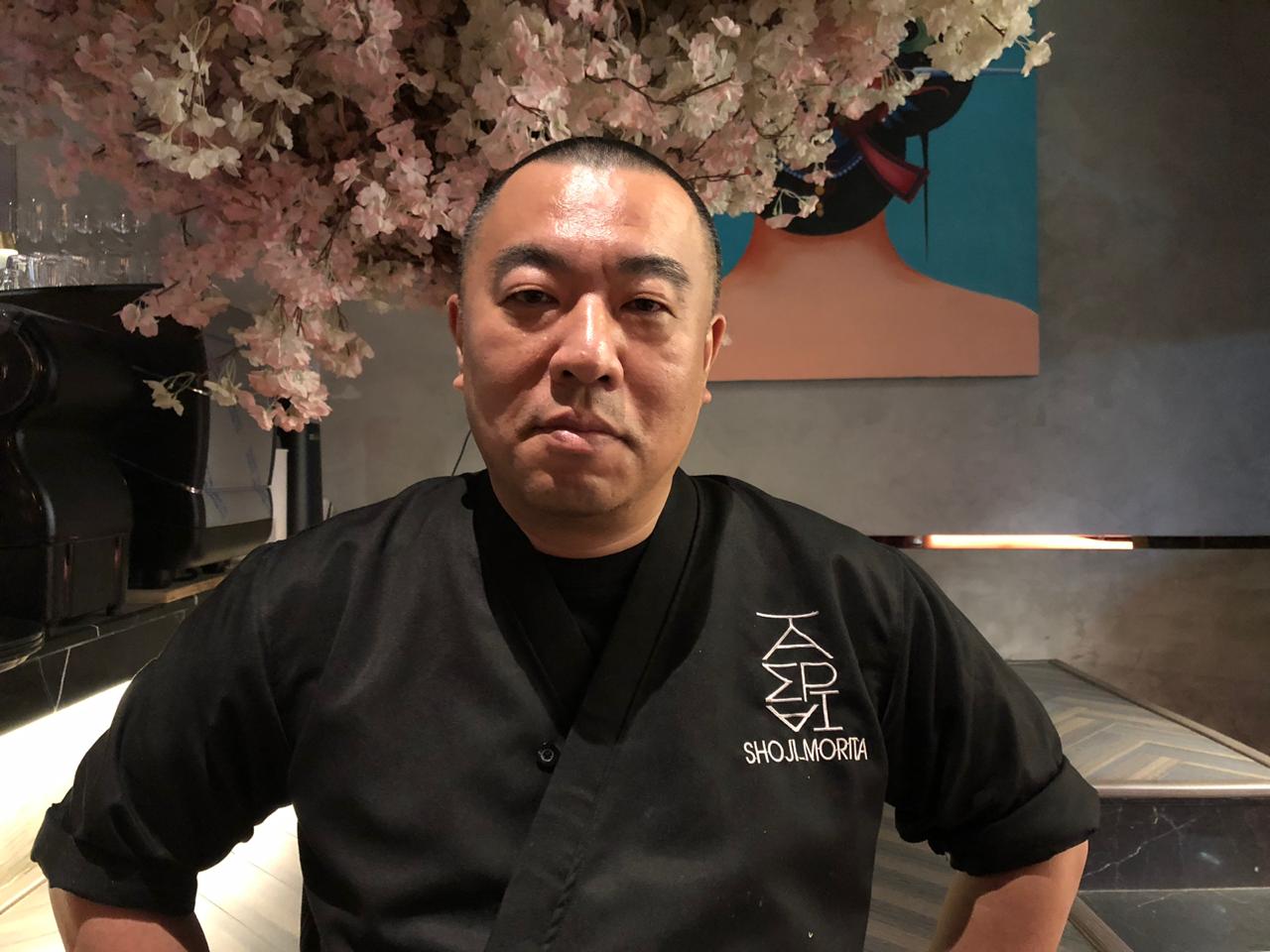 Morita, an alumnus of the Tokya Culinary School, Japan, has worked in Japan, Canada, South Africa, Greece, Hungary, Russia, Norway, Monaco and Bangladesh before coming to India
Image: Kampai
---
Published 15.03.19, 01:31 PM
|
---
Working in India is very difficult,' says chef Shoji Morita ruefully. Morita is the head chef at Kampai, a 70-seater Japanese restaurant in Delhi's Aerocity.
Morita came to India in 2017 to run the kitchen at a block of service apartments for Japanese expats in Ahmedabad. He worked there for six months but then had to look out. 'They did not pay me,' he says. Still shocked that something like this could happen.
After a couple of more false starts, Morita found himself at Kampai, which means 'Cheers' in English and is a sophisticated take on a traditional Japanese Izakaya style of informal eating and drinking.
'Not everyone speaks English so communication becomes difficult,' says the chef in his halting English. 'And living here is also not easy. I can't take the bus. I have to take an Uber. I never used Uber before I came to India,' he complains.
Morita, who is an alumnus of the Tokya Culinary School, Japan has worked in Japan, Canada, South Africa, Greece, Hungary, Russia, Norway, Monaco and Bangladesh before coming to India.
Surely working and living in Bangladesh must have been more difficult than India, I ask. 'In Bangladesh I missed pork. In India I miss beef,' he says simply. 'In Bangladesh, rich people open Japanese restaurants for other rich Bangladeshis. Not for Japanese people,' he adds. 'Being a Muslim country, no beer or sake is served in the restaurants so no Japanese people visit these restaurants,' he explains.
That's not a problem at Kampai, which has a full bar and serves Japanese whisky, sake and various signature cocktails using Japanese ingredients. Wasabi martini, Tokyo Spritzer and Kyoto Dreams are hot favourites.
Pork is very popular with the Japanese, more than beef. 'At Kampai our number one selling dish among the Japanese clientele is pork katsudon -- a bowl of rice topped with deep-fried pork cutlet, egg, vegetables and condiments,' says Morita. The tantan men ramen (tahini and shrimp broth with minced chicken, pokchoy, leeks and spring onion) comes a close second.
And what about beef? Has he had to adapt any traditional beef dish to make it acceptable in India? 'No, we haven't kept anything of that sort on the menu.'
But Morita has had to adapt Kampai's menu to reflect the demand for vegetarian food in India. 'There are some traditional vegetarian dishes in Japanese cuisine for Buddhist people but that is very simple food.' Morita admits that he is researching vegetarian cuisine. The Kampai menu has some traditional vegetarian dishes such as vegetable tempura, kanpyo maki (dried gourd maki), kappa maki (cucumber maki) and age-dashi tofu (deep fried tofu with ginger soy sauce). Morita has also added his own vegetarian dishes to the menu such as a three mushroom gyoza (dumpling), shitake soup with truffle essence and the crunchy vegetable sushi roll. 'In Japan, you will have vegetable tempura and rice separately. Here I have made a vegetable tempura sushi roll. It is the most popular vegetarian dish at the restaurant, even amongst non-vegetarians,' beams Morita.
Like most chefs, Morita is finicky about his ingredients. While most ingredients are sourced locally and the ramen is made in-house, some are brought from overseas, such as the lamb chops from New Zealand, pork belly from Belgium, salmon from Norway and yellowtail from Japan. 
Morita is pleased that his food is appreciated by both Japanese and Indian diners. 'I haven't Indianised my food. I have added a bit of spice but the Japanese guests still say it tastes like home.'