Chef Ajay Chopra on his latest venture with Glance Roposo
Gives a low-down on the association, some kitchen tips, tricks and leftovers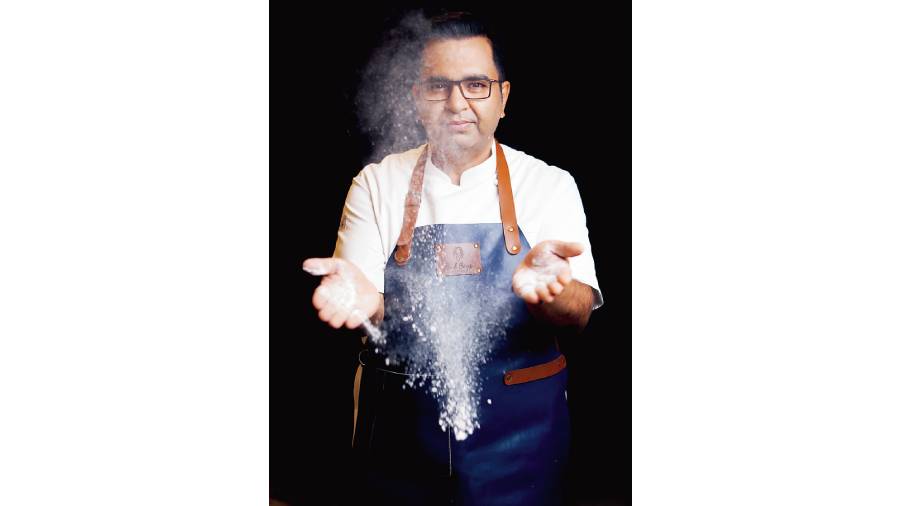 ---
Published 08.07.21, 10:52 PM
|
---
With more and more time spent on digital binge, chef, television show host, consultant and entrepreneur, Ajay Chopra and Glance Roposo have come up with Foodie Week #CookWithChopra, an app-based content for the foodies. Glance Roposo is a short video talent platform that lets you browse content across 25 channels.
From recipes with leftover food, tips to kitchen hacks, chef Chopra gave us a low-down on the concept. Excerpts…
When we spoke at the launch of a new restaurant in 2019, you had mentioned how you came across Jharna Ghee and Manipuri black rice. What are the new ingredients that you are currently loving?
Unfortunately and fortunately, not many. Unfortunately because we haven't been travelling a lot. Fortunately because, there are treasures that you find at home. Ajwain leaves have come as a treasure and another one being fresh turmeric.
You have been a part of several television shows and you have your presence in the digital space too. What got you interested in an app, specifically?
Short video content is now the new thing. India has always consumed food content and has now been enjoying much more because of the lockdown and I think it's only going to increase.
Glance Roposo is an amazing short video app, which has come in at right time. Food-wise, I feel there was a gap there. I saw an opportunity to showcase food to a lot of people. I want to instil the love for food in the generation. Se, we want people to attempt making short videos on food. They are either eating at home or cooking and Internet has become the next big medium to get entertained. The whole idea of cooking and showcasing them has become popular on various platforms. 
On #CookWithChopra one of the topics is leftover food, which also addresses the point on sustainability. Was it a conscious decision?
When we were ideating the Foodie Week, I wanted to do a whole week, where we were going to do various things and cooking with leftovers is one part of it. Apart from that we also wanted to do something that you can quickly eat, as well as quick desserts.
I want to ask people not to open that fridge, instead go to the kitchen, use their brain and cook something with whatever there is. Every home has a leftover dish, so I want to tell people to use your creativity, kitchen techniques and showcase their skills to those, who could also benefit from getting tips and tricks; as well as to the world, so that everyone can know that there's a new idea. I will also be showing very simple tricks that people always struggle with, like knife-sharpening skills.
What are some of you favourite things to cook with leftover food?
Roti is always there at home, so how can you make it more tasty, trending and exciting? It could be your memory of roti-malai-sugar, made into a crisp sandwich. I am from Lucknow and I love that combination. So, a malai-chini French toast with bread or roti along with malai, sugar and condensed milk. So, it's made without eggs. My children and I love this dish. The other favourite in my family is a dish made with leftover rajma. You drain the liquid, mash the rajma, add some kebab masala, chopped chilli, ginger, onions and make tikkis out of it.
Considering what the F&B and hospitality industry is currently going through, do you have any tips for budding chefs, who might be demotivated?
There are budding chefs who don't see a ray of hope regarding what's going to happen. I would ask them to continue to cook. They have made a decision by getting inspired and there's no looking back. We are going to keep them engaged and excited with good content (on the app).
What are some of the trend that you are noticing in the F&B industry?
The pandemic has shown us that what we thought was at our disposal, isn't (there). We will have to work with limited resources and short format in everything, whether it's kitchens becoming cloud kitchens, or whether it's the whole understanding of the restaurant business, where people may not spend as much money. The change will happen in three stages — pandemic is shifting and moving towards a little bit of normalcy, then towards an expected normalcy and finally, it's going to come back to where we possibly were. Let's hope that this happens sooner.