And pop goes the poppadom as t2 goes hunting for dishes with a crunch!
Pop a papad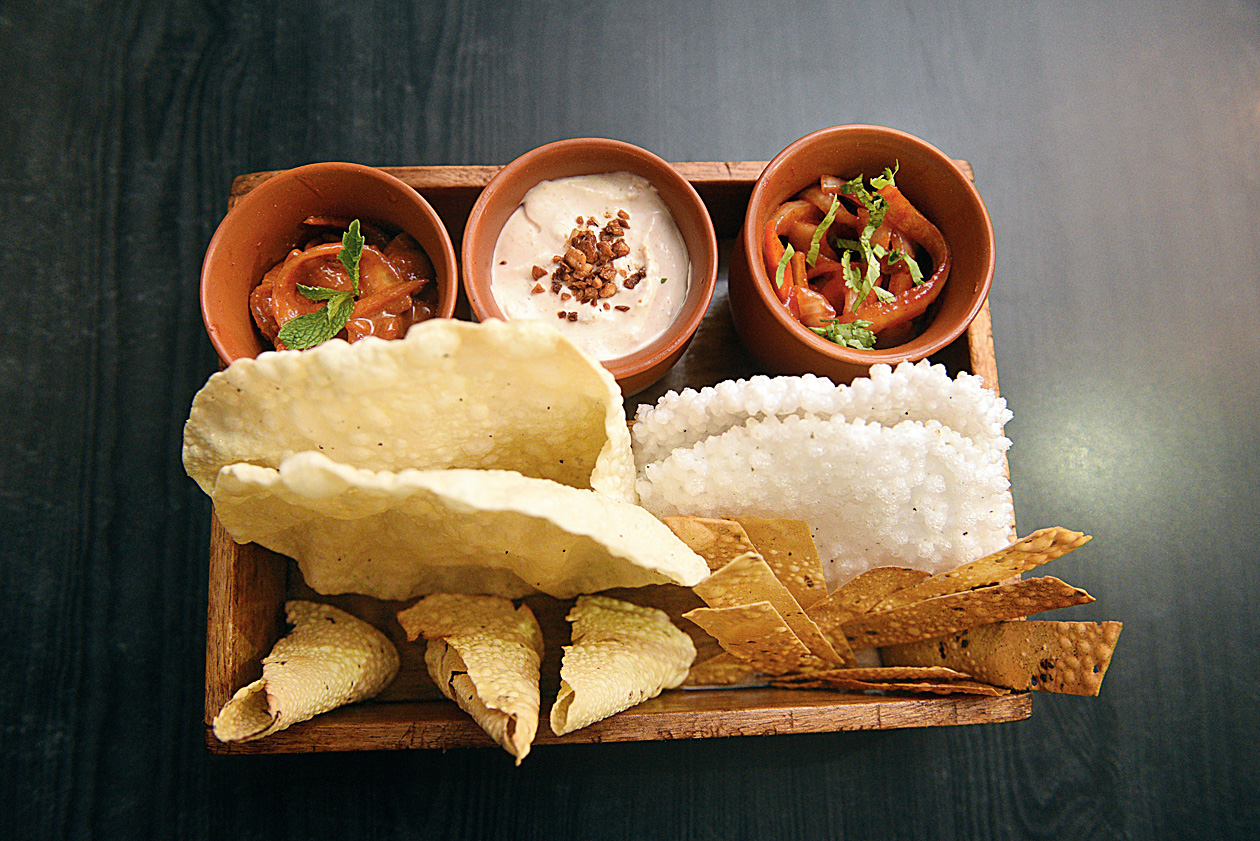 DIY Masala Papad
Rashbehari Das
---
Published 28.09.18, 04:54 PM
|
---
DIY Masala Papad
@ Gabbar's: This multicuisine dine den on Ho Chi Minh Sarani does a mix of sabudana papad, appalam, aloo papad and the good old Lijjat papad, served with a side of spicy red onion salad, burhani raita and a tomato dahi chutney dip. Nibble on this with your fave cocktails. Kurkure Paneer
@ Hola: The pub on Dr Sarat Banerjee Road combines the softness of fresh paneer with the crispness of papad that's served with a sweet curd and burnt garlic dip, adding smokiness. Papad Kebabs
@ We.Desi: The Indian food spot on Camac Street whips up a crispy kebab that is coated in papad crumbs and has a filling of masaledaar aloo that you won't be able to resist. Served with mint chutney and pickled onions, this is a hatke munch. Try at home: Chef Rahul Arora's Papad Pudine Ka Paratha
For dough
¾cup atta

1tbsp flour

Salt to taste

½tsp ghee

Warm water for dough

Mix atta, flour and salt. Rub in the ghee and knead with warm water. Let it rest for 30 minutes before use.
Filling :
4 roasted urad papad

1tbsp mint leaves

2tbsp chopped onions

1 chopped chilli

½tsp curd

Oil/butter for frying

Method:
Crush the papad and add the onion, mint leaves, chilli and mix well. Mix this with the yogurt. Stuff in the dough, roll and fry the paratha. Be gentle while rolling as the papad might rupture the paratha. Plain, masala, roasted, fried, or even baked. One food item, many forms. We're talking about our age-old accompaniment to most meals — the papad. From adding crunch to khichuri on a rainy day to becoming a top finger food with drinks, this versatile item has been playing many roles, and it was time that we went about town to look for some interesting dishes using papad. 
Palak Aur Papad Ka Sangam
@ Whats in D Name: The Camac Street pub brings the health benefits of spinach and the crunch of papad in this yum kebab that also has cheese and peas. Relish it with a sweet-and-sour tomato sauce and a fiery green chutney. 
Papads of India
@ Spice Klub: The vegetarian eatery on Park Street does an elaborate papad platter that includes varieties from across the country such as aloo papad, sabudana papad, urad dal black pepper papad, khicha papad chura, shell papad and mathiya. This comes with their signature dip combo in eight varieties.