Brit Awards do away with male and female categories
Artists like Sam Smith and Will Young had been asking for the change for long because they feel current system excludes non-binary artistes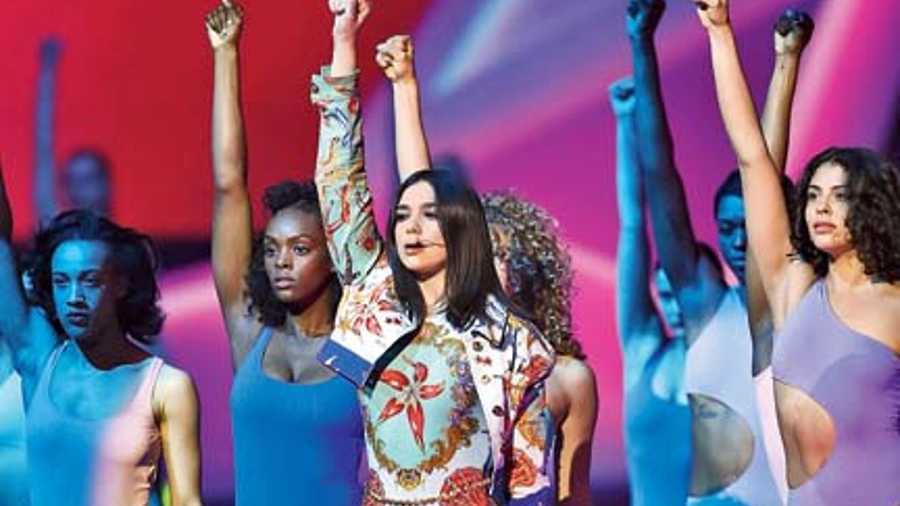 File picture of Dua Lipa performing New Rules during the 2018 Brit Awards
---
Published 25.11.21, 01:13 AM
|
---
In a bold move, starting in 2022, the Brit Awards will do away with separate male and female prizes for best solo and best international act, getting replaced by two gender-neutral awards — Artiste of the Year and International Artiste of the Year. This means, Dua Lipa and J Hus will go down as the last stars to win best female and male at the Brit Awards.
Artists like Sam Smith and Will Young had been asking for the change for long because they feel current system excludes non-binary artistes. Smith, who is non-binary, missed out on a nomination at this year's awards, despite his album Love Goes reaching number two in the UK chart. Writing on Instagram at the time, the star called for awards shows to be more "reflective of the society we live in". A now-deleted post from Smith reads: "The Brits have been an important part of my career. Music for me has always been about unification not division. I look forward to a time where awards shows can be reflective of the society we live in. Let's celebrate everybody, regardless of gender, race, age, ability, sexuality and class."
The organisers of the Brit Awards have tweeted: "The Brits have committed to making the show more inclusive." And on the awards show's website, they added it was about "celebrating artistes solely for their music and work, rather than how they choose to identify or as others may see them, as part of the Brits' commitment to evolving the show to be as inclusive and as relevant as possible". The Brits have awarded prizes along gender lines since they began in 1977.
What would be interesting to see is how singers like Harry Styles and Ed Sheeran fare alongside Adele, Billie Eilish, Taylor Swift, Beyonce and others. There's a chance that the award ceremony may become a men-versus-women fight rather than being a joy for millions tuning in year after year for a few hours of entertainment.
Going by MTV Video Music Awards, which replaced its best male and best female prizes with an overall best artiste award in 2017, there has been a somewhat 50/50 split and the winners have been Ed Sheeran, Camila Cabello, Ariana Grande, Lady Gaga and Justin Bieber. The Grammys merged the male and female categories for best pop vocal, country vocal and R&B vocal performances in 2012. In the decade since then, the prizes have been split exactly 50/50 between men and women.
The next edition of Brit Awards will take place on February 8 at London's O2 arena.