Hena Nafis launches Good Food Bad Food at The Gallery, JW Marriott Kolkata
At the event, the nutritionist stirred a spirited conversation around healthy eating and provided incisive analysis on her book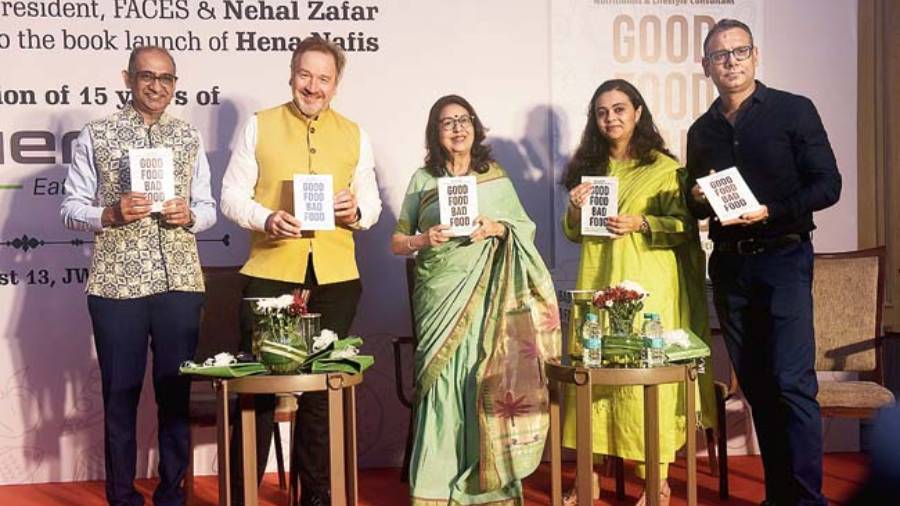 (L-R) Imran Zaki, Adrian Pratt, Rita Bhimani, Hena Nafis and Nehal Zafar at the launch of Good Food Bad Food at JW Marriott Kolkata
---
Published 20.08.22, 01:39 AM
|
---
At the launch of her book Good Food Bad Food, on August 13 at The Gallery, JW Marriott Kolkata, nutritionist and The Telegraph columnist Hena Nafis stirred spirited conversation and provided incisive analysis on her book. Nafis said, "People are being scared of food, you go to a party and people are always scared of eating. I always wanted to improvise that. Food is sacred. One should respect food. In this world, there are many people who do not get food to eat. We should learn more about food, rather than avoid it."
The launch event was hosted by Imran Zaki, president of FACES, and Nehal Zafar. Zaki said, "It was very important for us to know what kind of food we eat, and today we discovered that a person like me, I was always being told to avoid food like red meat and egg yolk. Hena's book gave me an insight that my beliefs were wrong. The key to healthy food lies in moderation. Moderation is the key to healthy living." Adrian Pratt, director of the American Center, and Rita Bhimani, author and veteran publicist, were in attendance. Adrian Pratt said, "A recent problem is juvenile obesity. At a critical stage, the only known measure that can prevent it is nutrition. In school canteens, the only major problem is that they sell food that are affordable, but not exactly packed with nutrition. The schools in United States are trying to endorse healthier habits. This book helps me to get more insight into the problems surrounding diabetes and health."
A conversation with Nafis about the need of getting the right amount of nutrition and consuming it in the right amounts followed. Guests were encouraged to ask questions, and Nasif answered these by relating personal tales that shed light on her points of view. Nafis discussed the ways in which our blood types and personality qualities might have an impact on the way we eat. Rita Bhimani and Adrian Pratt were speaking  about their ideas and thoughts on everyday food intake, including what defines a "bad dish" and what alternatives there could be for people who have dietary restrictions. Bhimani added, "The book talks about immune system, a topic that we often tend to overlook. The immune system is an important aspect in keeping  our lives proper and healthy. The book also talks about eating local, not global, the importance of sleep, growing your own vegetables. The book is very simple in nature yet very informative."
Following the discussion, there was a delightful tea with a variety of delectable and nutritional foods that everyone quite loved.
Pictures:Pabitra Das