How to Carry What Can't Be Fixed: A Journal for Grief by Megan Devine
A much-needed journal for the times, How to Carry What Can't Be Fixed is not your cliched workbook with checklists. The journal helps you not to overcome grief but to first accept it. Get introduced to self-care exercises which include writing prompts to honour your pain and heartbreak and learn what it means to find meaning in your loss. Devine aptly says, "Being allowed to tell the truth about your grief is an incredibly powerful act." It is not just a journal but your everyday companion on accepting your grief and finding your own truth.
A Year of Zen: A 52- Week Guided Journal by Bonnie Myotai Treace
This journal provides you with one year's worth of writing prompts that help you with self-exploration, reflection, and mindfulness to live a happy, peaceful life. For those who practice the art of Zen, are new to it or even those who don't know anything about Zen Buddhism – this is your go-to journal with writing exercises bringing attention to meditation and intellectual growth.
Becoming: A Guided Journal for Discovering Your Voice by Michelle Obama
Get to know the journey of becoming the First Lady of the United States of America as Michelle Obama shares with her readers her own path to self-discovery. This is a memoir based on the challenges of being Mrs. Obama and the myriad stories that came with the responsibilities. Filled with thought-provoking questions and prompts, this book helps you reflect on your own personal journey with your goals, challenges and dreams. Are you ready to discover and rediscover your story?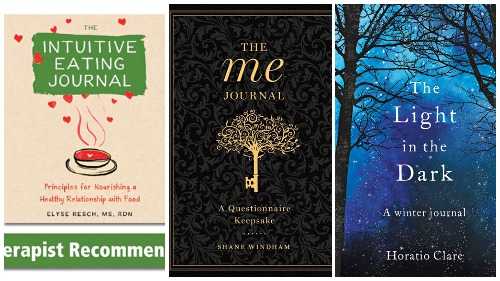 The Intuitive Eating Journal: Your Guided Journey for Nourishing a Healthy Relationship with Food by Elyse Resch
Here is an illustrated journal which provides all the tools you need for intuitive eating! Now one can develop a healthy relationship with food without the need of imitating the 'diet-culture'. Respect for one's body is important and the journal is filled with writing prompts to help you find joy and satisfaction in eating. It also helps you find peace with food and offers a way to explore yourself as a whole new person.
The Me Journal: A Questionnaire Keepsake by Shane Windham
Pen down your unique stories, thoughts, opinions, hopes and dreams with the help of Shane Windham. The categories in this journal include, 'Your Lists', 'This-That', 'Your Most Favorite', 'At Random', 'What Are Your Thoughts On'. These questions and activities are not only fun but thought-provoking too! Grab a copy of this journal for yourself or make a gift of it to your friend who needs a boost of positivity in their lives.
The Light in the Dark: A Winter Journal by Horatio Clare
A beautiful journal of Horatio Clare's The Light in the Dark, talks about the author's feelings during winter. It describes the journey of Clare through his transition from autumn to winter in the UK, his emotional and psychological responses to seasonal changes as well as nature's physical one. If you are someone who deals with seasonal sadness or winter blues, this book is recommended for you.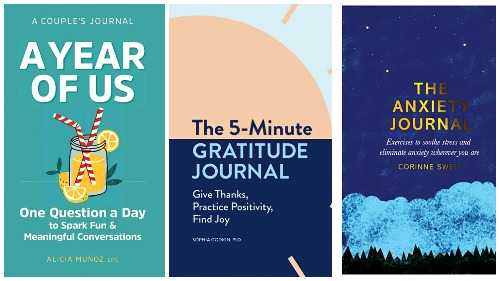 A Year of Us: One Question a Day to Spark Fun and Meaningful Conversations by Alicia Muñoz
In the busy life of a couple, it is difficult to find a moment to connect with each other. Devote a few minutes each day telling stories and sharing feelings with this couple's yearly diary filled with insightful questions. With the help of a daily prompt, now you can discover each other's dreams, laugh together, and establish new connections. Every page of this journal will inspire conversations about future goals, emotions, romantic relationships, hobbies, or any other interesting topic. Revive memories by asking questions which include "What's been one of the most transformative or meaningful moments you've experienced with me since we've been together?" Or have fun while you ask a random question like "What animal do you think embodies your personality the most, and why? What about mine?"
The 5-Minute Gratitude Journal: Give Thanks, Practice Positivity, Find Joy by Sophia Godkin
Build a better habit, find and develop a gratitude attitude with this simple positivity journal. The 5-Minute Gratitude Journal allows you ways to easily and happily develop your daily practice with insightful prompts in just a few minutes. It will inspire you to realise the big and small things that you take for granted, and make a difference in your life. If you are feeling down or it is difficult to even cope with your Monday blues, get hold of this book and practice mindfulness-based exercises with powerful quotes and positive affirmations.
The Anxiety Journal: Exercises to Soothe Stress and Eliminate Anxiety Wherever You Are by Corinne Sweet
For someone dealing with anxiety, this journal is of great help! From phobias and social anxiety to generalised anxiety (GAD) and day-to-day worrying, anyone can use this journal where the author encourages you to use CBT techniques and mindfulness exercises to help you understand your anxiety better. The first step in coping with your struggles and racing thoughts is to first acknowledge and accept it. Achieve the peace and calm you have always been looking for with the help of this anxiety journal.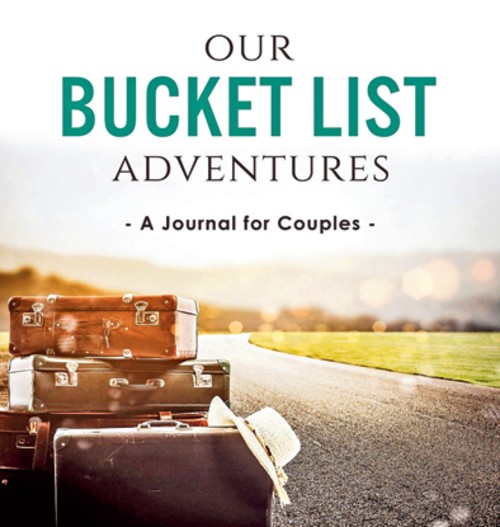 Our Bucket List Adventures: A Journal for Couples by Ashley Kusi and Marcus Kusi
Plan all the adventures with your partner with the help of this couple journal. You can create 50 unique bucket list goals which you want to accomplish together. Other than that, record all the adventurous memories which you have created together! Add photos and make it a wonderful scrapbook. Short of adventure ideas? The journal comes with 115 bucket list ideas for couples. Plan, experience and journal your lifetime of happiness together at one place.