An insider's account of the Indian electoral system
Former chief election commissioner, Navin Chawla's book, Every Vote Counts: The Story of India's Elections is an account of the working of the electoral machinery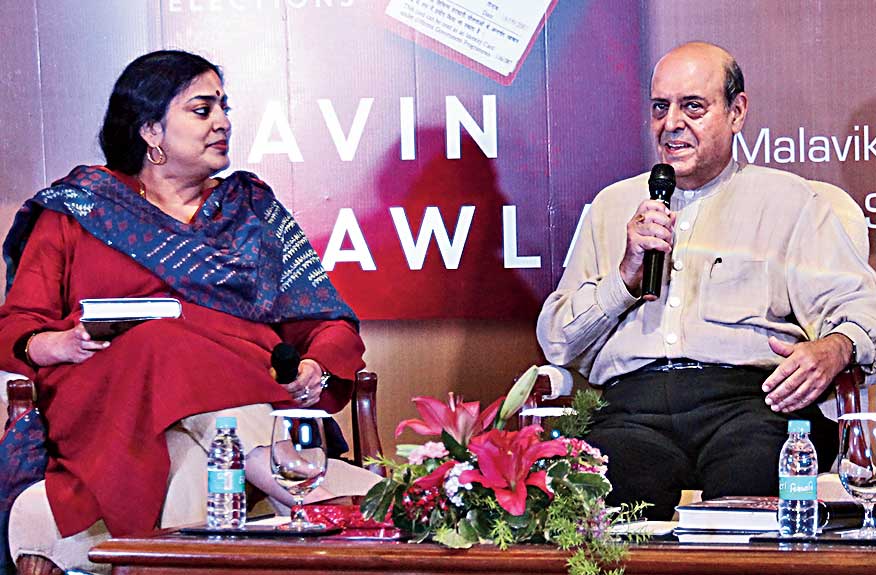 Malavika Banerjee and Navin Chawla at the session
Picture: Koushik Saha
---
Published 02.04.19, 02:17 PM
|
---
A fierce discussion on the Indian electoral system stormed the stage as former chief election commissioner, Navin Chawla, took the stage at the Calcutta launch of his new book — Every Vote Counts: The Story of India's Elections at Taj Bengal's Crystal Hall last month. The book is an account of how the electoral machinery works in this country and how the humongous task of conducting elections in India is undertaken. The discussion was moderated by Malavika Banerjee, director, Kolkata Literary Meet, and what followed was an insightful session by the former bureaucrat. The evening ended with a Q&A round followed by the author signing books. Highlights of the session... Role of responsibility: "The challenge from within the Election Commission is something that only the commissioners know. This time there are 850-odd million people waiting to exercise their democratic right," said Chawla.
Fake news menace: The author and former bureaucrat finds the phenomenon of fake news to be very dangerous which he believes to be the second-most worrying cause after money power and muscle power.
Contradiction and election cost: A characteristic of the system is marked by a duality — while political parties accuse the EVMs of being prone to hacking, they find everything right with the system as soon as they come to power. The author feels that the money put into running for elections is inversely linked to the cadre strength.
Elections on time: It is a great achievement for Indian democracy that we have always been able to hold elections on time.
On Sukumar Sen: The contributions of India's first chief election commissioner, Sukumar Sen, was highlighted and how he convincingly managed to hold free and fair elections without a large supporting staff was spoken about.
On T.N. Seshan: Another election commissioner who finds periodic mentions in Chawla's book is T.N. Seshan, for bringing the post of the Election Commissioner to national conscience.
EVM controversy: The author believed that EVMs cannot be manipulated.