Two sides of the coin
A look at Subhajit Khush Das's Manasa: The Churning Within and Aruna Mohanty's Samsara and Pratinayaka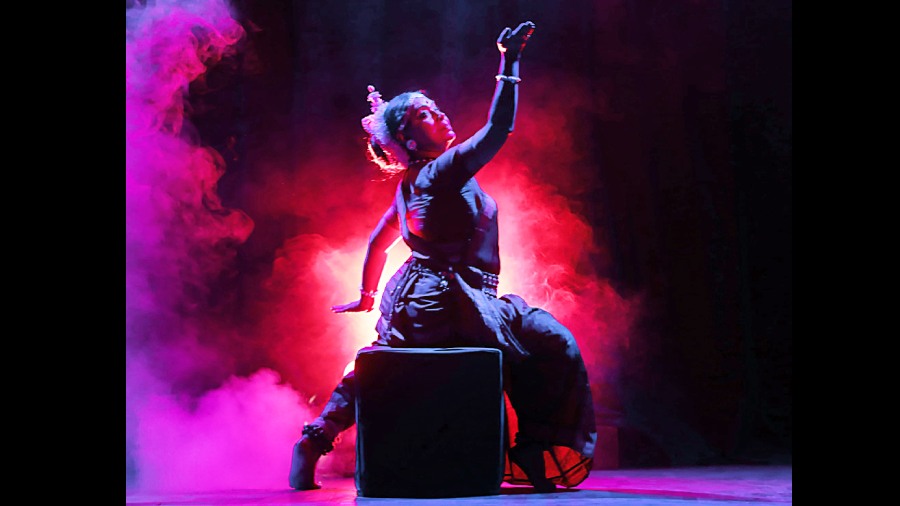 ---
Published 30.07.22, 04:06 AM
|
---
Two recent performances, one embodying youth and the other experience, were dynamic and compelling in their own ways. If Subhajit Khush Das's Manasa: The Churning Within at Gyan Manch was a simple retelling of a familiar story about a local goddess, Aruna Mohanty's (picture) Samsara and Pratinayaka, presented at Rabindra Sadan by Debamitra Sengupta and Kolkata Mayur Lalit Dance Academy, were layered, cerebral and metaphysical explorations of the cycle of life and death and mythology.   
The plot development of Manasa is linear, without subtexts, and its choreographic motifs can be recognised easily. The dancing is upbeat and energetic, sometimes generic as well, but it has one singular strength: Das is a captivating, attractive, high-energy dancer. He is delicately lyrical as well as intensely powerful in his stretches, floor work and limb movements. Primarily trained in Bharatanatyam, he displays the flexibility of a mover who has encountered several forms and has travelled a considerable distance with them. His dance has rare freshness and charm, fit to cast a spell on the viewer.
In the spiritual reverberations in Aruna Mohanty's solo pieces, however, there is an articulate complexity and gripping technique that mark her as a master of Odissi. In the meditative and deeply philosophical Samsara, she moves from one stage of life to another, likening existence to an insubstantial droplet on a lotus leaf. But the sense of impermanence is infused with joy, depicted in the flow and precision of her movements.  
Pratinayaka is an unforgettable 30-minute choreographic tour de force in which the protagonist is the proto-hero of Natya Shastra, a character that exists solely to establish the extraordinary qualities of the hero. The piece is an episodic narration of stories that bridge time, space and eternity. Hiranyakashipu, Ravana, Kamsa and Time are celebrated as foils to the nayaka, completing a circle of opposites, as it were, to complete a loop.