Music of the tides
Majhi was Bhromora's latest offering, essaying the love songs of a boatman, caught in the vortex of circumstances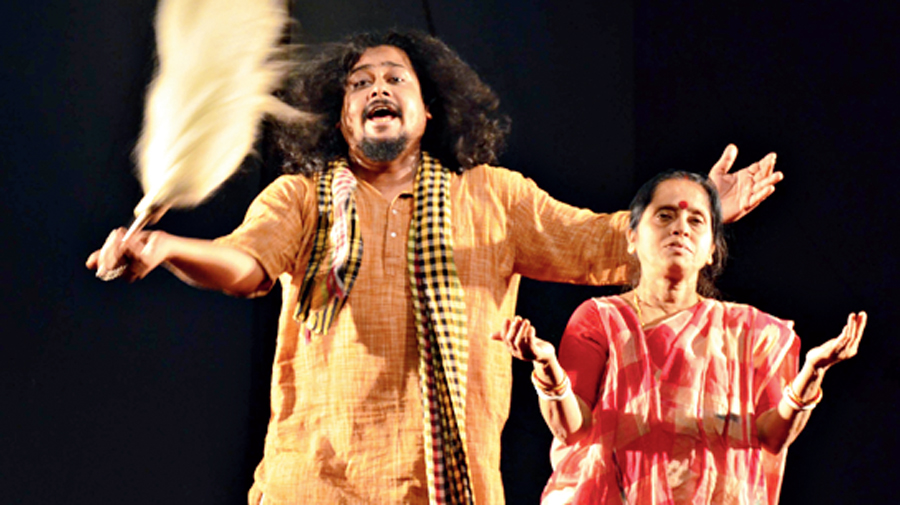 ---
---
Essaying the love songs of a boatman, caught in the vortex of circumstances, in a programme titled Majhi was Bhromora's latest offering at a dismally empty Sisir Mancha. Considering that it was well directed by Sibabrata Karmakar with the singers performing live, one would have expected a better turnout.
But the evening had strong content in the form of its sets and, of course, the singers who had style and a robustness that seeps into the soul. Although the main singer, Tirtha Bhattacharya (portraying Sundar, the boatman), did sound a bit tired in patches, he had stellar experience and the passion to carry off songs like "Koinya re" and "Donka baijo re". Both the songs were traditionally eclectic and beguiling, and added an assuring, lovely essence to the theme. Two other numbers that stood out were Amitabha Muhuri's "Emni koira sukhe dukhe" and Malati Saha's "Behula". Despite the repeated, familiar spins, the singers created the effect of a powerful storyline that underlined battered hopes.
The chorus redeemed itself with several numbers such as the popular "Sundari Kamala" and "Golapi". Clearly, the group is well trained and has that hermetic quality to bring an engaging fruition to the listeners.