Break free
Azaadi Mera Brand, Anuradha Beniwal's frank and honest travelogue charts a Rohtak girl's solitary journey to different parts of India and Europe to discover her true self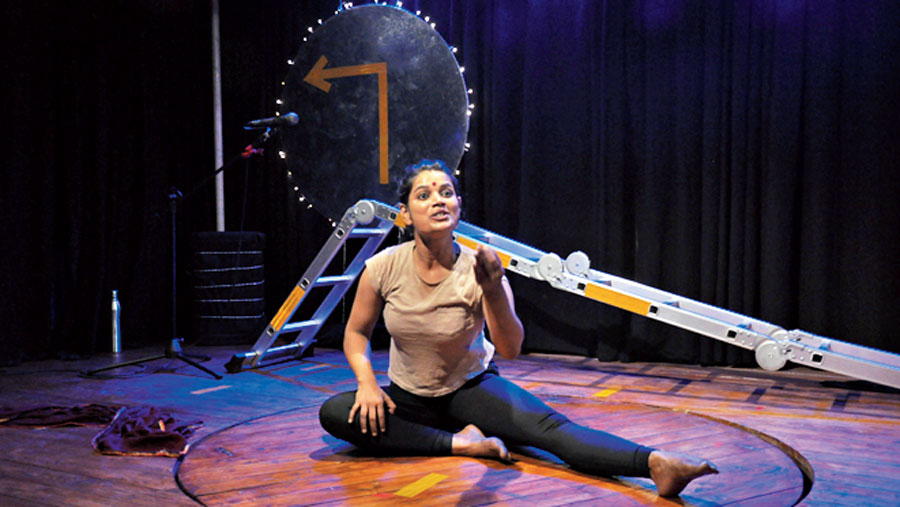 A moment from Azaadi Mera Brand.
Anshuman Bhowmick
---
Published 03.07.21, 02:56 AM
|
---
Azaadi Mera Brand, Anuradha Beniwal's frank and honest travelogue that charts a Rohtak girl's solitary journey to different parts of India and Europe to discover her true self won admirers ever since it was published in 2016. It has just seen a stage adaptation. Designed and directed by Pravin Kumar Gunjan, this production by Begusarai-based The Fact Art and Cultural Society, premiered in Begusarai on April 13. The team travelled to West Bengal in no time. This reviewer caught the action at the Institute of Factual Theatre Arts' rooftop performance arena in Dumdum on April 19.
Essentially a solo act by Shilpa Bharti, the performance script closely follows Beniwal's coming-of-age narrative. Gunjan designs a multi-purpose space with limited props and flexible tools. This minimalism works wonders. Little changes in costumes, like putting on a lehenga or a denim jacket or sticking a red bindi on the forehead, helped the narrative shift locales. Md Rahman's sound design keeps pace with the rest of the production. The live band offered a break at times, and distracted as well. The light designer, Chintu Kumar, relied a little too much on blue, missing the subtle mood shifts often, but managed to highlight the backdrop when required.
However, it is the performance that matters the most and Azaadi Mera Brand is a Bharti show all the way. The young actor has a commanding stage presence. That evening she wore her confidence so well and maintained it all through the 95-minute act that the packed audience could barely take their eyes off her. How could they, for Bharti made eye-to-eye contact all along and the intimate setting ensured a supreme level of concentration.
It was a gallant show on every count — outspoken, hard-hitting and incisive. One would expect Bharti would mature with every show, express the moments of vulnerability with more compassion and etch out a more nuanced performance. After all, Beniwal's personal narrative holds true for most women born and brought up in traditional Indian society. Given its potential and portability, Azaadi Mera Brand can make positive interventions to help them reclaim that personal and private space.