Sign of the times
Fashioned as a black comedy, Spare Parts is a critical comment on the socio-political climate in West Bengal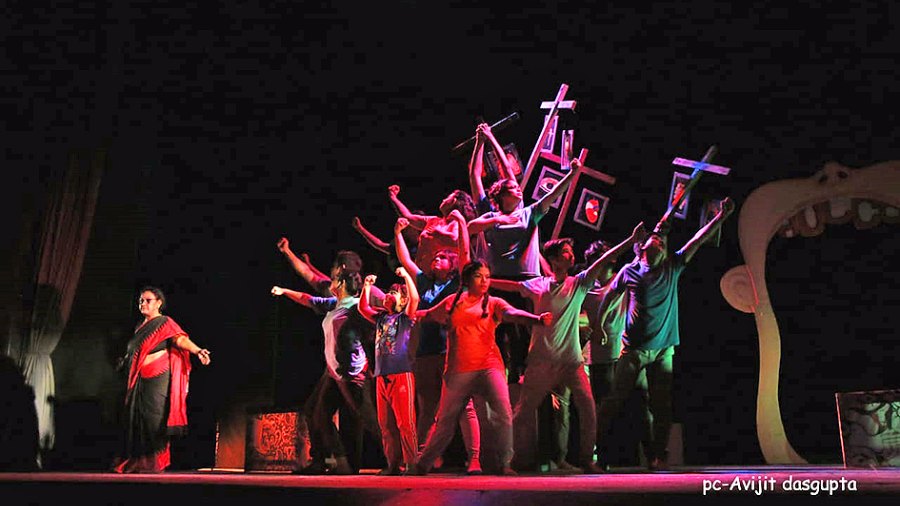 ---
Published 12.11.22, 03:16 AM
|
---
Swapnamoy Chakraborty, one of the leading Bengali authors, has recently developed a knack for writing plays. We have already applauded his debut in these columns. Spare Parts, his latest, has been appropriated by Rangroop and its director, Sima Mukhopadhyay. The results are highly stimulating and entertaining.
Fashioned as a black comedy, Spare Parts is a critical comment on the socio-political climate in West Bengal. This makes it relevant because steering clear of issues plaguing us cannot become the hallmark of contemporary Bengali theatre. Designed in a flexible manner — with casual costumes and an extremely light stage design — the 90-minute-long production choreographed by Somnath Dutta reflects the absurdity of our times. Spare Parts is led from the front by Kamal Chattopadhyay, who plays Madhu Basak, a common man who climbs the social ladder after a regime change and the degeneration of the moral fabric. Basak uses unscrupulous means to become an entrepreneur dealing in human organs, or spare parts — a typical Chakraborty touch, bordering on fantasy. How he hobnobs with the political system, making no bones about ideological pull, forms the crux of the comedy. The dialogue, edited thoughtfully by Mukhopadhyay, takes a leaf out of newspaper headlines and videos going viral.
This reviewer was relieved to see the audience responding and clapping to the expressions culled from our everyday lives. Chattopadhyay's comic timing shines bright in the sequences featuring him and electronic media journalists. Mukhopadhyay, known for her sensitive treatment of realistic themes and occasional forays into absurd drama, decides to foreground the athleticism of a young bunch of actors who move to Anubhab Mukherjee's music score all over the proscenium. The director herself chips in during the curtain call, striking a smart pose. However, one expected a more satiric intent and cutting-edge critique of the lumpenisation of the  public space in Spare Parts. No one should be spared if our flagging group theatre tradition wants to assert itself politically.