Loose bonds
THEATRE: Frugally designed, Barasat Rameshpally's play is a product of pandemic times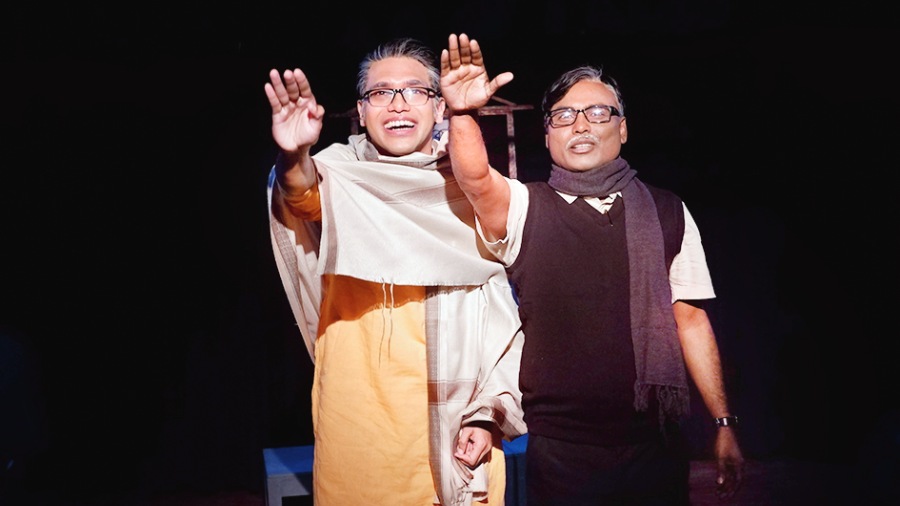 A moment from the play, Dwidha
Barasat Rameshpally Theatre Group
---
Published 05.02.22, 02:39 AM
|
---
In many ways, Barasat Rameshpally Theatre Group's production, Dwidha (directed by Sudip Sinha), embodies theatre practice amidst the pandemic. Sinha, who had come up with the accomplished, full-length proscenium production, Binoyer Jibon (reviewed earlier in this column), had to reconcile himself with the dismal destiny of the play being 'locked-down' after far fewer runs than it deserved. With full-length productions becoming financially and logistically unviable in these uncertain times, Sinha (like many others in his position) has been compelled to turn to plays of shorter duration, frugally designed and fit for off-proscenium spaces.
One such play is Dwidha, which was performed at Theapex, a private auditorium at Dumdum, which is a much sought after venue for theatre when government properties remain shuttered. Based on a work by Abdul Hasnat Hye, the premise of Dwidha is simple — two men, past their prime, bond with each other during their morning walk. Their encounters with a number of much younger people prod them towards accepting new values. A fair criticism of the text would be that the process of accommodation turns out to be too facile. Some portions of the text, dealing with the history of art movements and references to French flâneurs, come across as pedantic purveying of information.
The mainstay of Dwidha is the performance by the two lead actors, Sumanta Roy and Sumit Kumar Roy. To their credit, both actors dig deep into their reserves of skill to precisely define their characters without too much assistance from the script. As mandated by the text, both carefully eschew any attempt to hyper-emote or embellish their performance with added frills. Young Moumita Dutta shines in her brief, but significant, appearance, holding out promise for the future. Although same-sex love is a major issue, uttering the word lesbian is inexplicably dodged throughout, somewhat subtracting from the central thrust of the play.