Less is more
The recent exhibition of Ramananda Bandyopadhyay's drawings at Debovasha titled, In Search of Beauty, takes us back to an imaginary past where people enjoyed the luxury of unlimited leisure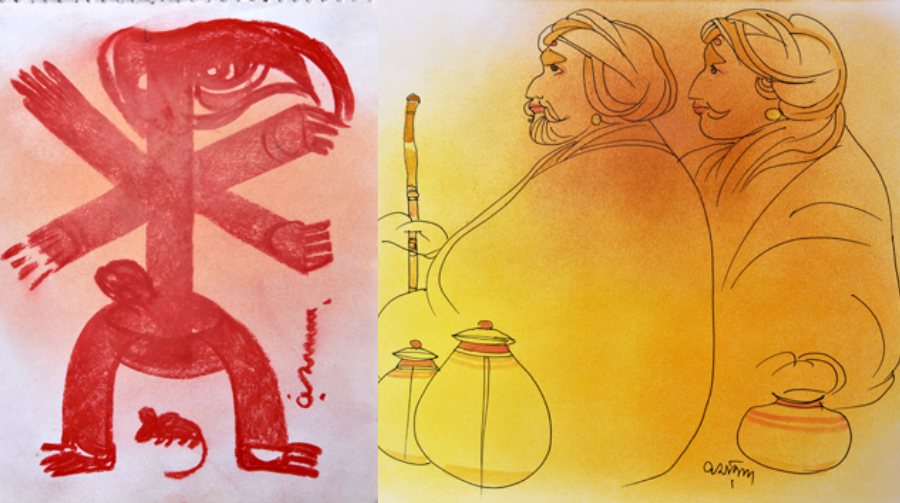 ---
Published 28.05.22, 02:29 AM
|
---
Lotus-eyed women, their bodies defined by soft, gentle curves. They could be young mothers, fisherwomen, or daydreaming maidens. Their male counterparts are equally charming, like cuddly soft toys, their gender distinguished only by their moustaches. As in most of his shows, the recent exhibition of Ramananda Bandyopadhyay's drawings at Debovasha titled, In Search of Beauty, takes us back to an imaginary past where people enjoyed the luxury of unlimited leisure. With pencil, pen or brush, the artist has been churning out countless such drawings with a dexterity that allows him to produce them without giving them much serious thought. A sizeable number of these drawings, almost identical in their sameness, were displayed at the Debovasha show.
However, some of the works stood out. Bandyopadhyay had done several images of Hindu deities. Of these, the most striking was one of Ganesha reduced to a geometric four-armed figure drawn with red crayon, somewhat like the auspicious totem that priests delineate with vermilion at various ceremonies (picture, left). Gone was Ganesha's rotund belly. His elephant head, too, had shrunk. And he looked like he was happily jiving. The second Ganesha was created with the broad strokes of a brush loaded with black against a dark red background. Both minimalist works amidst ornamental excess.
Again, with the same broad strokes, but now with brown, Bandyopadhyay drew the faces of two men, the one in the foreground covering his mouth as if in amazement. The third was a drawing of the aquiline profiles of two turbaned, moustachioed men, perhaps pilgrims or merchants of yore, sitting on the ground, one with a walking stick in hand (picture, right).
The fourth was a mixed media drawing of probably a bejewelled Nepalese woman with almond eyes and a bird perched on her shoulder. The fifth was the intriguing head of a man modelled with quick, flat brushstrokes, his features not clearly delineated. Two figures huddled together were embodied with thick, bold, black brushstrokes. In striking contrast was the ghostly visage of a bespectacled man.