Look within
Kankana Singh's 'Aham — Path to Self-Realization', speaks of her own inward journey of personal discoveries within her dance tradition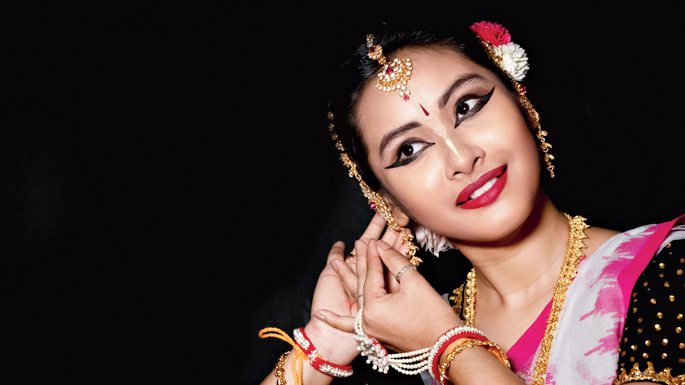 Kankana Singh.
Kolkata Centre for Creativity
---
Published 27.11.21, 02:05 AM
|
---
It is often a tall order for a young classical dancer to overcome her consuming reverence for her art and initiate a private conversation with it on her own. In this context, Kankana Singh's Aham — Path to Self-Realization, speaking of her own inward journey of personal discoveries within her dance tradition, acquires importance as she steps out of the familiar. What is more, she does not shy away from allowing her own personality to manifest itself through her work.
Presented recently by the Kolkata Centre for Creativity as a part of its Emerging Artist Performance series, Singh's digital work draws wisdom from her extensive and virtuosic Manipuri training. But it also holds within it engaging moments of personal research, recognition and inspiration. There is a marked shift in her body language as romantic loveliness makes way for the emergence of a powerful and independent persona.  
Singh starts her performance with glimpses of the poised and enigmatic nayika of the Indian classical arts. For all her impassioned expressions of love, the buoyant grace of the Manipuri form and her intense longing for her beloved, the woman represented is constrained by tradition to begin with. The structured nature of the barrel-shaped skirt or kumil she wears holds her back.
As the piece progresses, however, the dancer embarks upon a liberating flight of discovery which leads her towards maturity and self-awareness. Her constructs of self, womanhood, and that of divinity expand until they blur into a new whole — her idea of Shakti. It is germane to her individual social context and prompts her to communicate on her own terms using a vocabulary that is uniquely hers.
Stitching together songs in the Meitei and Bishnupriya dialects of Manipuri and rounding off with a poem by Mallika Sengupta, Singh puts together a metaphoric rite of passage to maturity as a dancer-choreographer. Her vision, clearly, is one that seeks to cut out outward appurtenances to look for the essence of her form.