A recent workshop at HHI focussed on enhancing your happiness quotient
The certified 'happiness coach, counsellor and life coach', Diya Jaiswal says, people should cherish their most precious gift — LIFE!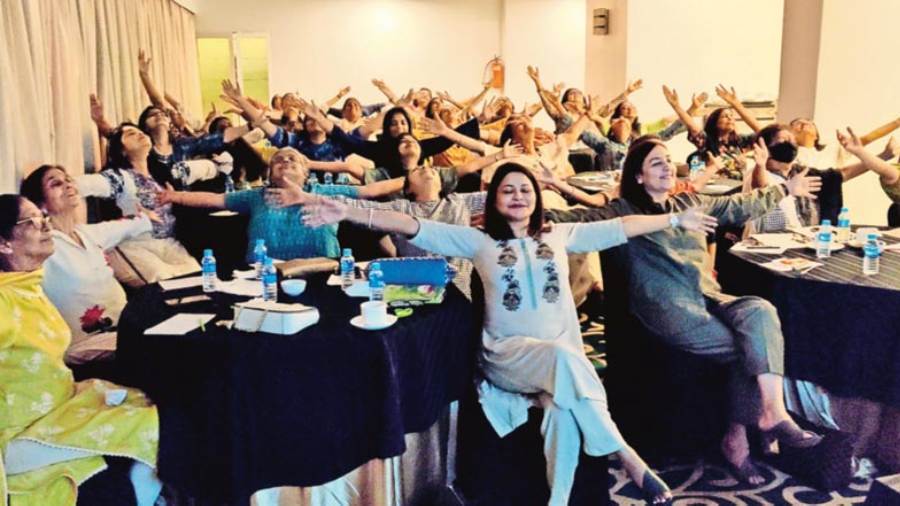 Glimpses from the workshop
---
Published 29.07.22, 01:27 AM
|
---
Despite having a flourishing corporate career for nine long years, Diya Jaiswal realised her true passion after facing a personal health scare a few years back. It was then that she established Empowerful — a mental health well-being centre that has now been in operation for over five years. A certified "happiness coach, counsellor and life coach" who works with a global client base, Diya conducted a 'Psychology of Happiness Workshop' on July 23 at Hotel Hindusthan International (HHI) that gave a glimpse of how her workshops are usually conducted.
The session emphasised that the pandemic has reminded people that mental health can no longer remain the elephant in the room. People are eternally on the quest for happiness, though most have forgotten what it truly feels like. This is where Diya steps in. She works with individuals on a one-on-one basis as well as in groups through curated workshops. Her workshops are high-impact and result driven with a carefully curated 90-minute module enabling participants to find the secret to their happiness through a series of experiential activities that are part of a globally tested tool kit. They learn to prioritise their individual happiness and enhance positive emotions and experiences. While some might be sceptical, Diya's work is backed by invigorating testimonials from her clients who come from all walks of life. They extensively talk about Diya's uplifting attitude and the workshop as extremely insightful. They leave feeling determined to practise what they learnt daily to stay firmly on the path to happiness.
Another focal point of Diya's plan is getting her message across to corporate groups. Having worked in one herself, she is aware of the widely held belief about work and happiness being completely disassociated. Most people believe that happiness was something to be enjoyed solely during your leisure time, even though employees happier in their personal life are healthier, more loyal, and innovative. However, when the pandemic hit and the boundaries between personal and professional life were blurred, people's mindsets had to be changed, feels Diya. Empowerful has designed workshops specifically keeping their corporate goal in mind. At the session at HHI, Diya shared three tips. The first is to practise one random act of kindness every single day. It could be as small as paying someone a compliment. She believes happiness is contagious and doing something kind makes both individuals happy. The second is to write in detail about one good thing that happened over the course of the day. This can be done on the Notes feature on your phone as it is easily accessible. Any time you feel low, going back to these notes will serve as a reminder of how often good things can happen therefore instantly boosting your mood. The third tip is sure to make all bathroom singers feel validated. Singing is proven to release feel-good endorphins. Bring out the bathroom singer in you, have fun and record yourself on your phone. Listening to the audio later is sure to bring a smile on your face.
As she rightly says, people should cherish their most precious gift — LIFE!