Whistleblowers train guns at Infosys
Charges against Parekh, CFO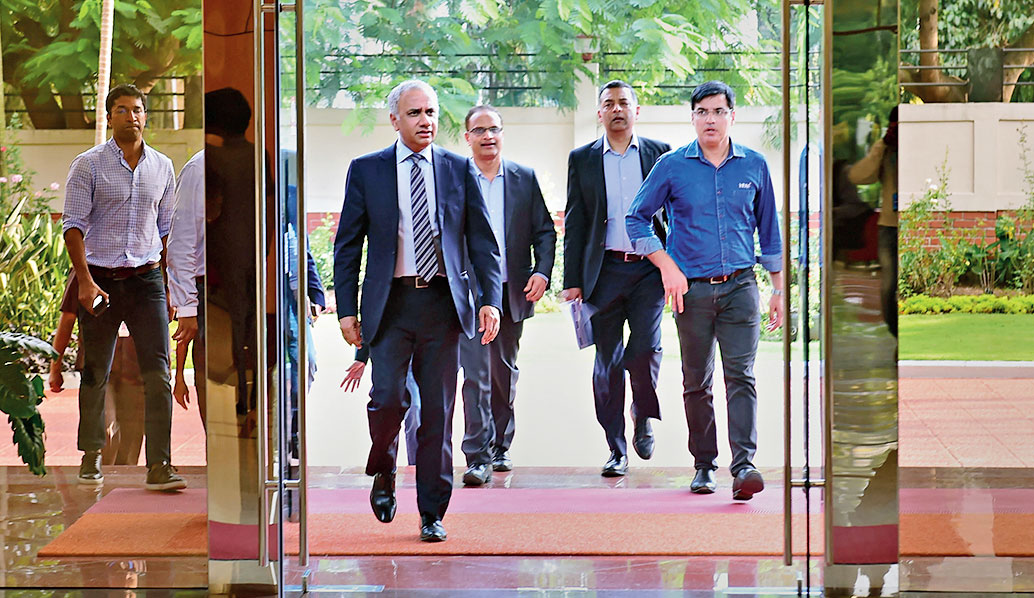 Infosys CEO Salil Parekh (left), chief operating officer Pravin Rao (behind) and CFO Nilanjan Roy (second from right) in Bangalore.
PTI
---
Bangalore
|
Published 21.10.19, 07:09 PM
|
---
Tech giant Infosys on Monday found itself embroiled in a fresh corporate governance storm when an anonymous whistleblower group calling itself "Ethical Employees" of the company charged CEO Salil Parekh and CFO Nilanjan Roy of inflating profits in recent quarters without recognising some cost items and making questionable assumptions on margins earned from large deals.
The charges against Parekh, who took over the reigns of the company in January 2018, and Roy, who was brought over from Bharti Airtel in March this year, was made in a letter to the Infosys board dated September 20. A second letter dated October 3, also made public on Monday, to Washington-based Whistleblower Protection Programme (WPP) said 20 enclosures of relevant emails and voice recordings that claim to substantiate the charges made against Parekh and Roy are being sent to WPP.
Infosys had announced its second quarter results on October 11, reporting a 6.2 per cent sequential growth in net profit and raising the lower end of its guidance for the fiscal. The results came a day after rival TCS lagged behind analyst estimates of net profit.
Bangalore-based Infosys said the whistleblower complaint had been placed before the audit committee. "The whistleblower complaint has been placed before the audit committee according to the company's practice and will be dealt with in accordance with the company's whistleblowers policy," it said in a statement.
Cost controversy
The employees in their letter to the Infosys board said they were asked to not to fully recognise costs such as those incurred on visas for the April-June 2019 quarter, adding they have voice recordings to back their claim. The issue was "postponed" when the auditor "opposed" it.
For the second quarter (July-September 2019), the letter to the board said "there is a lot of pressure to not recognise reversals of $50 million of upfront payment in FDR contract, which is against accounting practice. As this will reduce profits for the quarter and and be negative for the stock, they are putting pressure not to take the charge".
The employees also reported irregularities in large deals. "In large contracts like Verizon, Intel and JVs in Japan, ABN Amro acquisition, revenue recognition matters are forced which are not according to accounting standards," the letter said. The ABN Amro acquisition relates to the mortgage services firm Stater that Infosys acquired in March this year for Rs 1,000 crore.
"We have emails and voice recordings and we will share when investigators ask us."
The "Ethical Employees" also alleged irregularities in large deal approvals by the CEO himself, and accused the CFO of being compliant.
"Large deal approvals have irregularities. CEO is bypassing reviews and approvals and instructing sales not to send mails for approval. He directs them to make wrong assumptions to show the margins. CFO is compliant and he prevents us from showing in board presentations large deal issues," the letter to the board said.
The letter also referred to comments made by Parekh on the board members. The letter said Parekh had told them "no one in the board understands these things, they are happy as long as the share price is up. Those two Madrasis (D. Sundaram and D.N. Prahlad) and Diva (Kiran Majumdar- Shaw) make silly points, you just nod and ignore them".
Margin questions
Claiming that several billion-dollar deals of the last few quarters have nil margin, the whistleblowers have urged the board to ask auditors to check deal proposals, margins, undisclosed upfront commitments made and revenue recognition.
"All information is not shared with auditors… in board meetings, we are told not to present data on large deals and important financial measures as it will get board attention.
"The CEO and CFO are asking us to show more profits in treasury by taking up risks and make changes to policies. This will provide short term profits. They ask us not to make key disclosures in 20F and annual report and to share only good and incomplete information with investors and analysts," the whistleblowers wrote.
"Whoever disagrees is sidelined and many of them leave. In large deal finance team, important employees are left due to pressure to make deals look good," the letter said.
The whistleblowers alleged the company pays the travel expenses for Parekh's weekly personal trips.
"CEO spends two and half days in a week in Ecity and the rest in Mumbai. All his travel expenses are paid by the company, for these weekly personal trips. He is a green card holder and avoids deduction of taxes during his US travel which is non-compliance. Please check and details will be provided," the letter states.
Infosys has received whistleblower complaints in the past too, over alleged governance lapses. Earlier, one such report had alleged wrongdoings by Infosys while buying Israeli automation technology firm Panaya. Infosys had said its internal audit committee, after investigation, had found no evidence supporting the allegations.