US President Donald Trump subtly pressures India to dump Huawei
The demand wasn't explicitly aired in public but the president said that the contentious issue had been discussed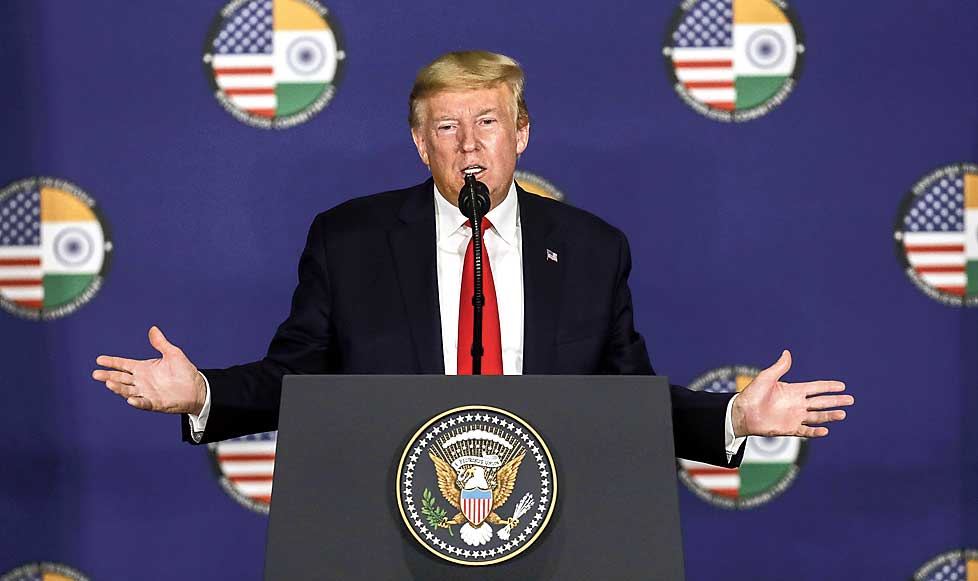 ---
New Delhi
|
Published 25.02.20, 07:56 PM
|
---
US President Donald Trump appears to have subtly pressured the Narendra Modi government once again to stop Chinese telecom equipment companies from bringing their 5G wireless technology into India.
The demand wasn't explicitly aired in public but President Trump told reporters after the signing of agreements at Hyderabad House here on Tuesday that the contentious issue had been discussed.
"We discussed the 5G telecom technology situation in the Indo-Pacific," President Trump said.
The US has been pushing its trading partners such as the UK, France, Germany and India to bar Huawei from offering their attractively priced 5G telecom equipment, arguing that it would enable Beijing to spy in these countries by accessing call logs of its citizens — a charge that the Chinese firm has vigorously denied.
The European nations have refused to oblige. Under pressure from China – which is India's second largest trading partner after the US – the Modi government has already permitted Huawei to participate in 5G trials that are yet to begin.
Vodafone Idea and Bharti Airtel have decided to go with multiple partners for the 5G trials, including Huawei, Nokia and Ericsson. Reliance Jio has picked Samsung as its partner for the trials.
In fact, at the meeting with India's top industrialists with the US President, Mukesh Ambani seemed to win some brownie points when he said that his telecom network, Reliance Jio, was the only one that had no Chinese equipment provider.
"We are the only network in the world that doesn't have a Chinese component," Ambani said inviting an approving comment from President Trump.
India will have to decide whether to join the proposed 5G Summit to be hosted by the US government in April. Industry analysts believe that the focus of the meeting will be to keep Huawei out of the participating countries.
The US has been aggressively trying to shut out Huawei and ZTE because of the strong backing they receive from the Chinese government.
A fortnight ago, US attorney general William Barr addressed a Washington-based think tank where he said the US ought to consider taking a stake in Nokia of Finland and Ericsson of Sweden to help them counter Huawei's dominance in the 5G wireless technology space.
"Putting our large market and financial muscle behind one or both of these firms would make it a far more formidable competitor and eliminate concerns over its staying power, or their staying power," Barr said while addressing the Center for Strategic and International Studies (CSIS).
Terming Beijing as the "top geo-political adversary" of the US, Barr had said: "China has stolen a march and is now leading in 5G ... They have already captured 40 per cent of the market and are now aggressively pursuing the balance."
Meanwhile, Ajit Pai, the chairperson of the US Federal Communications Commission (FCC), held talks with top telecom officials in India in an effort to develop a global regulatory framework for future technologies. The details of these discussions could not be ascertained.
Pai, a second-generation Indian American, also held a townhall meeting with officials of the Telecom Regulatory Authority of India (Trai) on Monday, where he was keen to understand India's position on of the regulatory regime for 5G and other aspects relating to telecom.
Pai's meeting with telecom secretary Anshu Prakash is understood to have revolved around security aspects of 5G.
"One did not hear or get a statement that ostracises Huawei in the 5G race. But it is loud and clear, that Huawei will face a tough challenge in a big market like the US and India," said N.K. Goyal, chairman emeritus of Telecom Equipment Manufacturer's Association.
The operators will certainly study and dissect the outcome of the posture by President Trump and US administration when they choose their network supplier for 5G technology.
M. Rajendran is a freelance journalist who once worked with The Telegraph