Renault cuts 15,000 jobs
The company was under pressure even before Covid-19 hit, posting its first loss in a decade in 2019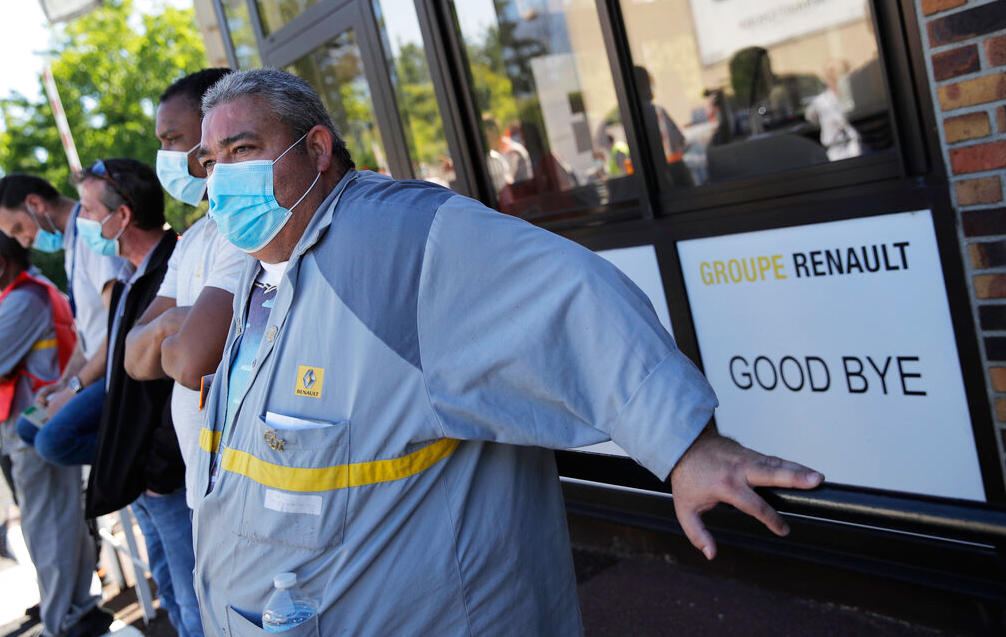 Protesting Renault workers stand outside their plant Friday, May 29, 2020 in Choisy-le-Roi, outside Paris. Struggling French carmaker Renault announced 15,000 job cuts worldwide as part of a 2 billion euros cost-cutting plan over three years.
(AP)
---
Paris
|
Published 29.05.20, 11:37 PM
|
---
Renault on Friday acknowledged that its global ambitions had been unrealistic, announcing plans to cut about 15,000 jobs, shrink production and restructure French plants as it pressed the reset button and sought to banish the spectre of Carlos Ghosn.
Faced with a slump in demand that has been exacerbated by the coronavirus pandemic, the French carmaker detailed plans on Friday to find 2 billion euros ($2.22 billion) in savings over the next three years.
"We thought too big in terms of sales," said interim chief executive Clotilde Delbos, adding the company was "coming back to its bases" after investing and spending too much in recent years.
Renault was under pressure even before Covid-19 hit, posting its first loss in a decade in 2019, and has said nothing would be "taboo" as it reviews its business.
It plans to trim its global capacity to 3.3 million vehicles in 2024 from 4 million now, focusing on its most profitable models and areas such as electric cars while freezing manufacturing expansion in countries like Romania.
Renault, like its Japanese alliance partner Nissan, is rowing back on an aggressive expansion plan pursued by Ghosn, its former boss-turned-fugitive, who is wanted on charges of financial misconduct in Tokyo. Ghosn denies the charges.
"The mindset has completely changed. The previous line was volumes and sales and being the first on the podium," Delbos said.
"We're not looking to be on top of the world, what we want is a sustainable and profitable company."
The company, due to bring ex-Volkswagen executive Luca de Meo on board as CEO in July, said it would cut costs by reducing the number of sub-contractors in areas such as engineering and the number of components it uses, as well as shrinking gearbox manufacturing worldwide.
Delbos ruled out the need for a rights issue, saying Renault was close to sealing a 5-billion-euro credit line guaranteed by the French government.
Renault shares were down 5.3 per cent by 1223 GMT, the worst-performing stock on France's blue-chip index.