Proposals link growth to jobs
Economists suggest simplification of the GST and the implementation of the direct tax code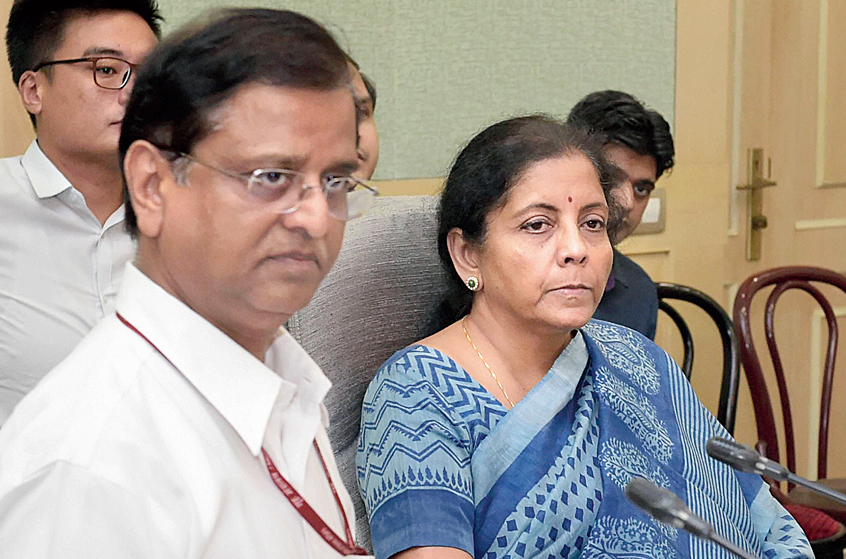 ---
---
Economists have recommended job-oriented growth measures and advised the government to maintain fiscal prudence at their pre-budget meeting with finance minister Nirmala Sitharaman on Friday. They also suggested a further simplification of the GST and the implementation of the direct tax code.
The meeting was Sitharaman's sixth with various stakeholders prior to the budget, including industry and farmers' bodies. The meeting assumes significance in the wake of growth falling to a five-year low of 6.8 per cent.
"The government's focus should be on growth and jobs. Some economists said there was no fiscal space, transmission of interest rates are also not taking place and the banking system should be stabilised," S. Mahendra Dev, director — Indira Gandhi Institute of Development Research — said. The economists said the budget provided a unique opportunity to promote manufacturing through the "Make in India" initiative.
The meeting touched upon a host of macroeconomic factors such as economic growth, jobs, fiscal management, investments and public sector borrowings, according to a release by the finance ministry. The economists suggested removing bottlenecks in the supply-chain, framing an export-import policy for agriculture and doing away with specific duties on textiles.
"I have basically talked about the external threats and opportunities because most people focus on fiscal and monetary measures. So I said (it) is a once in a generation opportunity of moving the supply chain to India," said former chief economic adviser Arvind Virmani after the meeting.
The economists also underlined the need for bringing an insolvency and bankruptcy code-type framework for the NBFC sector, infusing capital in banks and tapping into e-commerce's potential for job growth.