Policy pill to boost electronics exports
Govt aims to push manufacturing of electronics required by the defence and other strategic sectors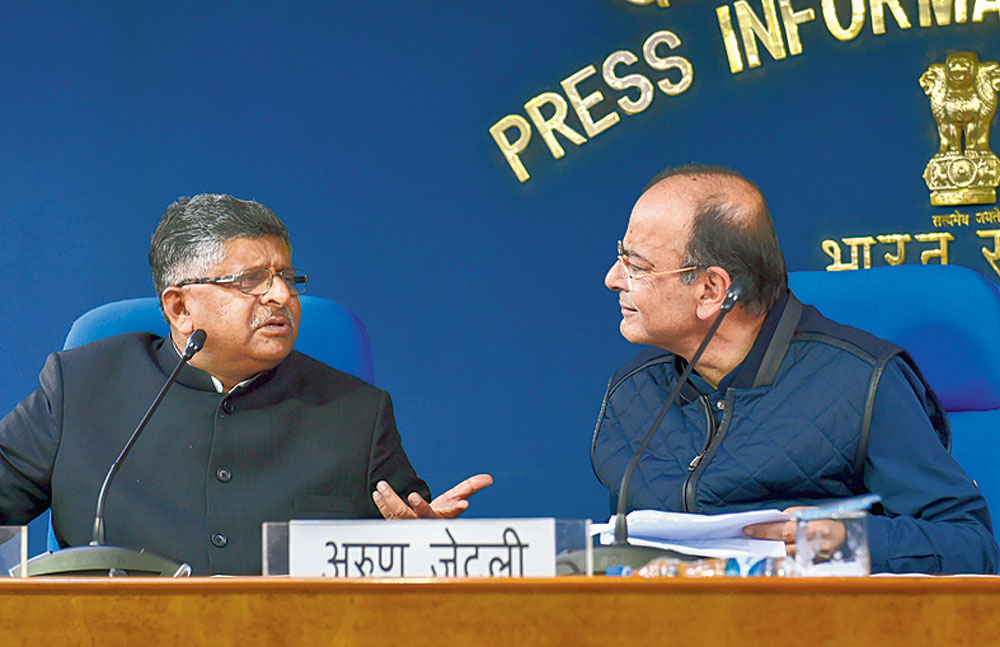 Arun Jaitley with Ravi Shankar Prasad in New Delhi on Tuesday.
(PTI)
---
New Delhi
|
Published 19.02.19, 07:49 PM
|
---
Coal mines allocation
The cabinet has also approved a new methodology in the coal sector. This will allow the allocation of coal mines for specified end-use or own consumption and to sell 25 per cent of actual production on a Run-of-Mine basis in the open market with payment of additional premium on such sale.
The National Policy on Electronics 2019, which aims to make the country an electronic export and manufacturing hub by promoting the production of strategic electronics such as artificial intelligence and defence electronics and generate over one crore jobs, was approved by the government on Tuesday.
"Through this policy, the government aims to make India an electronic export and manufacturing hub, and target $400 billion turnover in 2025, and provide jobs to one crore people," Union law minister Ravi Shankar Prasad said after the cabinet meeting.
The policy proposes to boost mobile manufacturing in the country to 1 billion units worth $190 billion (about Rs 13 lakh crore) of which 600 million units worth $110 billion (about Rs 7 lakh crore) will be exported from the country.
Under the policy, the government aims to push manufacturing of strategic electronics required by the defence and other strategic sectors in the country. The first electronics policy came in 2012.
Hydrocarbon
The cabinet has approved a revised methodology for auction and allocation of hydrocarbon resources to attract new investment in the exploration and production sector.
"The focus is on increasing production from existing resources and unexplored areas," finance minister Arun Jaitley said.
"The first category to be auctioned are blocks that are already explored fields. During bid evaluation, the weightage criteria for bidding under this category was 50:50 between minimum work proposed (thereby higher production) and revenue shared with the government. This has now been revised to 70:30 with higher weightage for minimum work programme.
"The second and third category is of those blocks where little or no exploration has been done. These blocks can be bid out without any revenue share commitment and the government will seek a share in the eventuality of a windfall gain," he said.