Paytm founder & CEO Vijay Shekhar Sharma may foray into crypto
He urged the govt to take a stand on the regulation which in turn will give clarity to the cryptocurrency businesses and allow the fence-sitters to take the plunge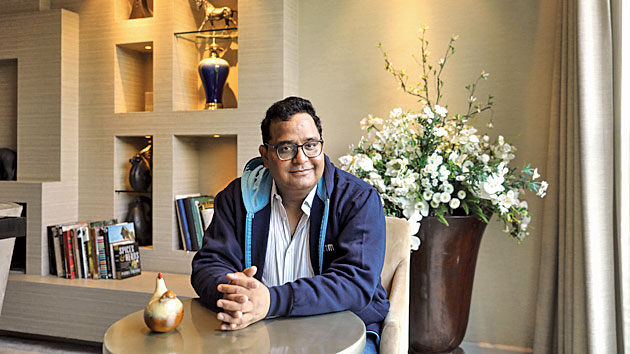 Vijay Shekhar Sharma.
File photo
---
Calcutta
|
Published 26.11.21, 01:58 AM
|
---
Paytm founder ad CEO Vijay Shekhar Sharma has thrown his hat into the crypto currency ring amid a looming ban on their operations in the country.
Sharma said he was open to take the Paytm brand abroad stepping forward to counter charges by brokerages that the business model of his company was not scalable. Shares of One 97 Communications Limited, the parent company of Paytm, on Thursday extended their gains for the third straight day ending at Rs 1,796.55, up 2.48 per cent, on the BSE.
Sharma has backed the crypto currency technology and is interested to explore business opportunities. The Centre will table a bill in Parliament in the Winter Session that seeks to prohibit private crypto currencies .
Sharma on Thursday urged the government to take a stand on the regulation which in turn will give clarity to the crypto currency businesses and allow the fence-sitters to take the plunge.
"Crypto will become a mainstream techn in 5 years and will have use cases that we cannot live without just like we cannot live without the internet today," he said at the annual session of the Indian Chamber of Commerce.
"I fundamentally believe the government should officially take a stand because after that we all who are thinking about it, for them the problem will be solved," he said.
Replying to a question on whether he will consider setting up a crypto exchange, Sharma said, "The answer is 100 per cent. It's a question like do you believe in smart phone or do you believe in the internet," he said.
He said the long-term plan was to take the Paytm brand to the overseas markets having already supported PapPay in Japan, where it has a joint ownership with SoftBank.
"We have gone to Japan and will go to a few more countries. I have told my team the day we cross a revenue milestone of $1 billion, when we will be Ebitda break even, we will get a formal ticket to go overseas," Sharma said.
He added that contrary to certain market views, Paytm's business model is scalable and will generate revenue. Research house Macquarie had earlier pointed out that the  model lacks focus and direction. "It will take some time for people to understand the model. But I am totally hopeful," Sharma said.