Natural gas adds to inflation agony, prices to touch a record high
Finance ministry's monthly review says there was a need for continuous macroeconomic vigilance amid heightened global uncertainties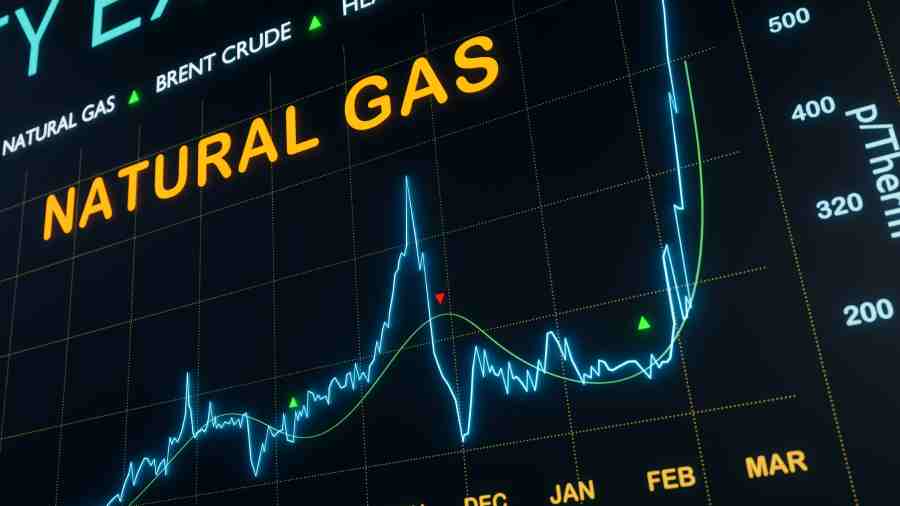 Costs of piped gas to kitchens, auto fuel CNG and electricity using natural gas will increase.
Shutterstock
---
New Delhi
|
Published 19.09.22, 02:02 AM
|
---
Natural gas prices are likely to touch a record high of about $11 per million British thermal unit (mBtu) from October against $6.10 per mBtu at present because of a spike in demand at the global gas hubs, analysts said.
Prices are set every six months — October and April — on the basis of a formula linked to prices at some global gas markets.
The price of gas produced from old regulated fields, such as the nation's largest field at Bassein of ONGC, will increase as it is linked to the formula.
The price from the newer and difficult fields such as Reliance's deepsea KG-D6 block would double for October-March from $9.92 per mBtu for April-September.
In October 2014, the BJPled government adopted a formula that takes into account the volume-weighted annual average of the prices prevailing at Henry Hub (US), National Balancing Point (UK), Alberta (Canada) and Russia with a lag of one-quarter.
Concerned over its pitfalls, the government has appointed a panel under economist Kirit Parikh to review the formula.
Analysts said the panel is unlikely to solve the concerns of the energy-dependent sectors unless the benchmark reference prices correctly reflect the domestic demand-supply situation.
It is not yet clear whether the government would impose a windfall tax on domestically produced gas similar to crude oil as the exploration firms would earn significant revenues on account of the formula-based price.
After the Russian invasion of Ukraine, the price of spot natural gas rose to a high of $60 per mBtu by August 2022. Though the spot price has fallen to $40 per mBtu this month, it is expected to rise as Russia tightens its supply by closing the Nord Stream pipeline that transports around 50 per cent of Europe's requirements. The demand would escalate as winter steps in by the next quarter.
The finance ministry's monthly review said there was a need for continuous macroeconomic vigilance amid heightened global uncertainties.
The increase in gas price will drive up the costs of piped natural gas, auto fuel CNG, electricity and push up the fertiliser subsidy bill. This would also add to the inflationary pressure on the economy.
Retail inflation rate reversed its three-month downward trend in August, rising to 7 per cent from 6.7 per cent in the previous month, driven by a surge in food prices.
PRICE HIKE
■ Natural gas price likely to go up to $11 per mBtu for fields on a nomination basis from October
■ But costs of piped gas to kitchens, auto fuel CNG and electricity using natural gas will increase
■ Fertiliser subsidy bill will go up. Analysts estimate subsidies to touch Rs 2 lakh crore, much higher than the allocation of Rs 1.05 lakh crore in the budget