L&T board clears Naik extension
His present tenure is scheduled to end on September 30 at the engineering and construction conglomerate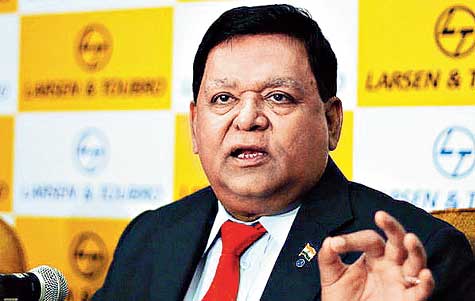 ---
|
Mumbai
|
Published 06.06.20, 06:51 PM
---
Larsen & Toubro on Saturday said its board has approved a proposal to re-appoint A.M. Naik as the non-executive chairman for a period of three years from October 1, 2020,
Naik's present tenure is scheduled to end on September 30 at the engineering and construction conglomerate.
In a regulatory filing to the stock exchanges, L&T disclosed that its board also gave its approval to extend the tenure of wholetime director Dip Kishore Sen.
"The board of directors at its meeting held on June 5, based on the recommendation of the nomination and remuneration committee and subject to necessary approvals of the shareholders of the company, has approved the... proposals for the re-appointment of directors, whose present tenures are ending on September 30, 2020," L&T said in the filing.
Naik has been re-appointed for a period of three years till September 30, 2023, while Dip Kishore Sen's re-appointment will take effect from October 1, 2020 and continue till April 7, 2023.
L&T said that under Naik's leadership, it overcame multiple challenges and emerged stronger with a sharper focus on profitable growth.
Naik joined the company as a junior engineer in 1965 and gradually moved from general manager to managing director and CEO, leading to his appointment as chairman and managing director on December 29, 2003. He was the group executive chairman of L&T from 2012 to 2017. On October 2017, he stepped aside from executive responsibilities, and was appointed group chairman.
Dip Kishore Sen is a whole-time director and senior executive vice-president (infrastructure), at L&T. He holds additional responsibilities as chairman on the boards of L&T Infrastructure Engineering Company and L&T Oman LLC and is also a member on the board of L&T Qatar LLC.
"In pursuit of the mission to transform L&T into a world-class conglomerate, Naik led a transformational process that boosted shareholder value. His leadership has seen a remarkable increase across all parameters of business performance - market capitalisation, consolidated turnover and net worth. He also spearheaded the restructuring of the conglomerate to facilitate aggressive growth across a large revenue base,' L&T said.
Decades back, Naik also commenced the process of indigenising the manufacture of critical equipment for the defence sector and process industries. His efforts led to L&T assuming leadership position in the design, development and manufacture of missiles and weapon systems and it subsequently forged a strong relationship with national bodies for defence research & development and space research.
'Naik infused a global perspective to L&T's operations. This involved revamping mindsets and ensuring that virtually every critical activity is benchmarked against global standards,' the company noted.
Other landmark achievements that have yielded significant value for the company and its stakeholders include the de-merger of the cement business.
A Civil Engineering graduate from IIT Kharagpur and a Post Graduate in Business Management from XLRI, Jamshedpur, Sen started his tenure at L&T in 1989 as Senior Manager (Civil & Structural Design) in EDRC Calcutta and has subsequently headed various portfolios.