Jio plans to raise rates too
The move by Reliance Jio will take some of the pressure of the two legacy players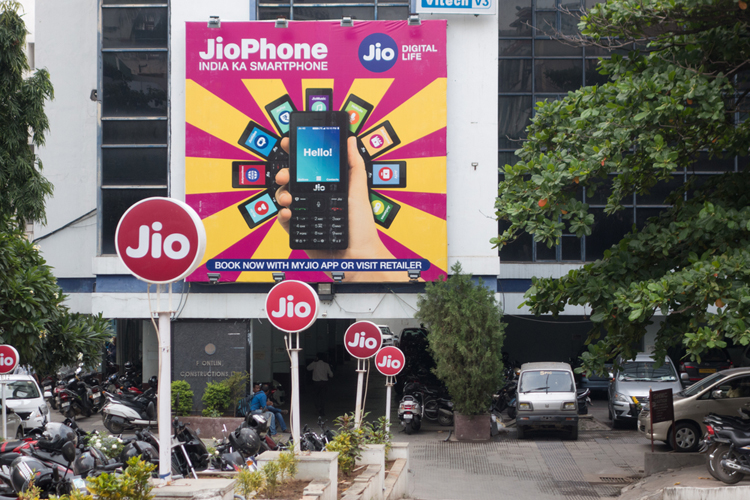 ---
|
Mumbai
|
Published 19.11.19, 09:23 PM
---
Reliance Jio announced on Tuesday that it will raise tariff in the next few weeks — the second time it is doing so in as many months.
The announcement comes just a day after Bharti Airtel and Vodafone — which racked up huge losses in the second quarter ended September 30 — said they would raise rates from December 1.
The move by Reliance Jio will take some of the pressure of the two legacy players who have been ordered to together cough up 50 per cent of the department of telecom's demand for telecom licence fee dues and spectrum use charges totalling almost Rs 1.3 lakh crore in line with a Supreme Court order of October 24.
Neither Airtel nor Vodafone has spelt out the extent of the tariff hikes. Tariffs for voice calls and data in India are among the cheapest in the world.
"Our assessment suggests the possibility of a 15 per cent hike by Vodafone Idea Ltd (VIL) and Bharti Airtel in order to go back to the same premium as it used to enjoy over Jio. For both Vodafone and Bharti Airtel, the hike will be on 45 per cent of their customer (non-feature phone) or 70 per cent of their revenue," analysts at Motilal Oswal said in a report.
Reliance Jio, which launched its services two years ago, had disrupted the domestic telecom scenario through its cheap tariffs and there had been speculation over whether it would respond to the latest announcement by the legacy players with another tariff hike.
From October 10 onward, Jio had started charging customers six paise a minute for making calls to any non-Jio mobile number.
At that time, the company had said that it was taking this step due to "regulatory uncertainty" over the review of sunset clause for call termination charges or the Interconnect Usage Charge (IUC). This is a cost paid by one mobile telecom operator to another, when its customers make outgoing mobile calls to the other operator's customers.
In 2017, the telecom regulator had cut the IUC to 6 paise per minute from 14 paise and had said this regime would end by January 2020. But it floated a consultation paper in September which signalled that it was open to the idea of extending the timeline — a move that infuriated Jio.
In a statement made after market hours, Jio said that while the Telecom Regulatory Authority of India (Trai) is likely to initiate a consultation process for the revision of telecom tariffs, it will work with the government and comply with the regulatory regime to strengthen the industry to benefit domestic consumers.
Jio added that it would "take measures including appropriate increase in tariffs in next few weeks in a manner that does not adversely impact data consumption or growth in digital adoption and sustains investments''. The Reliance Industries arm hasn't announced the quantum of hike and will probably wait for the other two players to unveil their plans first.
According to Jio, despite the huge growth in data-consumption and 4G coverage in the country, there are still over 40 crore Indian consumers who have not benefited from the advent of the latest technologies. It said that the ambitious objective of the Digital India mission can be achieved only if India is made "2G-mukt" in the shortest time-frame possible and that the Centre and Trai should mandate this through a policy announcement.
Meanwhile, shares of Vodafone Idea and Bharti Airtel witnessed a huge rally in the bourses on Tuesday, with the Voda Idea scrip gaining by almost 35 per cent to close at Rs 6.02 on the BSE. Bharti Airtel shares also rallied 7.36 per cent to Rs 439.25 at close of trade.
Refund balm
Vodafone Idea is seeking Rs 7,000 crore in tax refunds for past years even as it faces a fresh statutory dues liability that has put the income tax department in a bind, sources privy to the development said.
The tax department has in past adjusted refunds against a company's other liabilities towards the government.
It had famously adjusted Rs 1,500 crore in tax refunds due to Cairn Energy plc of the UK to part settle a retrospective tax demand of Rs 10,247 crore even though the matter was under arbitration.
Sources said Vodafone has to receive an aggregate of about Rs 1,000 crore from the Mumbai unit of the income tax department and another Rs 6,000 crore from its Delhi office for multiple assessment years dating back to 2004-05.
The company has got favourable rulings from high courts and appellate tribunals in some and is now pressing the department to quickly refund the dues, they said.
The income tax department is, however, caught in a bind as Vodafone Idea has to pay Rs 44,150 crore to the government in past statutory dues.