Higher fuel costs have led to Jet Airways suffering its third straight quarterly loss for the period ended September 30. The country's second largest airline by market share posted a standalone net loss of Rs 1,297.46 crore compared with a profit of Rs 49.63 crore in the same period of last year.
However, on a sequential basis, the loss was lower than the Rs 1,323 crore posted in the first quarter.
The losses are mainly on account of higher fuel expenses, which have shot up to Rs 2,419.76 crore from Rs 1,525.66 crore in the year-ago period. Revenue from operations was higher at Rs 6,161.15 crore against Rs 5,626 crore a year ago.
Jet said the surge in fuel prices along with a depreciating rupee and a challenging environment in a market characterised by high capacity continued to affect its performance.
Consolidated loss during the quarter came in at Rs 1,261 crore compared with a net profit of Rs 71 crore a year ago.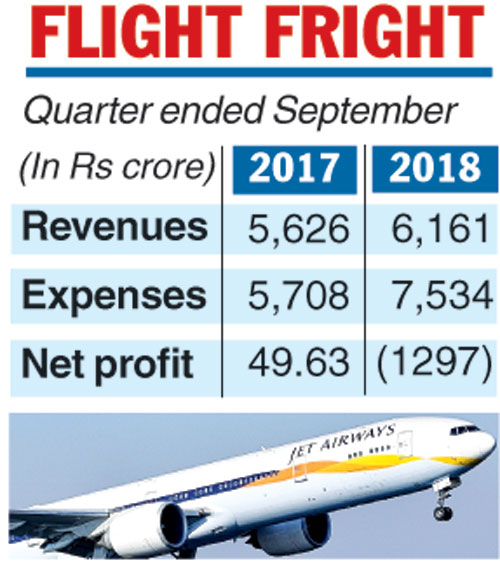 The Telegraph
Jet Airways in its notes to accounts said it has a negative net worth and its current liabilities exceed current assets.
Though the airline did not give any fresh updates, it reiterated it was on track to realise most of the outcomes that were outlined as part of a turnaround strategy last quarter, including cost savings of over Rs 2,000 crore over the next two years.
The airline added it has already realised cost savings of over Rs 500 crore in the first half of the fiscal.
Jet Airways further pointed out that it is exploring other opportunities to enhance revenues by undertaking several steps to improve yields in the domestic market.