The next government at the Centre will have to contend with high oil prices and its impact on inflation and the current account deficit, following the US withdrawing its waiver on Iranian oil for some countries such as India, China and Japan.
The global Brent crude price has touched over $74 per barrel. Estimates are it could increase and touch $80 per barrel in the coming months. Iran has threatened to close the Strait of Hormuz, the major oil shipping route, in retaliation to the US action. Any such move by Tehran will send prices soaring.
Oil minister Dharmendra Pradhan in a tweet said "a robust plan for an adequate supply of crude oil to Indian refineries" is in place. "There will be additional supplies from other major oil-producing countries; Indian refineries are fully prepared to meet the national demand for petrol, diesel & other petroleum products."
The oil ministry, too said a plan was in place to ensure supplies of crude oil from May when the waiver ends.
"The government will continue to work with partner nations, including the US, to find all possible ways to protect India's energy and economic security interests," an external affairs ministry spokesperson said.
The discontinuation of Iranian crude oil imports might negatively affect the annual operating profits of Indian refiners by over Rs 2,500 crore, according to credit rating agency Icra.
"Indian refineries benefit from the higher credit period of 60 days offered on Iranian oil compared to 30-day credit period typically offered by other suppliers. As per our estimates, the annual operating profits of the domestic refining industry could be negatively impacted by as much as $350 million (Rs 2,500 crore) due to the discontinuation of Iranian oil imports," Abhishek Dafria, vice-president and co-head at Icra, said.
"We expect global oil markets to tighten further in the near term…. and the possibility of disruptions in crude supplies from Libya given its escalating unrest," Tarun Lakhotia, associate director at research firm Kotak Institutional Equities, said.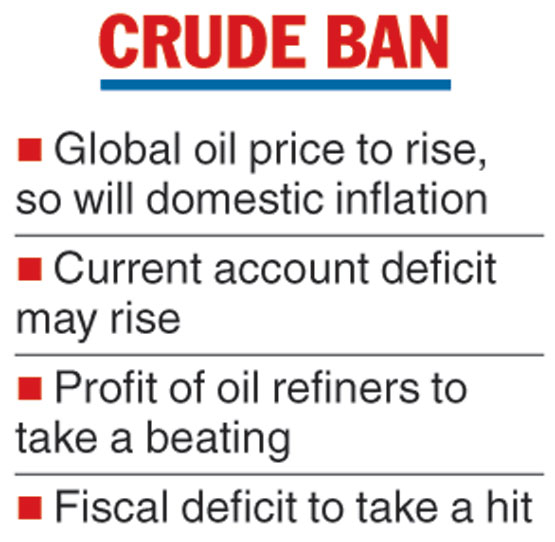 The Telegraph