India Inc told to pay dues
Ministry of corporate affairs has reduced the definition of a small company to reduce their compliance burden and facilitate ease of doing business for them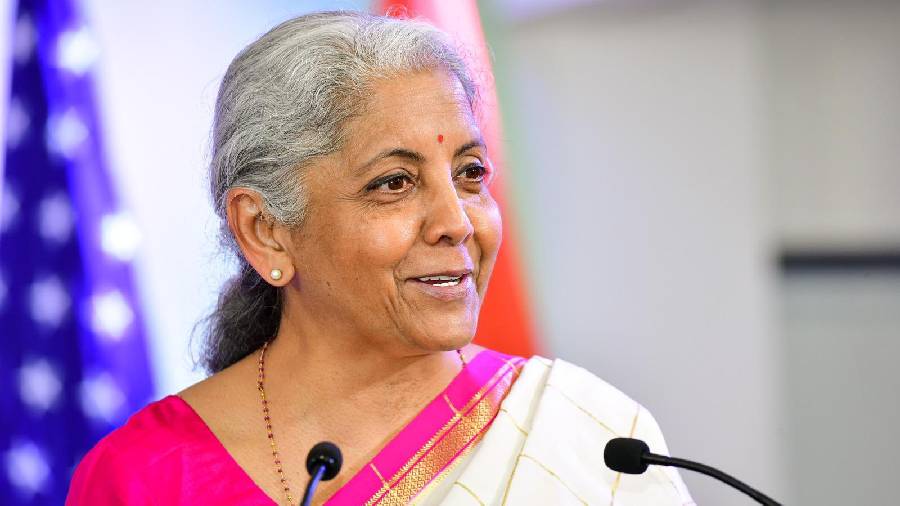 Nirmala Sitharaman
File Photo
---
Mumbai, New Delhi
|
Published 17.09.22, 01:23 AM
|
---
Finance minister Nirmala Sitharaman on Friday asked private sector companies to clear dues to small businesses within 45 days and admitted that the central departments and enterprises are also not making payments to them on time.
The minister said that at a meeting with big businesses here two days ago, she had appealed to them to ensure that the dues of small businesses are cleared on time. "Private sector industry should commit to make payments to MSMEs in 45 days along with the books of accounts filed with the Registrar of Companies which make a mention of outstanding dues," she said at an event organized by the Laghu Udyog Bharati, the RSS-affiliate devoted to small businesses, here this morning.
Threshold raised
The ministry of corporate affairs has reduced the definition of a small company to reduce their compliance burden and facilitate ease of doing business for them. The new guidelines define small companies with a paidup capital of Rs 4 crore and turnover of Rs 40 crore, the ministry of corporate affairs said in a gazette notification.
Prior to this, the threshold, under the Companies Act 2013, was revised from Rs 50 lakh to Rs 2 crore paid-up capital, and the turnover from Rs 2 crore to Rs 20 crore. The ministry of corporate affairs said there was now no need to prepare cash flow statement as part of financial statement. Preparing and filing an abridged annual return is not required and neither will mandatory rotation of auditor.
An auditor of a small company is not required to report on the adequacy of the internal financial controls and its operating effectiveness in the auditor's report. Only two board meetings in a year is required. Annual return of the company can be signed by the company secretary, or by a director of the company where there is no company secretary. Besides, there will be lower penalties for small companies.
"The concept of small companies was first notified under the Companies Act, 2013, with an idea to recognise certain companies which may be smaller in the beginning but may grow multi-fold in future. The amendment would give relief to umpteen companies who may be grappling with various compliances," Manendra Singh, associate partner, Economic Laws Practice, said.
Arvind Sharma, partner, Shardul Amarchand Mangaldas & Co. said: "This showcases the government's efforts to improve ease of doing business. These thresholds have been enhanced multiple times and now, a larger group of companies will benefit."