Government mulls more stimulus options
The finance ministry is discussing the economic impact with the ministries of commerce, labour, MSME, social justice and agriculture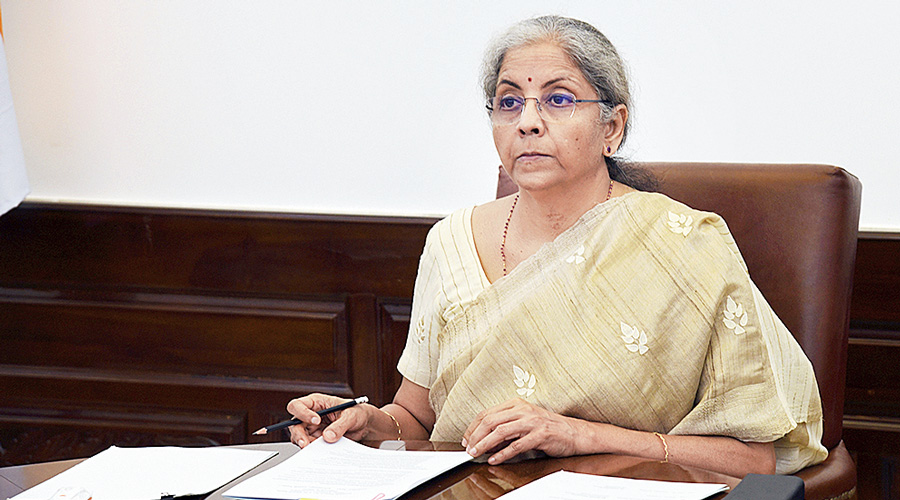 Nirmala Sitharaman.
File picture
---
New Delhi
|
Published 16.04.21, 02:48 AM
|
---
The government is not ruling out the option of coming out with another round of stimulus measures focused on small and medium enterprises and helping out the poor and vulnerable sections of society as it continues to assess the economic impact of the spurt in the second wave of the coronavirus pandemic.
Sources said all possible measures were being discussed with finance ministry officials coordinating and assessing the spurt in the pandemic and its impact with PMO officials being kept in the loop.
The finance ministry is discussing the economic impact with the ministries of commerce, labour, MSME, social justice and agriculture. The ministry is also in touch with the RBI.
The government does not want any large-scale disruptions to happen because of the restrictions imposed by different states and the lockdown announced by some state governments.
On Tuesday, finance minister Nirmala Sitharaman made it clear that the government would not go for lockdowns in a big way and only resort to local containment.
Sources indicated the focus of the package could be to provide relief to the poor if the second wave of the pandemic disrupts their livelihood and also pre-empt large scale migration like last year.
The possibility of increased funding for the Mahatma Gandhi National Rural Employment Guarantee Scheme could also be considered, they said.
Union Budget 2021-22 had allocated only Rs 73,000-crore under MGNREGS, a dip of 34.5 per cent compared with 2020-21, which will suffice to fund only around 260 crore person days of work. For 2020-21, the government had allocated Rs 61,500 crore (BE) to fund the MG-NREGS, but later raised the allocation in two tranches to Rs 111,500 crore.
The government announced an economic stimulus-cum-relief package between March 26 and May 17 last year to jump start recovery after strict Covid-19 curbs severely hit business activity.
While Maharashtra has announced lockdown from Wednesday, more than 10 states including Delhi, Punjab and Haryana have imposed night curfew or weekend curbs which businesses said have already hit transportation and raw material supplies.
Brake on Chetak
Within 48 hours of re-opening bookings for its electric scooter Chetak, Bajaj Auto on Thursday put the brakes as it stopped taking bookings due to supply chain uncertainties.
"A large number of confirmed orders were placed by customers requiring the company to cease acceptance of bookings within 48 hours. The company will review the supply situation and announce the next round of booking opportunity," Bajaj Auto said.