Global role in Birla Tyres rejig
Kesoram has been trying to bring in a strategic partner for the tyre business for the last few years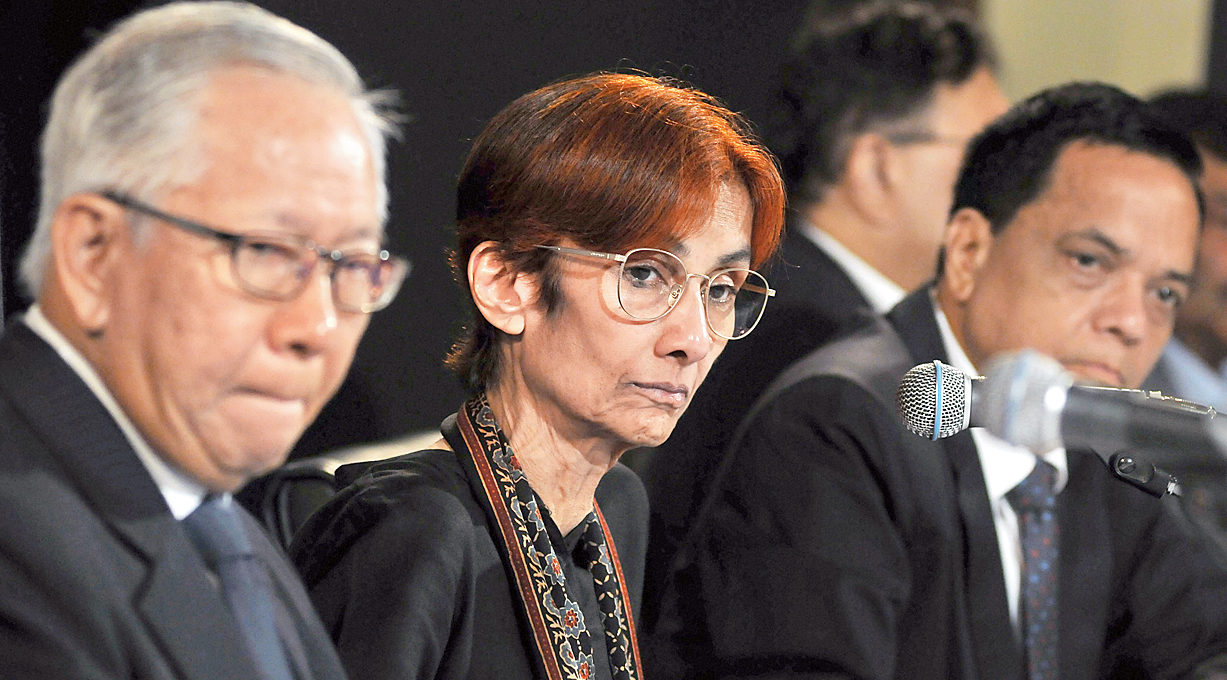 Manjushree Khaitan with other board members in Calcutta on Friday.
PTI
---
Calcutta
|
Published 26.07.19, 07:25 PM
|
---
Kesoram Industries, the flagship of the Basant Kumar Birla group of companies, is in talks with global majors to reshape its loss-making tyre business.
The company is in the midst of a mirror image demerger to separate the two core businesses — cement (Kesoram) and tyre (Birla Tyres) — into two listed entities.
The options on the table for the owners include inducting a strategic partner as a shareholder or letting the tyre making capacity to be used for third-party manufacturing, among others.
"There are a number of global players who are looking for ready (tyre) capacity in India. Discussions are ongoing," P. Radhakrishnan, chief financial officer of Kesoram, said after the 100th annual general meeting of the company.
Kesoram has been trying to bring in a strategic partner for the tyre business for the last few years. To facilitate the process, it decided to hive off the tyre business into a new company.
Industry sources said at least two companies from Europe and Southeast Asia have showed interest in the past and they could still be in the race. The management, however, categorically maintained that the promoters would not fully exit the tyre business.
Manjushree Khaitan, who became chairman of Kesoram last week after the death of her father B.K. Birla, said the final contours would be divulged once the demerger was complete.
Located in Balasore, the tyre business consists of commercial vehicle and two and three-wheeler tyres. The foray into passenger car radial is in progress for the last seven years. It requires ploughing in Rs 200-250 crore to complete the project over and above the Rs 775 crore invested so far.
Shareholders welcomed the split, saying it would put an end to the cement segment cross subsidising the tyre business.
The tyre business should be run on its own without any more financial help from the cement company, shareholder and investor Janardan Kothari said.
Birla Tyres will need Rs 600-700 crore to fund existing losses, increase production and complete the passenger radial foray. Promoters may bring in funds, apart from raising debt from banks and the strategic partner.
Cement business
The cement business under Kesoram, which will take up Rs 2,000 crore of debt leaving Rs 1,000 crore on the books of Birla Tyres, will explore new markets by tying up idle blending plants on a contractual basis.
Radhakrishnan said it has already tied up with a mixing plant, giving it access to the western market. More such asset light expansions will take place, he added.
The court-convened shareholders' meeting for demerger will take place on August 7 and the two companies will start trading separately by December.