Gautam Adani looks set to overtake Bill Gates in the global wealth stakes
Adani's fortune increases by $7.1 bn in less than a week to make him worth $129 bn while Ambani achieves centi-billionaire status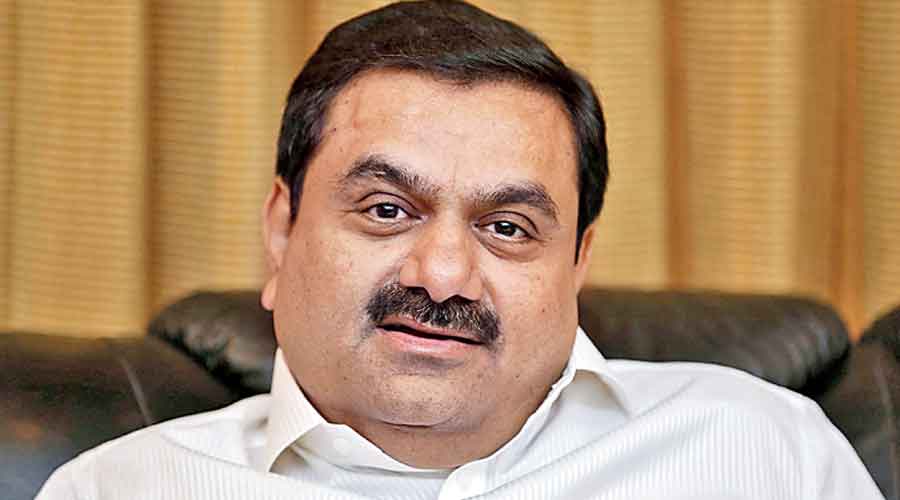 Gautam Adani
File picture
---
New Delhi
|
Published 27.04.22, 11:07 AM
|
---
Gautam Adani is continuing his seeming unstoppable climb up the global wealth charts and now looks about to overtake Microsoft's Bill Gates who dominated the rich lists for most of the last 30 years.
In less than a week, Adani has become $7.1 billion wealthier, making him worth $129 billion according to the Forbes Real-Time Billionaires List. Gates, who's in fourth spot on the list with a current estimated worth of $129.9 billion, is just a few hundred million dollars richer than Adani.
Meanwhile India's second-richest man Mukesh Ambani crossed an important landmark and is now a centi-billionaire worth $104.6 billion according to the Forbes Real-Time Billionaires List. Forbes, the bible of wealth management, reckons Ambani is now the world's 8th-richest person, up from 11th position a few weeks ago.
For the nearly three decades since the tech revolution got under way in the early 1990s, Gates has ruled the Forbes Rich List, making the number one spot almost his own except for an occasional year or two when he slipped to second position. Just a few days ago, Adani moved to 5th position in the Rich List, overtaking globally revered wealth manager Warren Buffett who is now worth $121.7 billion. Buffett, nicknamed the Sage of Omaha, has also been in the top five on the Forbes Richest list for most of the last 30 years.
Both Adani and Ambani are clearly advancing swiftly. While Adani's taken the lead, there's every chance the Ambani could close in on or even overtake Adani in the coming weeks. The share price of Ambani's Reliance Industries is near its 52-week-high and analysts reckon it's heading further north and has heaps of room for growth.
Two top investment banks, Goldman Sachs and Morgan Stanley, forecast Reliance Industries could climb by another 15 per cent and have adjusted their target prices upwards. If that happens, Ambani could possibly reclaim his position as India's richest man which he held for many years.
Seven of the 10 richest men in the world – and they are all men – are Americans. The only outsiders are Bernard Arnault of LVMH whose luxury empire has catapulted him to third position worth $157.4 billion and the Indian duo Adani and Ambani. The others at the top are mostly hi-tech players like Oracle's Larry Ellison, in seventh spot who's worth $105 billion and just a few hundred million ahead of Ambani. Google's co-founder Larry Page is in ninth position worth $102.5 billion and just behind Ambani.
Adani, who's become a key player in India's green energy transition, is in advanced talks and said to be about to clinch a deal to buy global cement giant Holcim's share in Gujarat Ambuja Cements. If the deal goes, Adani would have an entrée into a totally new industry that could swell his wealth further. But it's not a done deal yet as other companies like JSW are also said to be vying to buy Gujarat Ambuja.
The shares of Adani Enterprises and Adani Green Energy have been climbing over the last few days after they announced plans to raise money. Adani Enterprises has moved up meteorically in just six days from Rs 2,190 on April 20 to Rs 2,394 on April 26. Adani Green Energy has climbed from Rs 1,923.30 one month ago to Rs 2,976 today.
Similarly, another group company. Adani Wilmar, has also been shooting up from and now has a market cap of Rs 1.04 lakh crore. The company listed on February 8 at Rs 268 and has soared in less than three months to Rs 803.
Adani Wilmar has been propelled upwards because of soaring edible oil prices on the back of the Russia-Ukraine war (the two countries are key producers) and Malaysia and Indonesia's ban on exports. India imports palm oil from both countries. Adani Wilmar is believed to be well-placed because it maintains a buffer stock of raw material.
Then, there's group company Adani Power which was at Rs 242.20 on April 20. That was up by Rs 43.45 at Rs 285.65 on April 26.
The Adani rise has been astonishing. In 2020 Gautam Adani was worth $8.9 billion. That year, Mukesh Ambani was far ahead and worth $36.8 billion.
Adani has always been close to the current government and he's now the country's largest port and airport owner. In 2020, he took control of Mumbai airport and later bought six airports – Jaipur, Ahmedabad, Lucknow, Thiruvananthapuram, Mangaluru and Guwahati being privatised by the government.
There have been instances in the past when infrastructure players in developing countries have beaten the US tech giants. In 2012, Mexican telecom czar Carlos Slim Helu briefly became the world's richest man. However, Bill Gates reclaimed the title a year later. Slim now is worth a slender $88.2 billion.