Future Retail Ltd faces forensic audit
Chokshi & Chokshi will review the consolidated financial statements and audit the books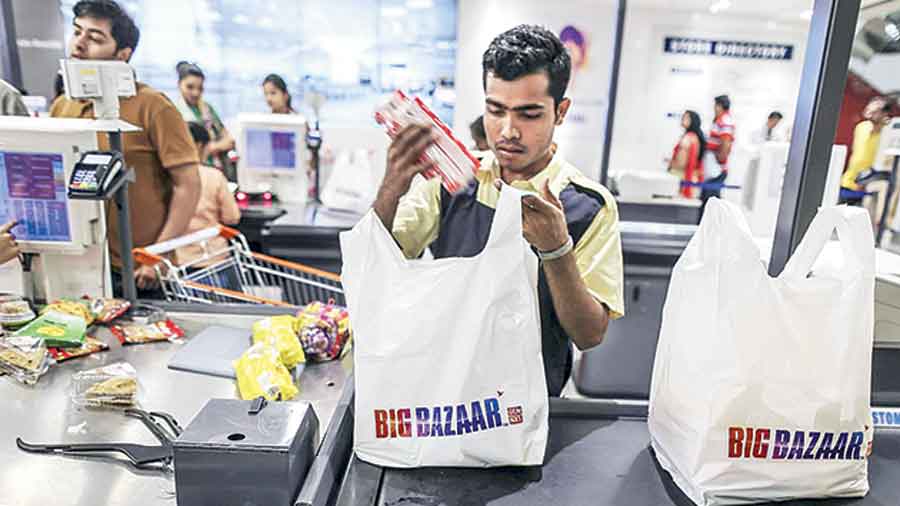 Representational Image
File Photo
---
Mumbai
|
Published 05.08.22, 01:21 AM
|
---
The Securities and Exchange Board of India (Sebi) has ordered a forensic audit of the financial statements of Future Retail Ltd (FRL), which is in the midst of a bankruptcy process. Group company Future Consumer Ltd (FCL) on Thursday informed the bourses of the audit.
In a regulatory filing, FCL said on August 3 it has received a copy of a letter by Sebi to the interim resolution professional (IRP) of FRL, intimating him about the appointment of Chokshi & Chokshi LLP, chartered accountants, as the forensic auditor.
Chokshi & Chokshi will review the consolidated financial statements and audit the books of FRL and FCL apart from some other entities for three consecutive years — 2019-20, 2020-21 and 2021-22. The appointment has been made under the provisions of Regulations 5 of Sebi (PFUTP) Regulations, 2003 read with applicable provisions contained in Sebi Act, 1992. FCL disclosed that its audit will be with regard to the related party transactions with FRL only.
In the letter, Sebi questioned the disclosure of financial information and the business transactions of FRL.
The regulator said it has reasonable grounds to believe that FRL dealt with the disclosures in a manner that may be "detrimental to the interest of the investors or the securities markets and/or an intermediary or a person associated with the securities market may have violated the provisions of the Sebi Act, 1992, Securities Contracts (Regulation) Act, 1956 (SCRA Act), Sebi (PFUTP) Regulations, 2003, and the provisions as specified in Section 24 of the Companies Act, 2013".
Section 24 of the Companies Act deals with the powers of the market regulator. Last month, a two-judge bench of the National Company Law Tribunal (NCLT) had allowed a petition filed by Bank of India (BoI) and ordered the initiation of corporate insolvency resolution (CIRP) process against FRL.
It had appointed Vijay Kumar Iyer as the IRP. BoI had filed the petition under section 7 of Insolvency and Bankruptcy Code (IBC), 2016 read with Rule 4 of the Insolvency and Bankruptcy (Application to Adjudicating Authority) Rules, 2016 for default. It was in April that the lender filed the petition before the tribunal after FRL defaulted on payment of Rs 3,495 crore under the one-time restructuring plan.