Free food grain for migrants, rental housing option for middle class
Govt effort a reforms stimulus, says Sitharaman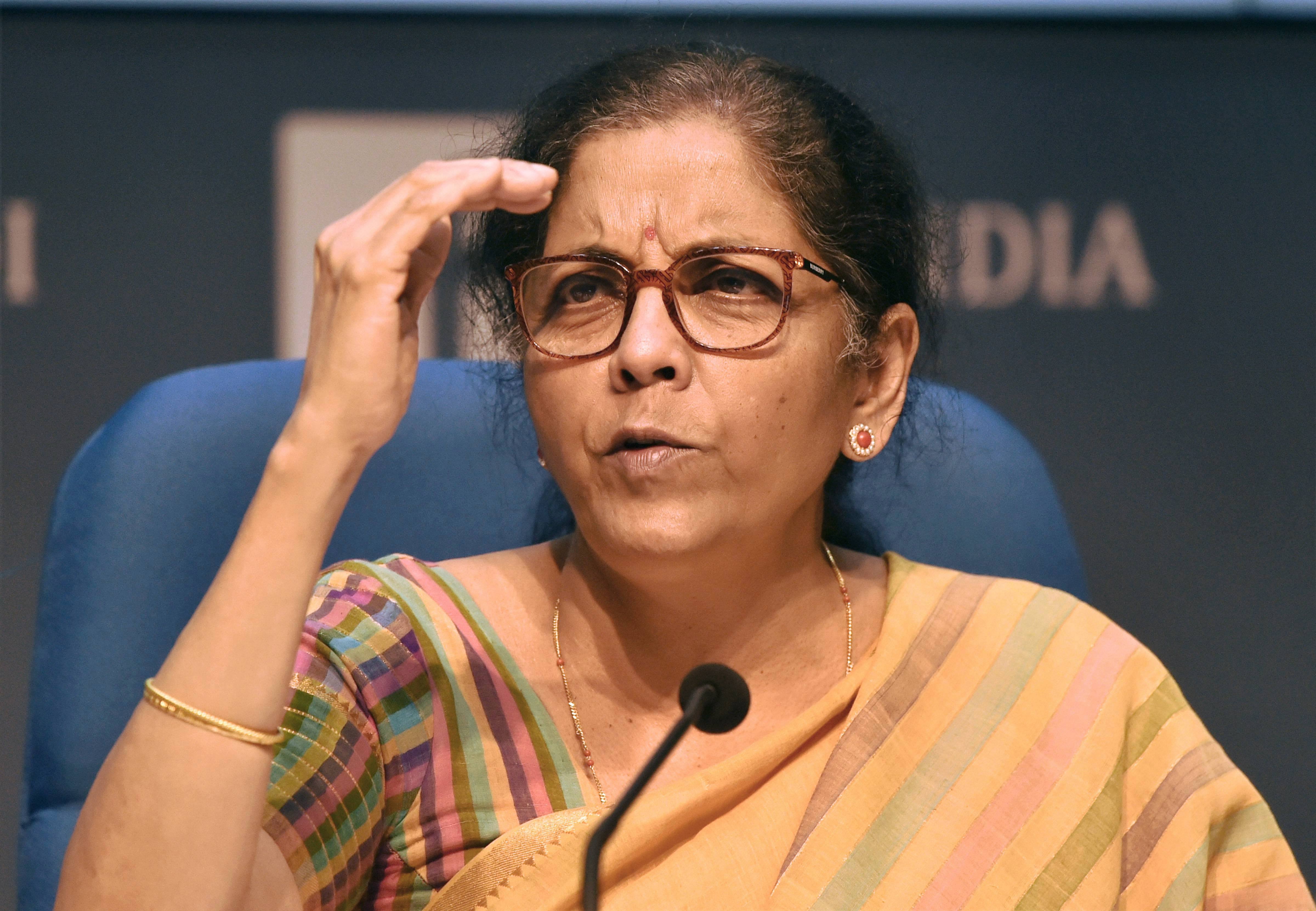 Union Finance Minister Nirmala Sitharaman addresses a press conference at National Media Centre in New Delhi, Thursday, May 14, 2020.
PTI
---
New Delhi
|
Published 14.05.20, 03:35 PM
|
---
Finance minister Nirmala Sitharaman announced a second set of Covid-19 relief measures on Thursday with this round targeting migrant workers, farmers, street vendors and the urban poor.
"We need to look at Covid as an opportunity," Sitharaman told reporters as she outlined steps to alleviate the hardship suffered by the poor population from the coronavirus pandemic.
Among the measures the finance minister announced were 2 months' worth of free food grain supply for migrants who aren't covered under National Food Security Act or who don't hold a ration card. The Centre's move, which will cost Rs 3,500 crore, is expected to benefit around eight crore migrants. The migrants will get 5kg of grain per person and 1kg of chickpeas for a family.
The measures comprise the second tranche of a Rs 20-lakh crore bailout package equivalent to 10 per cent of India's gross domestic product announced by Prime Minister Narendra Modi in a nationwide televised address aired Tuesday.
The government hopes the actions will reboot India's economy which has been devastated by the Covid-19 pandemic. "This shall not be just a financial package but a reform stimulus, a mindset overhaul and a thrust in governance," the government said.
Sitharaman on Wednesday unveiled the first part of the package called "Atmanirbhar Bharat (Self-reliant India)" which targeted small business, non-bank "shadow" lenders and the electricity distribution sector. She offered an array of credit lines for small business and shadow banks as well as money for electricity distributors.
To facilitate the use of ration cards by migrants, technology is being installed to allow them to access the public distribution system for purchasing their rations at any fair price shop in the country, Sitharaman said Thursday.
The government has taken the step of implementing of the scheme that it calls "One Nation One Ration Card" because many migrants moving back to their home states have been unable to access food supplies there. The One Nation One Ration Card scheme has been in the works for some time but its introduction has been accelerated by the Covid-19 crisis.
The action should benefit some 67 crore people in 23 states representing 83 per cent of the people who use the public distribution system, or PDS, by August of this year. By March 2021, the government hopes to have introduced 100 per cent national portability for the PDS scheme.
In a bid to silence critics who have said that the government response to the Covid-19 crisis so far has been inadequate, Sitharaman said that the "government has not been sitting idle" during the nationwide lockdown, now in its eighth week, aimed at containing the spread of the virus.
Rental housing scheme
The government also plans to create an affordable rental housing accommodation scheme for migrant labourers and urban poor. It will convert government-funded housing in cities to rental complexes through a public-private partnership.
The government will offer incentives to manufacturing units, industries and institutions to develop affordable complexes on their private property. The Centre will also provide incentives to state government agencies to take similar action.
"The relief announced by Honourable Finance Minister Nirmala Sitharaman Ji will provide immediate relief to millions of farmers, street vendors and people from different walks of life," said Union minister Nitin Gadkari.
But the Opposition Congress party slammed the finance minister's bailout as a "jumla package." Congress leader Anand Sharma said the economic package "is way short of what the Prime Minister had promised the nation and is deeply disappointing."
Loans for street vendors
The government will provide special loans of up to Rs 10,000 that street vendors can use as working capital to relaunch their businesses. The government hopes that some 50 lakh street vendors will benefit from the scheme that aims to provide an overall cash flow of up to Rs 5,000 crore.
There will also be a 2 per cent interest subsidy for 12 months on all MUDRA-Shishu loans below Rs 50,000. Mudra-Shishu loans are the smallest ones provided under the Micro Units Development and Refinance Agency or MUDRA.
Sitharaman said the government's rescue plan is intended "to spur growth and to build a very self-reliant India." She said the focus of the programme is on "factors of production which are land, labour, liquidity and law."
Critics worry though that the government is focusing too much on injecting liquidity into the economy rather than offering measures that will stimulate demand.
Home loan subsidy programme
A credit-linked subsidy programme subsidising interest rates on affordable home loans for middle-income families will be extended until March 2021 form March 2020. The subsidy scheme is aimed at those earning between Rs 6 lakh to Rs 18 lakh annually.
Some 3.3 lakh middle-income families have already taken advantage of the scheme and the extension is seen helping another 2.5 lakh families. The result will be an investment of over Rs 70,000 crore in housing.
For tribals, adivasis
The government will deploy funds with the Compensatory Afforestation Fund or CAMPA totalling Rs 6,000 crore to promote employment in urban, semi-urban and rural areas for tribals and adivasis.
Rural job scheme
The government is also offering MGNREGA support to migrants returning home. Sitharaman said work had been offered to 2.33 crore wage-seekers in 1.87 lakh gram panchayats.
To date, around 40 per cent to 50 per cent more people have been enrolled in May in the MGNREGA programme compared to last year, the finance minister said, adding that there would also be work during the monsoon.
Crop loans
An extra Rs 30,000 crore worth of emergency working capital will be provided for crop loans for farmers through the National Bank for Agriculture and Rural Development.
That sum is on top of the Rs 90,000 crore that NABARD already supplies to farmers as working capital. The extra money, to be supplied immediately through rural cooperative banks and regional rural banks, could help up to 3 crore small and marginal farmers, the government said.