Disease spread to dictate stock mood
Equities are unlikely to get a major boost as the focus will remain on the adverse economic impact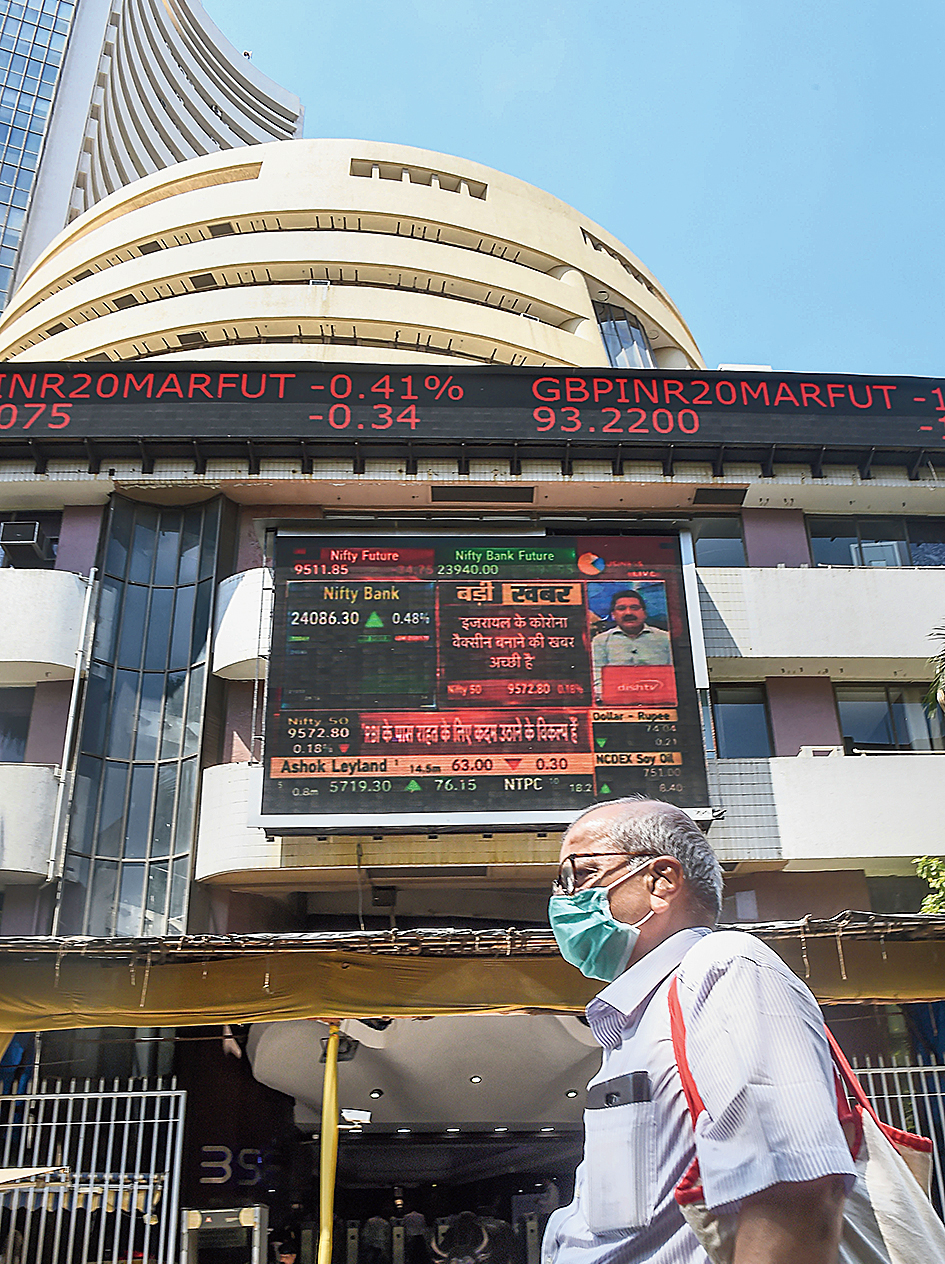 ---
|
Mumbai
|
Published 22.03.20, 09:10 PM
---
Investors are bracing for more uncertainty this week as stocks are likely to react to the rise in coronavirus cases in India and increased restrictions being placed by the Central and various state governments to stop the outbreak of the novel virus.
These steps come amid the action taken by the Securities and Exchange Board of India last Friday where it brought certain curbs on short-selling.
Experts point out that while the step may reduce volatility in the market, equities are unlikely to get a major boost as the focus will remain on the adverse economic impact of the spread of the virus.
The markets will be also watching out for any action taken either by the RBI or the central government to cushion the economic impact of the virus.
The benchmark Sensex fell about 12 per cent last week though the fall could have been larger had it not been for the rally on Friday when the Sensex rose 5.75 per cent.
After the closure of market hours, Sebi announced various measures that will come into effect from Monday. These included drastically reducing the market wide position limit (MWPL) on F&O stocks and mandating that the short positions in the derivatives segment cannot exceed the value of the underlying stocks.
"The immediate impact of these measures will be a reduction in volumes in the cash and F&O markets. The volatility in individual stocks could also reduce, although delivery sales and buys could still result in higher volatility resulting in traders in such stocks getting impacted. Liquidity in individual stocks may get impacted to some extent," Deepak Jasani, head retail research at HDFC Securities, said on the circular.
According to Vinod Nair, head of research at Geojit Financial Services, the new norms of the market regulator are expected to boos the confidence of the markets aimed at reducing the extreme volatility seen in F&O stocks.
"This will impact the speculators and could lead to some short covering on Monday. For the long term, markets will continue to focus on whether virus infection rates peaks out and also on the coordinated actions of RBI and the government to support businesses with relief package'', he added.
Others analysts, however, remain sceptical. An analyst from a foreign brokerage who did not wish to be identified said the developments over the weekend do not spell good times. "We have news of more cases of coronavirus, 75 districts in the country are going for a lockdown, various state governments have announced more restrictions and the Indian Railways suspending all trains. This will have an adverse effect on the economy, he said.
Trading from home
Stock brokers have been allowed to access the market from their homes till April 30. In separate circulars, the BSE and the NSE said they have allowed brokers and traders to take terminals outside the authorised locations.