Ratings axe on India Inc top guns
Moody's downgrades 8 firms, 4 banks, including SBI, HDFC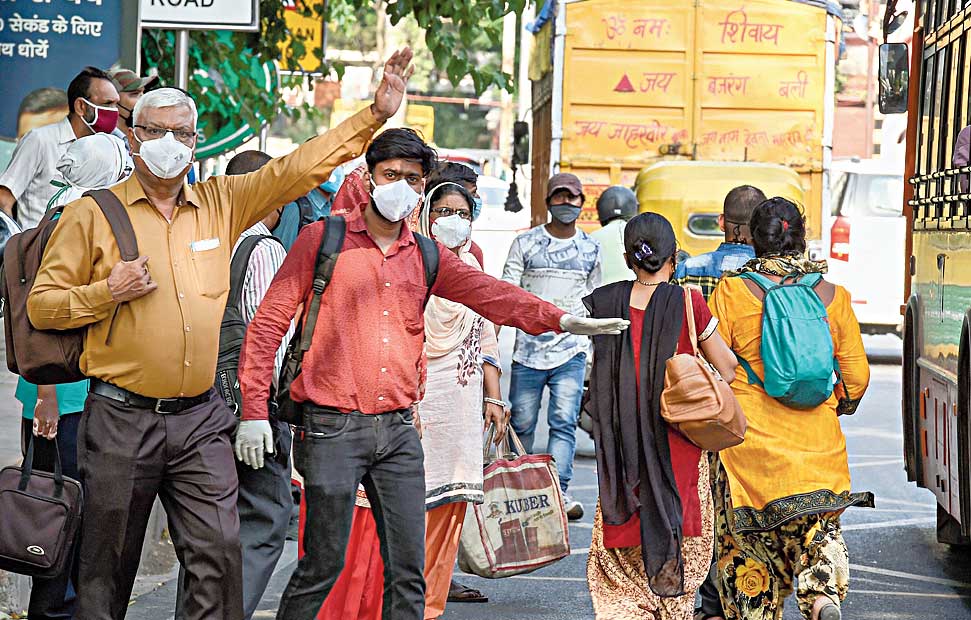 Commuters wait for buses to return home in New Delhi on Tuesday.
PTI
---
Published 02.06.20, 08:10 PM
|
---
India Inc on Tuesday had to suffer a rash of rating downgrades by Moody's following the rating agency downgrading the country's sovereign rating for the first time in 22 years.
Moody's Investors Service on Tuesday cut the ratings of eight non-financial companies, including Infosys, TCS and ONGC and four banks SBI, HDFC Bank and Exim and IndusInd Bank.
Moody's has kept Reliance Industries' long-term issuer rating intact at "Baa2" but has lowered the outlook to negative from stable.
It also downgraded seven Indian infrastructure issuers, including NTPC, NHAI, GAIL and Adani Green Energy Restricted Group by one notch.
Issuer ratings of IRFC (Indian Railway Finance Corporation) and HUDCO have also been lowered.
Moody's said the economic disruption caused by the coronavirus pandemic and the downgrade of the sovereign rating are the key drivers for Tuesday's rating actions.
On Monday, Moody's had downgraded India's sovereign rating by a notch to "Baa3" with a negative outlook, which is the lowest investment grade — just above junk status. The deposit ratings of these banks are at the same level as India's "Baa3" sovereign rating.
Consequently, Moody's has downgraded HDFC Bank's baseline credit assessment (BCA) to "Baa3" from "Baa2".
"Today's action reflects the impact on the Indian banks of the breadth and severity of the economic shock, and the deterioration in credit quality it has triggered. Moody's has maintained India's Macro Profile, that serves as an input for the bank ratings, at Moderate" the rating agency said.
Moody's, however, affirmed the issuer rating of Reliance Industries.
"The affirmation of RIL's Baa2 issuer rating reflects Moody's view that its credit metrics remain appropriately positioned for its rating. The change in RIL's outlook to negative from stable is in line with the downgrade of the Indian sovereign rating with a negative outlook and reiterates Moody's view that it cannot be rated more than one notch above the Indian sovereign," said a Moody's statement.
The long-term issuer ratings of eight non-financial companies — Oil and Natural Gas Corporation, Hindustan Petroleum Corporation Ltd, Oil India Ltd, Indian Oil Corporation Ltd, Bharat Petroleum Corporation Ltd, Petronet LNG, Tata Consultancy Services and Infosys — have been downgraded. The outlooks on all these ratings are negative.
Moody's has placed the "Baa3" long-term local and foreign currency deposit ratings of Bank of Baroda, Bank of India, Canara Bank and Union Bank of India and their baseline credit assessments under review for downgrade.
It has downgraded IndusInd's long-term local and foreign currency deposit ratings, with a negative outlook.
'Nothing unusual'
The downgrade of India's sovereign rating by Moody's has not come as a surprise as global rating agencies have lowered ratings and outlook of about 21 emerging economies following the Covid-19 outbreak, SBI said in a report .
"It seems that the downgrade was not completely unexpected. This is clearly visible in the data that market is not yet impacted by the rating downgrade. BSE Sensex and NSE Nifty rose and even the rupee appreciated against the dollar, the SBI report said.