CII reveals job worry
CII President said the financial year 2018-19 had started well on the economic front but moderated in the third quarter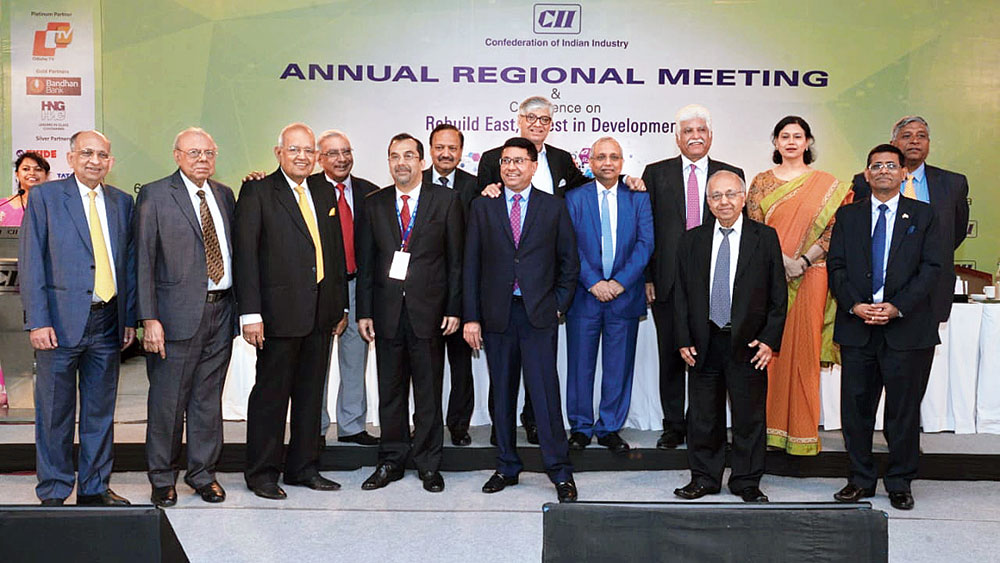 Participants at the CII eastern regional meeting in Calcutta on Wednesday.
A Telegraph picture
---
Calcutta
|
Published 06.03.19, 07:34 PM
|
---
The Confederation of Indian Industry has voicedits concern over the future of the job market in the country and called for greater collaboration between industry and academia to cater to the requirements of domestic and global industries.
Speaking at the eastern region annual regional meeting and conference of the CII, Rakesh Bharti Mittal, president of the apex industry body, said one of the biggest thing the country continued to grapple with was jobs.
"When we talk about the Indian youth and demographic dividends we must also be cognizant of 300 million children in the age of six to sixteen and 10 years from now they will be knocking at our door for jobs.
"About 8-10 million youth enter the job market every year and with no capital investments coming from the private sector due to low consumption and low utilisation of capacity of the manufacturing sector, there is a serious concern about that," Mittal said on Wednesday.
His comments come a day after the Centre for Monitoring Indian Economy released data on unemployment rate, which rose to 7.2 per cent in February 2019, up from 5.9 per cent a year ago.
Mittal said financial year 2018-19 had started well on the economic front, with the first half of 2018-19 delivering good growth rates.
However, it had moderated in the third quarter and was expected to further taper down due to election.
Mittal also called for a bigger industry and academia partnership to tackle the concerns over employment.
"Universities and colleges need to understand that they should not look at industry for placements and jobs at the end of the year. We need to sit together for tweaking and finalising curriculum on what is the requirement of Indian and global industry in 5 years.
"We need to start talking about the future of jobs rather than jobs in the future," Mittal said adding that this is where India industry can play a bigger role.
He said the introduction of vocational training programme as part of the CBSE curriculum will facilitate the training of youth, especially in the rural areas.
Chandra Shekhar Ghosh, the founder, MD and CEO of Bandhan Bank, has been elected the chairman of CII eastern region.
IMF concern
Youth inactivity is the highest in India among emerging and developing economies, IMF senior economist John Bluedorn said on Wednesday, according to PTI.
Bluedorn was speaking on the labour market in emerging and developing economies at an event organised by Brookings India. "Youth inactivity is the highest in India compared to emerging and developing economies and it is about in 30 per cent," he said.