Chief economic adviser favours steady fall in rupee value
V. Anantha Nageswaran says the trend of rising dollar occurs at the time of hardening US interest rates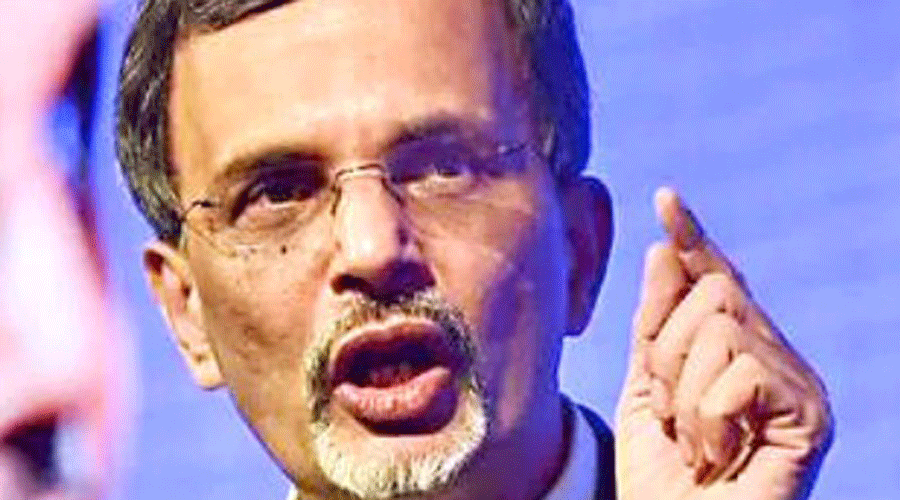 Nageswaran: Bold idea.
File photo
---
Calcutta
|
Published 08.11.22, 02:20 AM
|
---
India's chief economic adviser V. Anantha Nageswaran on Monday said the rupee should be allowed to depreciate gradually in the short-term and the country should use its foreign exchange reserves in a judicious manner.
"We should in the short term allow the rupee to depreciate gradually and we should use foreign exchange reserves judiciously keeping the firepower for 2023 as well," said Nageswaran at an Indian Chamber of Commerce organised-session. The dollar has moved from Rs 74.5 at the start of 2022 to reach around Rs 82 at present.
The CEA said that the trend of the rising dollar occurs at the time of hardening US interest rates.
Wth the interest rate gap between India and the US going down, foreign investors are booking profits and repatriating capital.
"Rupee depreciation is in line with the fact that US interest rates are going up and the gap between US and India interest rates are coming down. Dollar investors will naturally try to book profits or repatriate the capital back to their home country," said Nageswaran.
Pointing out that inflation is a challenge, the CEA said the gap between the inflation targets and reality is much lower for India than for the advanced countries. However, financing the trade deficit will be a key challenge in the ongoing fiscal year.
"The important worry for us is the trade deficit. India has a trade deficit because we import a lot of crude oil. We also continue to import consumption goods. We have also imposed export restrictions on food grains, sugar and iron ore. That is also holding back our export revenues. So, financing the trade deficit is an important challenge this year," he said.
Nageswaran said that India is in a stable situation and the growth momentum is good despite the multiple crises taking place simultaneously and getting entangled with each other.
"The challenges that the country is facing are unprecedented since World War II. But India is in a stable situation and the growth momentum is good. India will have a growth rate of 6.5 per cent to seven per cent in 2022-23, which is considered to be good despite a high inflation rate of 7.4 per cent," he said.
Big gains
The rupee appreciated 43 paise to close at 81.92 against the dollar on Monday amid a weak greenback overseas and sustained foreign fund inflows.
At the interbank foreign exchange market, the local unit opened at 82.14 and touched an intra-day low of 82.32 against the greenback.