Centre announces rules to maintain overhead optical fibre cables
The Department of Telecommunications has notified it has amended the Indian Telegraph Right of Way (RoW) Rules to prescribe various terms and conditions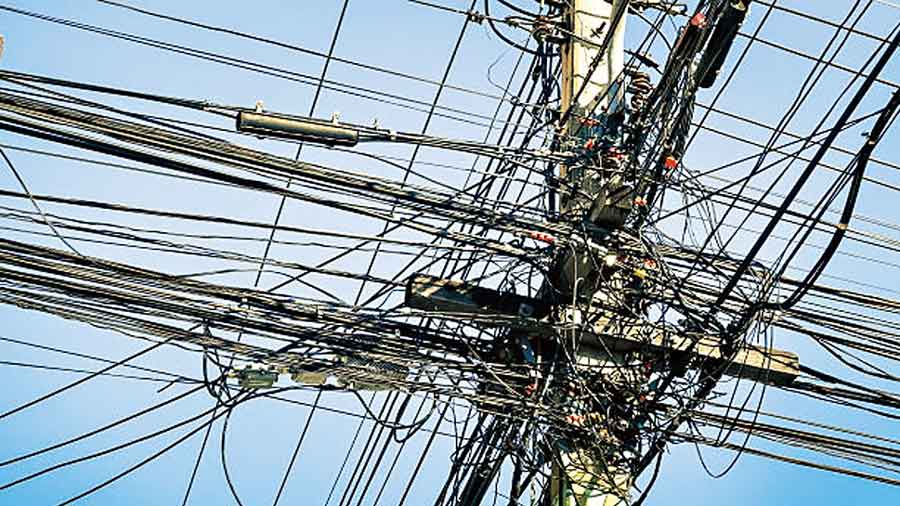 ---
New Delhi
|
Published 25.10.21, 12:38 AM
|
---
The Centre has announced guidelines to maintain overhead optical fibre cables by amending the Indian Telegraph Right of Way (RoW) Rules (November 2016), giving a boost to broadband and 5G infrastructure in the country.
The Department of Telecommunications (DoT) has notified it has amended the Act to prescribe various terms and conditions to lay the overhead optical fibre cables.
Nominal one-time compensation and uniform procedure to lay the cables has been introduced, it said.
The amount of one-time compensation to establish the  overhead cable will be a maximum Rs 1,000  per km.
The paperwork for the right of way application has been made simple.
There  will be no fee other than administrative fees and restoration charges to establish the cables, maintain them, transfer or shift them to overground. The amendments will ease the  right of way-related permissions and procedures, the DoT said.
The RoW Rules had earlier covered only underground optic fibre cables and mobile towers.
"Optical fiber is a fundamental and structural part of both mobile and fixed broadband networks. Faster rollout of fibre is important for backhauling a large amount of data at high throughput, improving reliability, and reducing latency," said Digital Infrastructure Providers Association.
The fiberisation of telecom networks is essential to achieving universal broadband connectivity at 50Mbps to every citizen. "With this amendment in place now, desired clarity for laying overhead OFC is also available which will go a long way in creating necessary infrastructure to cater to forthcoming 5G rollouts in the country," DIPA said.
"We applaud the DoT for its progressive approach in amending its Indian Telegraph RoW Rules 2016 to include aerial fiber.This directive stipulates that necessary infrastructure be built at the lowest logistical costs," the Cellular Operators Association of India   said .
Biswapriya Bhattacharjee, executive vice-president, insights division at Kantar Research, said, "The Indian market is expected to register a greater number of rural internet users than urban internet users by 2025. In line with this, the digital ecosystem would require capabilities to meet the particular demands of rural Internet users."
" Key areas that are expected to emerge as a game changer include video, voice and vernacular," he said.