Airline companies are ready to benefit from an expanding middle class and the induction of fuel-efficient aircraft, which will also enable them to overcome the chronic problems associated with high fuel prices and the depreciating rupee.
Domestic aviation companies are now facing turbulence with crisis- hit Jet Airways suffering a loss of Rs 588 crore in the third quarter of the current fiscal and now in the midst of a resolution plan. SpiceJet has a reported a 77 per cent drop in net profits and IndiGo's bottomline sagged 75 per cent in the same period.
However, according to a report from brokerage Prabhudas Lilladher, the industry is set to fly past the difficult times.
"Notwithstanding near term turbulence, rising air penetration rates, expanding middle class income and induction of fuel and cost efficient aircraft (15 per cent fuel savings) will enable profitable growth in coming years," the brokerage said in a note as it initiated coverage of the sector with a positive view.
Lilladher analyst Paarth Gala pointed out India is the fastest growing aviation market with domestic passenger traffic showing a compounded annual growth rate (CAGR) of around 20 per cent over the past five years.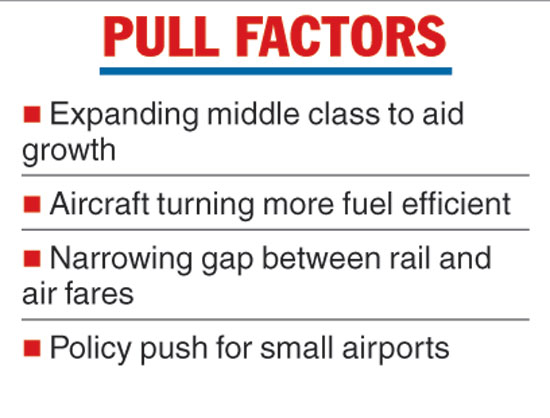 Source: The Telegraph
"On the back of strong GDP growth, domestic air traffic is expected to grow at 17 per cent CAGR over 2018-24 as travelers shall increasingly prefer air travel on the back of increasing affordability and narrowing gap between air fares and rail fares.
"This coupled with the government's focus on stimulating regional traffic through the UDAN scheme shall encourage air travel to and from smaller towns and cities'', Gala said.
Others, too, have views similar to Gala. Ronojoy Dutta, principal consultant at InterGlobe Aviation, which runs low-cost carrier IndiGo, spoke of the possibility of 18-22 per cent growth, much more than the conventional belief of growth at least twice a country's GDP.
"There is nothing that says the Indian economy won't continue to be one of the fastest-growing economies in the world. The second factor that comes into play is what they call the propensity to travel… developed countries are like 10 times higher than us in terms of the propensity to travel.
"So you have two factors working — a 7.5 per cent growth rate and a low propensity to travel, which gets higher and higher as people have more income," he said.