Pankaj Chourasiya, 22, from Siwan, is the first person from Bihar to have been diagnosed with the zika virus infection.
Pankaj studies computer science in Jaipur, Rajasthan, and a Bihar government official said he had contracted the virus there. He is admitted in Sawai Man Singh Hospital at Jaipur.
Zika is a contagious disease that mostly spreads through bite of the same mosquito that causes dengue.
The infected person should be kept in isolation.
Human to human transmission of the zika virus happens only in specific circumstances. (See chart)
Once the health department was notified about Pankaj on Sunday by the central surveillance unit of Integrated Disease Surveillance Programme at the Centre, it went into panic mode. A team was sent to the Jaipur hospital to check his travel and medical history.
"Pankaj had come to Siwan on August 28 for his BCA exam. He had fever which subsided later. He returned to Rajasthan on September 12 but after that too, he had visited friends in Patna. We believe Pankaj contracted the virus in Rajasthan because the incubation period of the zika virus is about 3-12 days," a government official said.
"Right now Pankaj is undergoing treatment at the Jaipur hospital. His father is with him but the possibility of his family or friends contracting the infection cannot be ruled out."
The official added: "Pankaj met a family member who is pregnant at home before returning to Rajasthan.
"We have kept Pankaj's family on surveillance for the next 26 days. In case any of them report fever — the primary symptom of infection — they have to report it to the civil surgeon's office or other health department officials. The contact numbers have been provided to Pankaj's family. The civil surgeon's office has also been asked to daily check up on the family."
As a preventive measure the health department has also directed the civil surgeon's office to conduct fogging around Pankaj's home from Monday.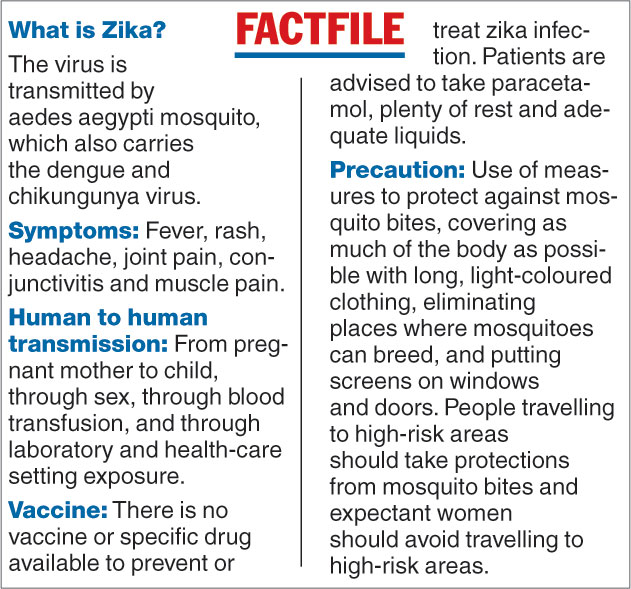 Status confusion
The central surveillance unit had informed the Bihar health department about Pankaj in the morning.
The Siwan-based state health surveillance team, however, told the department that Pankaj was staying with his family and not under treatment in Jaipur.
The health department sent separate teams to Jaipur and Pankaj's home.
Response lapse
The civil surgeon's team informed the health department that its fogging machine has been out of order. While the municipal corporation conducts fogging in urban areas, the civil surgeon's office is responsible for the rural areas.
Sources said the health department has directed the Siwan civil surgeon office to conduct fogging around Pankaj's home. "The civil surgeon's office had conducted a health camp in which blood samples were taken to check the platelet level of people in the area hit by dengue. The samples were, however, not sent to the medical college for the test," a source said.