Techie son of CM-father rules out career in politics
Chief minister Nitish Kumar's only child, Nishant Kumar, on Saturday declared that he would never enter politics.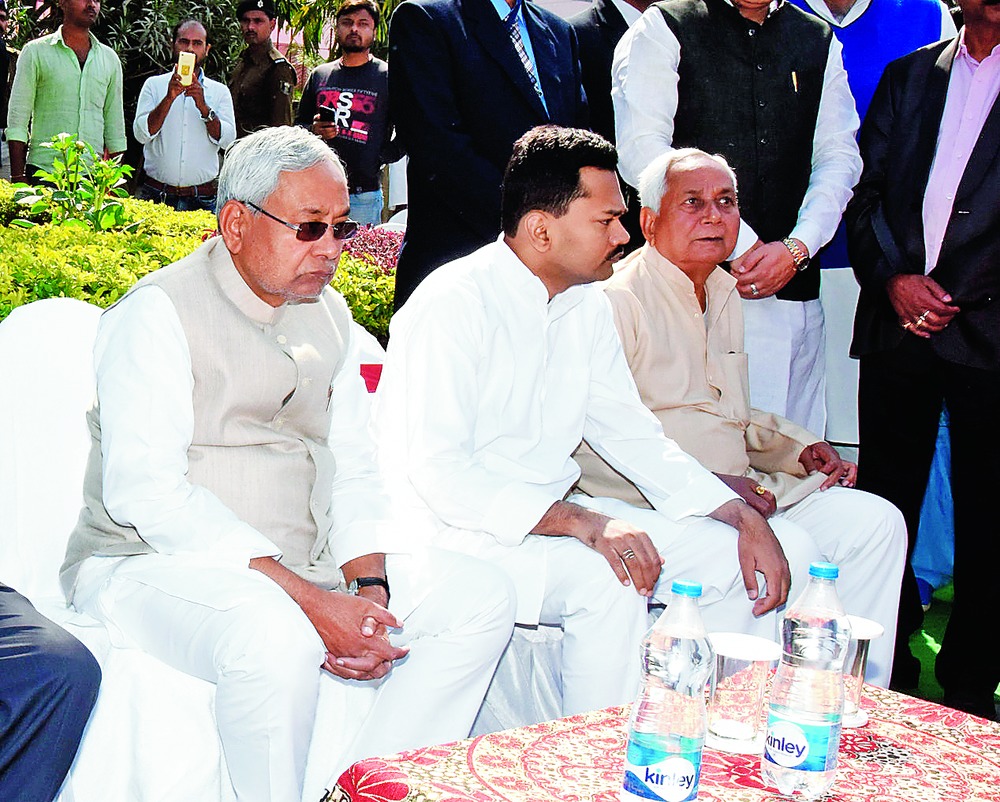 ---
Published 26.02.17, 12:00 AM
|
---
Chief minister Nitish Kumar's only child, Nishant Kumar, on Saturday declared that he would never enter politics.
Unlike veteran politician Lalu Prasad's sons, who are ministers in Nitish's cabinet and are ready to forge ahead in politics, Nishant, with no interest in politics, reflects just the opposite.
"I will never enter politics and I have accepted spirituality," said Nishant, a graduate from BIT-Mesra in computer science, after offering flowers at the statue of his mother Late Manju Sinha at a memorial park in Kankerbagh named after her.
Nishant is the least known son of Bihar's three well known politicians - Lalu, Nitish and Ram Vilas Paswan. He keeps away from the media glare. He stays away from social and political gatherings and passes himself off as a commoner when he visits any place.
Unlike the media-savvy sons of Lalu - Tej Pratap Yadav and Tejashwi Prasad Yadav - Nishant keeps stays immersed in the books on spirituality.
He is rarely seen with his father nor does Nitish like to talk about his son publicly.
The last two occasions, when Nishant was spotted with his father in public functions, were during Prakash Utsav on January 6, 2017, and on November 20, 2015, when his father took oath of the chief minister of Bihar for the third consecutive term.
Expressing his commitment not to enter politics, Nishant said: "My father is against dynasty politics and I personally have no interest in it." Though Nitish does not support the idea of dynasty politics, it is a bitter truth in Bihar that leaders have promoted their wards in politics, not limiting to party and caste.
Lalu and Ram Vilas have to face maximum criticism as far as promoting dynasty politics is concerned. Lalu not only promoted his sons and daughter but also his brothers-in-law. Ram Vilas followed suit and promoted his brother and son-in-law.
During the 2009 bypolls to 18 Assembly seats, Nitish suffered a big setback with both the RJD and the LJP winning nine seats, whereas JDU clinched three, the BJP two, the Congress two, the BSP one and Independent one.
Nitish's refusal to field any family members of JDU MPs and his preference to give tickets to party workers was considered the main reason behind the defeat of the NDA (JDU and BJP).
Nishant added that he did not need to worry about anything as his late mother and father had given him enough. "My mother and father have given me enough wealth so that I do not need to worry about anything. It is good that Tejashwi and Tej Pratap are there in politics but I have no interest," said Nishant.
According to the latest annual assets declaration of 2017, Nitish is poorer than Nishant, who has assets - gold, including jewellery, and land at the family's native village in Kalyan Bigha, Nalanda - worth Rs 1 crore. The chief minister owns assets worth a little over Rs 16 lakh.
Nishant praised his father and said: "My father is doing good work and if people support him, the day is not far when he will become Prime Minister as well."
Nitish too observed the birth anniversary of his late wife and garlanded her statue along with his elder brother Satish Kumar.