Student arrested for gang invite on Facebook
Class VIII boy urged youngsters in social media post to take to antisocial life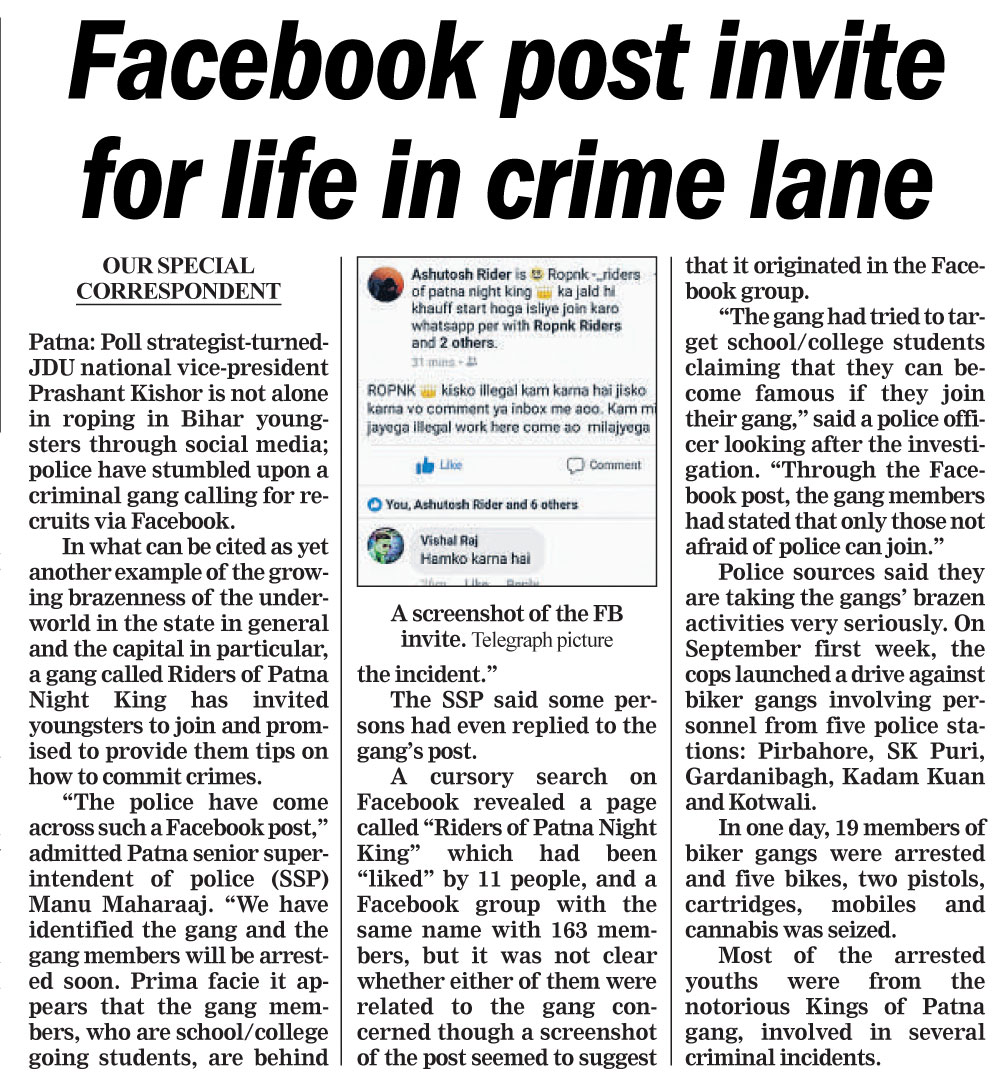 ---
Patna
|
Published 23.10.18, 07:08 PM
|
---
Police have arrested a juvenile, who they said was a key member of the Riders of Patna Night King gang, for inviting youngsters on social media to a life of crime and promising tips on how to be a lawbreaker.
The Telegraph had reported in its Tuesday edition how the post inviting recruits for the gang was another example of such gangs getting more brazen.
The arrested boy is a Class VIII student of a public school at Kankarbagh.
The boy, police sources said, wanted to create his own biker gang although he was attached with several such groups.
"The boy during interrogation confessed before police that few days back he had a fight with some students of his school. To create an impression among his fellow students he planned to set up his own gang and for that he chose the medium of Facebook to invite youngsters to join his gang," said Patna senior superintendent of police (SSP) Manu Maharaaj.
"The police are in search on other gang members of the group," he added.
"There are more than 150 persons who were attached with the biker gang Riders of Patna Night King. As the boy is a juvenile he will be treated as per the Juvenile Justice Act."
The Patna police cyber cell arrested the boy from the Kankarbagh area on Tuesday morning.
The police have also seized his mobile phone.
Police sources said the boy is part of several online groups on carding (trafficking of credit cards, bank accounts and other personal information online as well as related fraud services) and hacking.
The cops, after going through the Facebook group called Riders of Patna Night King, have also come across several objectionable comments and photographs uploaded by the gang members in their attempt to lure youngsters.
The Facebook group of the gang has over 100 members.
Among the Facebook accounts linked to the group is that of a person named Aniket who was arrested by police a few days back on the charge of threatening a journalist.
City-based clinical psychologist Binda Singh said the involvement of minor boys in crime is more of a social problem than a law and order issue.
"We have come across several cases where youngsters especially school/college going students exhibit radical change in behaviour," Singh said.
"The main reason behind such change of behaviour is due to influence of smart phones. These students devote maximum time on phones. It is advisable for parents to be aware of what their kids are doing with smart phones.
"Mobiles should be provided to minor children only for emergency use."